Two of the four U.S. citizens who went missing after a violent kidnapping in Mexico last week have been found dead and two are alive, Mexican and U.S. authorities said Tuesday. Tamaulipas Gov. Américo Villarreal said one of the surviving U.S. citizens was wounded and the other wasn't.
He said all four were found in a wooden shack, where they were being guarded by a man who was detained, according to The Associated Press.
Villarreal added that they'd been moved around by their captors, even to a medical clinic at one point, to try to "create confusion and avoid efforts to rescue them."
The Americans were found in a rural area east of the border city of Matamoros, the AP said, citing Tamaulipas state chief prosecutor Irving Barrios.
Mexico's security secretary identified the surviving Americans as Latavia "Tay" McGee and Eric James Williams. Earlier, CBS News learned the other two Americans were identified as Zindell Brown and Shaeed Woodard.
Zalandria Brown, of Florence, South Carolina, told the AP she'd been in contact with the FBI and local officials after learning that her younger brother, Zindell Brown, was one of the victims.
Zalandria Brown said Zindell Brown, who lives in Myrtle Beach, South Carolina, and two friends were with a third friend who was going to Mexico for "tummy tuck" cosmetic surgery.
Federal and state officials escorted the two surviving Americans to an international bridge at the U.S.-Mexico border, the attorney general in Tamaulipas confirmed in a tweet posted Tuesday afternoon.
The FBI confirmed in a statement to CBS News Tuesday evening that both surviving victims were taken to a U.S. hospital and said one was being treated for serious injuries.
But Villareal said the wounded American, Williams, had been shot in the left leg and the wound wasn't life threatening, the AP reported.
Earlier, the attorney general's office in Tamaulipas, where the Americans disappeared Friday, announced on Facebook that all four U.S. citizens had been found.
"Investigation and intelligence work continues to capture those responsible," the statement read.
Both survivors had been returned to the U.S. by Tuesday afternoon, State Department spokesperson Ned Price confirmed during a press briefing. Officials were still "in the process of working to repatriate the remains" of the two victims who were killed, Price said. He declined to share additional information about the investigation into their abduction. 
"The investigation is in its earliest days," Price told reporters. "I understand we may have more to share from the FBI at the appropriate time."
The Americans were found as a result of joint search operations, according to the attorney general in Tamaulipas, but how officials ultimately located and rescued them remained unclear.
"Of the four, two of them are dead, one person is wounded and the other is alive and right now the ambulances and the rest of the security personnel are going for them for give the corresponding support," Villarreal said.
Mexican President Andrés Manuel López Obrador said, "Those responsible will be found and they are going to be punished."
He also lamented American media coverage of the kidnapping and accused U.S. reporters of sensationalism, saying, "It's not like that when they kill Mexicans in the United States, they go quiet like mummies," according to the AP.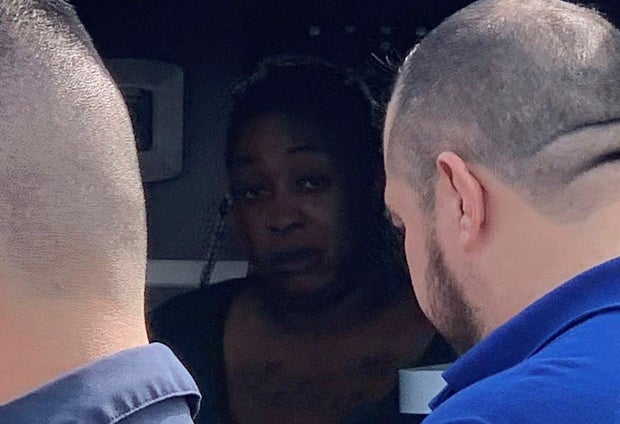 A convoy of ambulances and SUVs transported the survivors to a section of the U.S.-Mexico border near Brownsville hours after they were found on Tuesday, the AP said.. Whether the bodies of the deceased individuals were transported along with them wasn't immediately known. 
An Associated Press journalist reported seeing the group of vehicles speeding down a long dirt road toward their destination, accompanied by Mexican military Humvees, armored vehicles, state police and National Guard troops. Mounted on their trucks were .50-caliber machine guns.
U.S. Attorney General Merrick Garland did not confirm the deaths, but said Tuesday that senior officials at the Department of Justice are working with multiple federal agencies in the U.S. as well as authorities in Mexico.
"During this difficult time, I want to offer my deepest sympathies to the families of the Americans who were attacked and kidnapped," Garland said.
The Americans were kidnapped after gunmen opened fire on their vehicle in Matamoros, a border city in northern Mexico, the FBI said earlier this week. All four people had driven from Brownsville, Texas, to Mexico on Friday in a white minivan with North Carolina license plates.
López Obrador said Monday that the four Americans had crossed the border to purchase medicine and found themselves caught in crossfire between two groups of armed individuals. Officials previously said a Mexican woman had also died in Friday's crossfire. Her identity is not known.
Their car was hit by gunshots soon after the group grossed the border in Matamoros, the FBI San Antonio Division office reported in a statement issued on Sunday.
"All four Americans were placed in a vehicle and taken from the scene by armed men," the office said. At the time, the FBI announced a $50,000 reward in exchange for the victims' return as well as the kidnappers' arrests.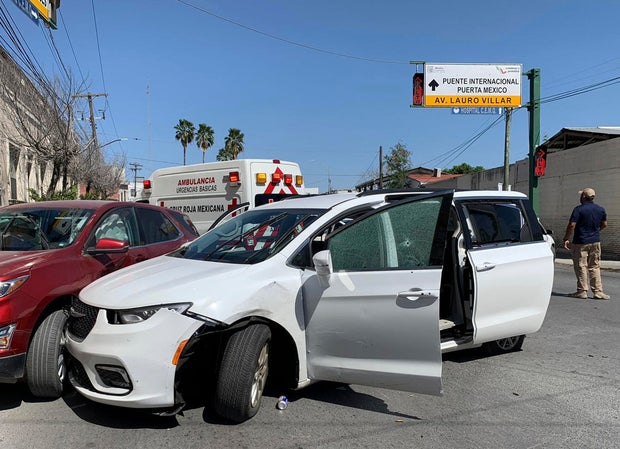 A video posted to Twitter on Friday raised national concerns as it appeared to show the moment the Americans were kidnapped, CBS News' Christina Ruffini previously reported. In the video, a woman is seen walking alone before being forced into a white pickup truck. Men armed with guns and wearing bulletproof vests then appeared to force several others into the vehicle. At least two of the victims were seen being dragged across pavement toward the truck. 
On Monday, the U.S. Ambassador to Mexico Ken Salazar said in a statement that the Americans were "violently kidnapped at gunpoint" and that U.S. agencies were coordinating with their counterparts in Mexico to recover the missing people. 
President Biden was also briefed on the situation, White House press secretary Karine Jean-Pierre said at a Monday news conference.
"These sorts of attacks are unacceptable," Jean-Pierre told reporters. "Our thoughts are with the families of these individuals and we stand ready to provide all appropriate consular assistance." 
In:
Mexico
Missing Persons
Thanks for reading CBS NEWS.
Create your free account or log in
for more features.