During a
St. Pierre, 30, was Chase's handler as she led her 38-soldier platoon on "guardian angel" missions throughout Kabul and the surrounding areas. Chase, whose skill set was explosives and narcotics, would lead the route and conduct security sweeps of the perimeter before meetings. She spent nearly every day with Chase: he slept in her room while she fed him and took him on walks.
"It brought so much relief and a piece of humanity to have a dog on base," says St. Pierre.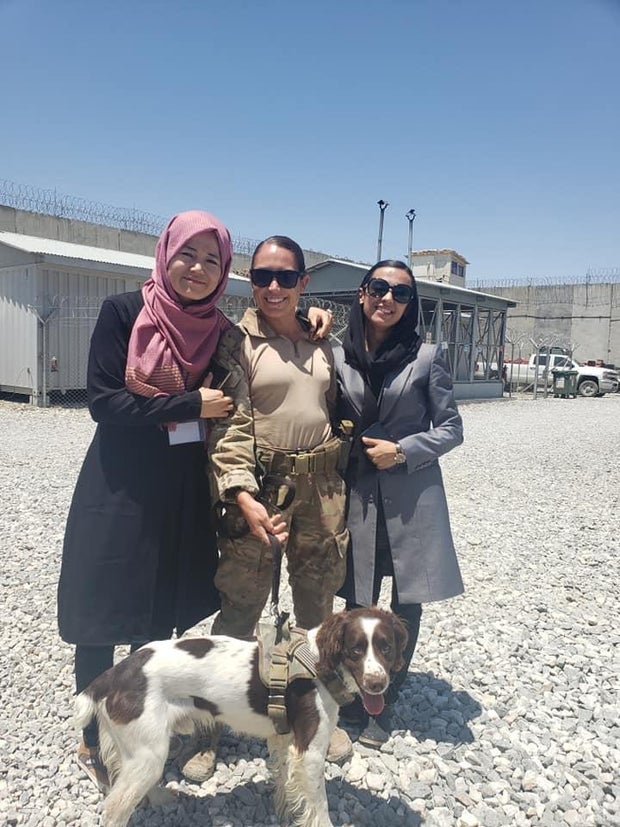 When St. Pierre's tour ended, Chase stayed behind working. She missed him terribly but received updates daily via texts and photos about the pup's adventures by this new handler. 
Then Kabul fell. 
On August 15, 2021, the Taliban took control of Afghanistan and its capital, capping a 20-year fight following their ouster by a U.S. military coalition. Chaotic weeks and months followed as U.S. troops withdrew and Afghans fled in droves.
St. Pierre reached out to Chase's handler hoping he would be able to get out.
"I heard Chase and other dogs would be on flights to the U.S. and Europe," she says. "The next I heard the dogs weren't allowed on the planes and they were released from the airport with little chance of survival."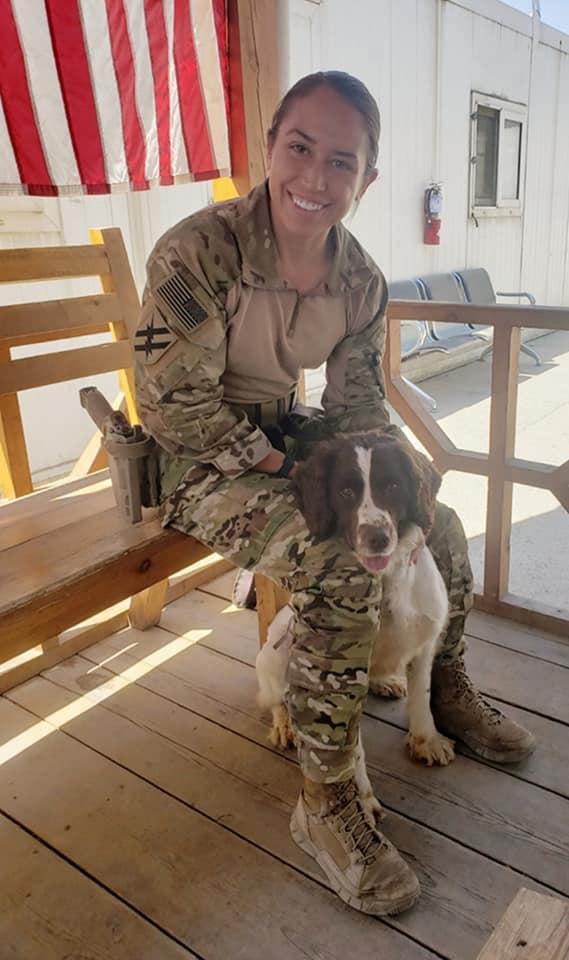 For months St. Pierre was in the dark about Chase, fearing the worst. The winter following the U.S. withdrawal was harsh; security conditions in the country quickly deteriorated as food and fuel grew scarce. Families struggled to survive amid a rapidly changing landscape, with the Taliban rolling back media freedoms and rights for women and girls. 
The sudden waves of desperate refugees and the economic downfall made headlines around the world, as a country of 40 million people plunged into a deep crisis. 
But for the American founder of Kabul Small Animal Rescue, Charlotte Maxwell-Jones, the work continued.
It was her determination and a twist of fate that brought news about Chase to St. Pierre – and now they are about to be reunited after two years of waiting.
Maxwell-Jones has been living in Kabul since 2015. She first arrived in 2010 to conduct fieldwork for a PhD in classical art and archaeology from the University of Michigan. She fell in love with the country and its people, lived there part-time while she earned her doctorate and in 2015 returned for good.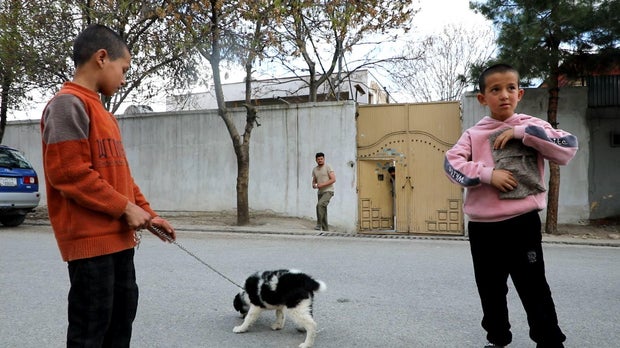 While working for various nonprofits and conducting independent research, Maxwell-Jones started to rescue stray dogs and cats. She founded Kabul Small Animal Rescue in 2018 and formalized the organization in 2019. The organization, which operates with funds from individual donors, grew to 15 clinics and a staff of 85.
But since the Taliban came to power, the challenges have grown dramatically. Maxwell-Jones returned to Afghanistan before the fall to ensure she would be able to stay in the country and help the animals.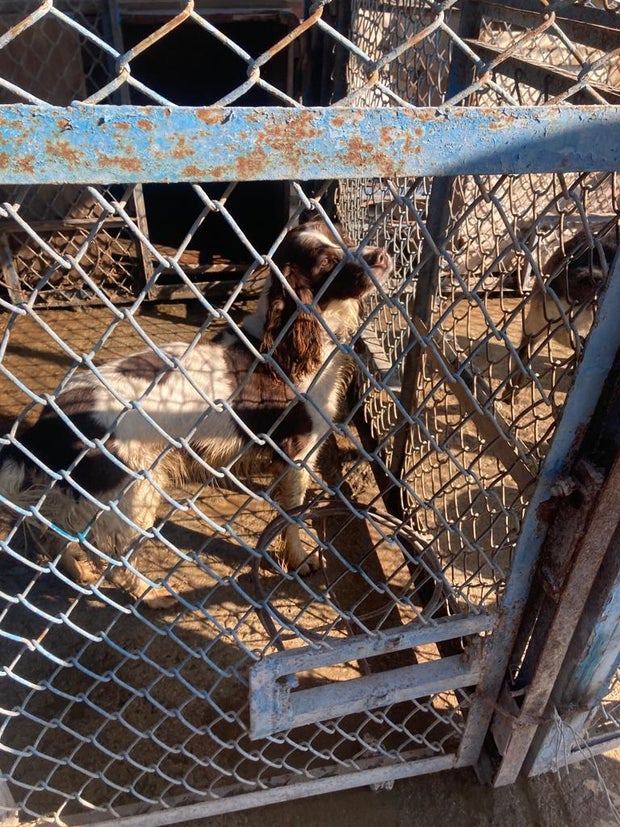 Maxwell-Jones has had to switch to an all-male staff and navigating the new laws that seem to come out daily has been challenging, she told CBS News. When the Taliban took over, Kabul Small Animal Rescue was told that it could not have female staff, she says. The organization continued to pay female staffers' salaries until many of them left for Pakistan and two female veterinarians went to the United Kingdom, she said.
"The co-ed environment is missed, but we are committed to helping animals and will do it under whatever laws are in place," Maxwell-Jones says.
Despite the hardships, Maxwell-Jones, 40, has tried to keep Kabul Small Animal Rescue focused on its core mission. She has been sending dogs and cats back to the U.S. with the help of the Dubai-based organization Pawsome Pets, which assists rescue groups with relocating abandoned animals to facilitate animal exporting. In January, KSAR shipped 11 dogs. The plan is to send Chase home with four other dogs. "Ideally we would like to do at least 10-12 per month, but it's hard," says Maxwell-Jones.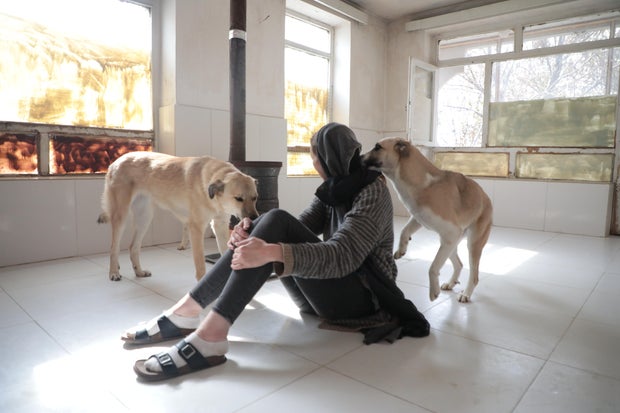 Maxwell-Jones stays in part because she loves the country, but she also fears there "wouldn't be enough glue and motivation to keep this place running." If KSAR closed, she says, no other organization exists to take care of the animals, in particular, the stray dogs and cats.
Susan Chadima, a Maine-based veterinarian, travels to Kabul every few months to give KSAR's team medical training.
"KSAR became the only organization that stayed, providing care for both owned and street dogs, and helping to facilitate the transport of loved, owned pets to their owners in the West," she says. 
For almost a year, St. Pierre had no news about Chase until a mutual contact told her about KSAR. Unbeknownst to St. Pierre, Maxwell-Jones had found Chase at kennels owned by a local mine detection company north of Kabul in late November 2022.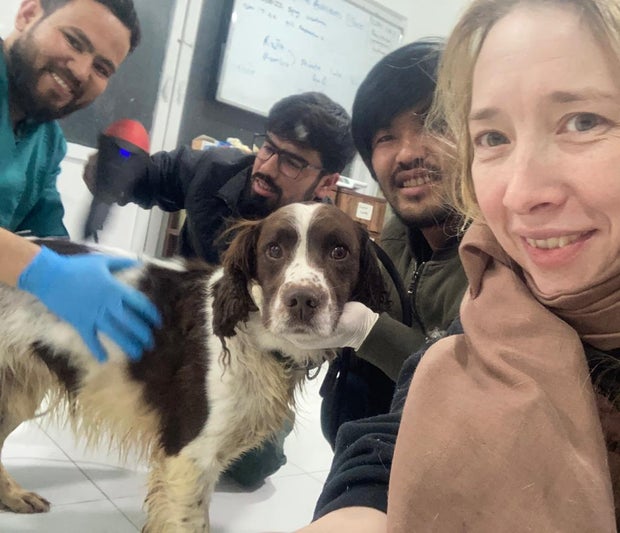 "It was pretty sad, he was in sorry shape," said Maxwell-Jones.
Back in the United States, St. Pierre searched KSAR's social media accounts daily, hoping to see a photo of Chase. One day she did.  
"I gasped," says St. Pierre, who said her mother-in-law ran into the kitchen to make sure everything was okay. "I screamed 'Chase! Chase! Chase!' I just couldn't believe he was alive." 
She contacted KSAR and told them about their time in Afghanistan and the work that Chase did. She asked about the process to get him to the U.S. and if it was possible to adopt him.  
Together they were able to piece together Chase's history and set up a fundraiser for $3,500 to bring him home. The first day they raised $4,405 in six hours, said St. Pierre.
In the meantime, St. Pierre has started a new chapter of her life; she retired from the military and is now working as an operating room nurse. She is also pregnant with her first child. 
"Chase is very loved and a lot of people are ready for him to get home," she says.
Maxwell-Jones has been working on securing permissions for Chase to leave Afghanistan, but paperwork and bureaucracy have held up his departure. When Chase can leave the country and be reunited with St. Pierre is still unknown. 
Reporting contributed by Ahmad Mukhtar
Cara Tabachnick
Cara Tabachnick is a news editor for CBSNews.com. Contact her at [email protected]
Thanks for reading CBS NEWS.
Create your free account or log in
for more features.