There were reports of sporadic shelling and gunfire in Khartoum Tuesday, but a new 72-hour ceasefire between the Sudanese Armed Forces and the RSF paramilitary group appeared to be largely holding. The violence that exploded across Sudan on April 15, as two of the country's generals turned on each other, has made major cities into war zones. 
At least 459 people had been killed amid the fighting as of Tuesday, the U.N.'s World Health Organization said, citing information from the country's health ministry, though the actual number of dead is believed to be significantly higher.
2 Sudan generals are at war with each other. Here's what to know.
The sudden eruption of fighting has also left many thousands of foreign nationals, including Americans, trapped in the east African nation as their governments scramble to organize routes out.
The latest attempt to halt the fighting was announced by U.S. Secretary of State Antony Blinken late Monday.
"Following intense negotiation over the past 48 hours, the Sudanese Armed Forces (SAF) and the Rapid Support Forces (RSF) have agreed to implement a nationwide ceasefire starting at midnight on April 24, to last for 72 hours," Blinken said. "To support a durable end to the fighting, the United States will coordinate with regional and international partners, and Sudanese civilian stakeholders, to assist in the creation of a committee to oversee the negotiation, conclusion, and implementation of a permanent cessation of hostilities and humanitarian arrangements in Sudan."
Amid reports of scattered ongoing violence on Tuesday, people on the ground said the situation remained tense.
"The level of insecurity on the streets is massive. So, even if there is a ceasefire people cannot access any type of humanitarian service," Hala Alkarib, a human rights activist from Khartoum, told CBS News partner network BBC News. "We are surrounded by child soldiers who are carrying guns. Everywhere these soldiers are occupying the streets and it's extremely scary for civilians."
The Associated Press said about 16,000 U.S. nationals were registered with the U.S. Embassy in Khartoum as being in the country. It remained unclear how many were still there on Tuesday. Just under 90 U.S. diplomatic personnel, including the American ambassador, were evacuated over the weekend.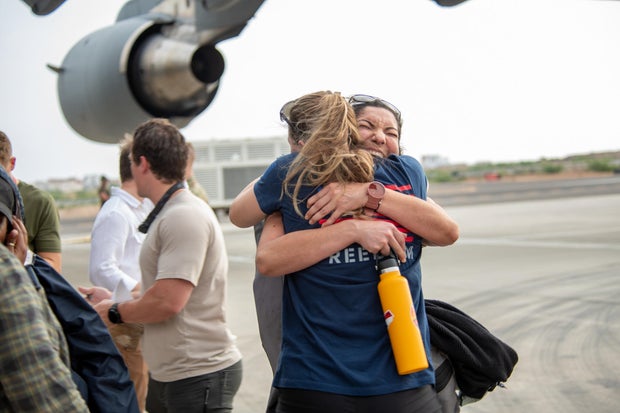 U.S. officials told CBS News on Monday that the government was considering multiple options to get American nationals out of Sudan, including sending a contingent of troops to Port Sudan to coordinate departures. European and African nations have begun civilian evacuations for their citizens, including organizing airlifts out of the country.
"At the President's direction we are actively facilitating the departure of American citizens who want to leave Sudan as the State Department has been urging them to do for years," U.S. National Security Advisor Jake Sullivan told reporters Monday. "We have deployed U.S. intelligence, surveillance and reconnaissance assets to support land evacuation routes, which Americans are using, and we're moving naval assets within the region to provide support. American citizens have begun arriving in Port Sudan and we are helping to facilitate their onward travel."
U.S. Secretary of State Antony Blinken said Monday that the government would "continue to coordinate with allies and partners who are conducting their own operations and to leverage those efforts to include Americans."
U.S. national Mohammed Ahmed was in Sudan for his father's funeral and was trying to get a bus ticket to Egypt, his wife Jacee told CBS News' Debora Patta.
"You know he doesn't show it if he's terrified," she said. "There are times where he's having to make me feel better. Then I feel bad. But he's Sudan strong."
Amar Osman, from Scotland, said he had not been contacted about an airlift for U.K. citizens so was also considering putting himself and his family on a bus for the 13-hour trip to the Egyptian border. That journey would take them through areas where there has been intense fighting.
"I'm worried, but I think I'll be more worried if I stay," he told CBS News on Tuesday. "I don't know what's going to happen."
Haley Ott

Haley Ott is an international reporter for CBS News based in London.
Thanks for reading CBS NEWS.
Create your free account or log in
for more features.