Washington — President Biden met Tuesday with Israeli President Isaac Herzog at the White House amid lingering tensions between the two countries over Prime Minister Benjamin Netanyahu's controversial plans to overhaul Israel's judicial system and settlement expansion in the West Bank. 
The president's meeting with Herzog, whose position is mostly symbolic, allows him to reaffirm his longstanding support for Israel without embracing Netanyahu, who hasn't met with Mr. Biden since he took office again in December. 
"This friendship, I believe, is just simply unbreakable," Mr. Biden said ahead of their Oval Office meeting. 
Mr. Biden spoke to Netanyahu by phone a day before Herzog's visit, inviting him to meet in the U.S. before the end of the year. Mr. Biden "underscored his iron-clad, unwavering commitment to Israel's security" but also expressed concerns about his government's hard-right policies, according to the White House readout of the call. It's unclear if the two leaders will meet at the White House. 
Mr. Biden has been critical of Netanyahu's efforts to overhaul Israel's independent judiciary and weaken the power of its Supreme Court, which sparked widespread protests in Israel. Mr. Biden has also raised concerns about Israel's continued growth of its settlements in the West Bank.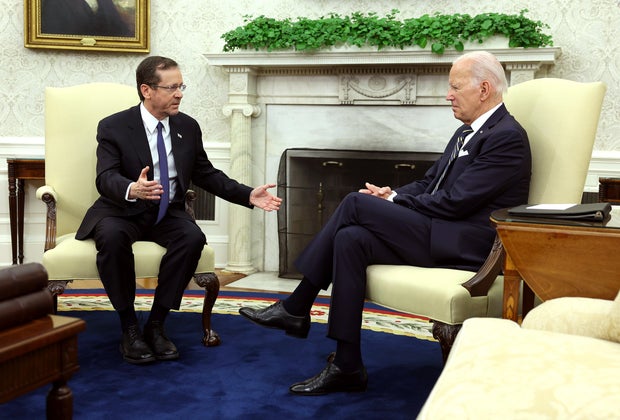 Earlier this month Mr. Biden called Netanyahu's Cabinet "extreme" and said the U.S. is "trying to tamp down what is going on."
National Security Council spokesman John Kirby said Mr. Biden's invitation to Netanyahu does not mean those concerns have been alleviated. 
"That doesn't mean that … we have less concerns over these judicial reforms or less concerns over some of the extremist activities and behavior by some members of the Netanyahu cabinet," Kirby said Monday. "Those concerns are still valid." 
Herzog told Mr. Biden he was "pleased" to hear about the call with Netanyahu. 
"There are some enemies of ours that sometimes mistaken the fact that we may have some differences as impacting our unbreakable bond," he said. 
Herzog referenced Mr. Biden's concerns, saying Israel is going through a "heated debate" as a society, but said its democracy is "sound, strong and resilient." 
"We are going through challenging moments," he said. "We should always seek to find amicable consensus, and I agree with you on that as well." 
The White House said the two discussed preventing Iran from acquiring a nuclear weapon and Iran's defense partnership with Russia, as well as "the need for a consensus-based approach to the judicial reform package." They also agreed to continue to work together to address antisemitism. 
"President Biden reiterated his commitment to maintaining a path for a negotiated two-state solution to the Israeli-Palestinian conflict, the best avenue to a lasting and just peace, and to providing Israelis and Palestinians equal measures of freedom, prosperity and security," the White House said. 
Herzog, who also visited the White House last year, is also planning to meet with Vice President Kamala Harris and Secretary of State Antony Blinken. He will also address Congress on Wednesday, marking Israel's 75th year of independence. He will be only the second Israeli president to address both chambers of Congress; the first was his father, Chaim Herzog, in 1987. 
Before his arrival in Washington, Herzog's spokesperson said the purpose of the trip was "to strengthen the relations and the partnership between the U.S. and Israel, and to reflect the deep ties between the countries." 
Caitlin Yilek
Caitlin Yilek is a politics reporter for CBS News Digital. Reach her at [email protected]. Follow her on Twitter: https://twitter.com/hausofcait
Thanks for reading CBS NEWS.
Create your free account or log in
for more features.