Washington — Brittney Griner, the WNBA star who was held for months in Russian prisons on drug charges, was released Thursday in a one-for-oneViktor Bout, bringing an end to an ordeal that sparked intensive high-level negotiations between the U.S. and the Kremlin to secure her freedom.
"She's safe. She's on a plane. She's on her way home," President Biden said at the White House, announcing the exchange. "After months of being unjustly detained in Russia, held under intolerable circumstances, Brittney will soon be back in the arms of her loved ones and she should have been there all along. This is a day we've worked toward for a long time. We never stopped pushing for her release."
CBS News was first to report the swap, which took place in the United Arab Emirates, citing a U.S. official. The exchange agreement negotiated with Moscow in recent weeks was given final approval by
Five former U.S. officials told CBS News the agreement
The president said he spoke to Griner by phone from the Oval Office, where he was joined by Griner's wife Cherelle, Vice President Kamala Harris and Secretary of State Antony Blinken. Per standard procedure for freed U.S. prisoners, Griner was expected to quickly undergo a medical evaluation. 
Mr. Biden said that he was "glad to be able to say Brittney is in good spirits," and that she was looking forward to getting home. The president dismissed the "show trial in Russia" that landed her in prison and said "she didn't ask for special treatment." 
To secure Griner's release, the president ordered Bout to be freed and returned to Russia. Mr. Biden signed the commutation order cutting short Bout's 25-year federal prison sentence. 
Notably, the Griner-for-Bout exchange leaves retired U.S. Marine Paul Whelan imprisoned in Russia. Whelan has been in Russian custody for nearly four years. He was convicted on espionage charges that the U.S. has called false.
"We've not forgotten about Paul Whelan," Mr. Biden said Thursday, adding "we will never give up" on securing his release. U.S. officials told reporters that it became clear in talks with the Russians that the prospect of securing the release of both Griner and Whelan in exchange for Bout was a nonstarter, with one official saying the U.S. had "a choice between bringing home one particular American — Brittney Griner — or bringing home none."
Whelan told CNN in a phone call Thursday that he was happy Griner was free, but said he was "greatly disappointed that more has not been done to secure my release, especially as the four-year anniversary of my arrest is coming up."
Griner, a 32-year-old star center for the WNBA's Phoenix Mercury, was detained at a Russian airport in February and later pleaded guilty to charges stemming from the discovery of cannabis-derived oil cartridges in her luggage. Griner said she didn't mean to bring the cartridges with her when she traveled to the country to play in a Russian basketball league during the WNBA offseason. 
After five months of stalled diplomacy and various permutations of potential swap arrangements — including a previously unreported offer by the U.S. this past summer to send two prisoners back to Russia for the two Americans — sources say the one-for-one exchange came together over the last two weeks. 
Whelan, who once worked as a corporate security contractor, was in Moscow for a friend's wedding when he was detained at a hotel in December 2018. Russian authorities later sentenced him to 16 years in prison for espionage — a charge the U.S. and Whelan denied. This month marks the fourth anniversary of Whelan's time in Russian custody. 
Bout, who was most recently held at a federal prison in Marion, Illinois, was arrested by the Drug Enforcement Agency in Thailand following a sting operation in 2008. He was convicted of conspiring to kill Americans and began his 25-year sentence a decade ago.
Griner's arrest coincided with the February start to Russia's unprovoked invasion of Ukraine, and all U.S. dealings with the Kremlin have been complicated by that conflict. The U.S. has said both Griner and Whelan were "wrongfully detained," and officials have suspected that Russia has been using the American prisoners as leverage. 
Griner's return for Bout marks the Biden administration's second prisoner swap with Russia. In April, the U.S. traded Konstantin Yaroshenko, a Russian smuggler convicted of conspiring to import cocaine, for Trevor Reed, a former U.S. Marine who had been imprisoned in Russia for nearly three years. 
CBS News learned last Thursday that the Griner-for-Bout swap was in the offing but agreed to a White House request to hold the reporting because officials expressed grave concern about the fragility of the then-emerging deal. 
The Biden administration officials warned that making details of the swap public beforehand would almost certainly lead Russia to pull out of the agreement and potentially endanger Griner's well-being. 
Nancy Cordes, Ed O'Keefe, Sara Cook, Camilla Schick, Tucker Reals, Haley Ott, Melissa Quinn and Caitlin Yilek contributed reporting. 
Brittney Griner-Viktor Bout prisoner swap met with both praise and criticism
Court docs show Bout's release requested for "significant foreign policy interests of the United States"
According to the documents, the U.S. government said it was making the request to have Bout, who was being held in a federal prison in Illinois, released "based on significant foreign policy interests of the United States."   
The Department of Justice filed for Bout's release on Nov. 29, according to court documents, which were docketed under seal that day. Judge Victor Marrero granted the Justice Department's request that same day.
The Justice Department asked to have Bout released to U.S. Marshals between Dec. 2 and Dec. 16 and "to maintain custody of Bout unless and until the President of the United States executes clemency power."
By Robert Legare
Blinken defends prisoner swap, says Biden made "hard call"
In an interview with "Face the Nation" moderator Margaret Brennan, his first since the prisoner swap, Secretary of State Antony Blinken defended the decision to make the exchange, saying it was "totally unacceptable that Brittney Griner was behind bars." He also responded to criticism that Bout was too valuable an asset to surrender for Griner's release.
"In the case of Viktor Bout, these are hard decisions. And ultimately those of us working for the president make recommendations, give advice. He's the one who has to make the hard calls. And he made a hard call," Blinken said. "Viktor Bout's been off the playing field since 2008, which is a very good thing, and he served about half of his sentence. At some point, in the years to come, he was going to get out. And I'm glad at least that we were able to get Brittney Griner home."
The secretary revealed in July that the U.S. had put forward a "substantial proposal" to Russia aimed at securing both Griner and Whelan's release. He said Thursday talks eventually reached the point where "it was clear that there was an opportunity to bring Brittney back."
"The choice wasn't between getting one American or the other back. The choice before us was one or none. And the president decided that it was important to at least bring Brittney home now, and work on getting Paul back, too," Blinken said, echoing other U.S. officials.
Blinken said that the deal to secure Griner's freedom had no bearing on talks with Russia on other issues and included no other provisions. 
"What we've demonstrated all along is that despite the challenges, to say the least, in the larger relationship, despite the Russian war of aggression against Ukraine, we are able to work on specific issues, distinct issues that we have, to see if we can make progress. And all along we've been working to get back Americans who have been unjustly detained," he said. "This was about getting Brittney home. This was about getting unjustly detained Americans back to their families. That was the focus. It's nothing more. It's also nothing less."
By Stefan Becket
Footage shows Griner learning she was coming home
Russian state media outlets released footage that shows Griner leaving what appears to be the penal colony where she was being held, boarding a jet in Moscow and walking across the tarmac to freedom in Abu Dhabi.
The footage shows Griner signing paperwork at the remote facility in Mordovia, where she was transferred in November. She is shown getting into a van, carrying two duffel bags. 
Griner is then seen boarding a jet with her bags. After flashing a shot of Griner's passport, the clip cuts to Griner seated in the plane, wearing a red coat and gray skull cap. A man off camera with a heavy Russian accent asks, "What's your mood?"
"Happy," Griner replied, nervously laughing.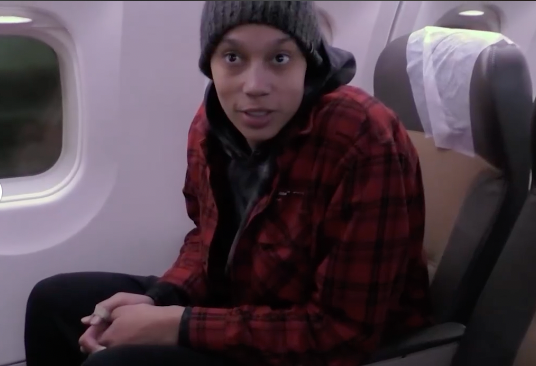 "Are you ready for our flight?" he asked.
"Yes, I'm ready," she said.
The man switches to speaking Russian, and the cameraman translates for Griner:
"Do you know where you're headed to?"

"No."

"You're flying back home."

"To the U.S.?"

"To the U.S."

"OK, OK." 

"Everything will be fine."
More footage shows the moment Griner and Bout were exchanged on the tarmac in Abu Dhabi. Griner is seen wearing the same red coat, walking alongside three officials. Bout, carrying an envelope, approaches with one man, and hugs one of the Russian officials escorting Griner. Griner, who stands at 6 foot 8 inches, leaves with the man who escorted Bout as the two groups separate.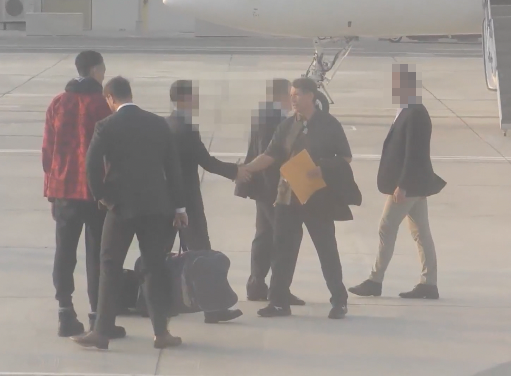 The footage was shot from inside the plane that Bout boarded. Subsequent footage shows doctors examining Bout, taking his temperature and blood pressure.
By Stefan Becket
U.S. had choice of "bring Brittney home or no one at all," White House press secretary says
Pressed on the circumstances surrounding the one-to-one prisoner exchange with Russia, which left Whelan imprisoned, White House press secretary Karine Jean-Pierre said the Russians were "not willing to negotiate in good faith" for Whelan's release.
"[What] we were left with is either we bring Brittney home or no one at all," she told reporters during the White House press briefing.
Jean-Pierre said that in recent weeks, it became clear to the Biden administration that the Russians "continued to treat Paul differently … with their totally illegitimate charge" accusing him of espionage.
"This was not a choice for us of which American to bring home. That was not the choice. It was a choice between bringing home one American or bringing home none, and we brought one home today," she said.
Jean-Pierre reiterated that the U.S. is committed to securing Whelan's release and said the administration made "every possible offer available" to no avail. Mr. Biden is prepared to speak with Whelan's family Thursday or when they are ready to talk with the president, she said.
"We would have preferred — of course we would have preferred — to see them both released, that's what we have been calling on," she said. "But we did not want to lose the opportunity before us to secure the release of one of them. That was the choice: one or none, and not which one."
Jean-Pierre also provided a timeline of the more immediate events leading up to Griner's release, which began with administration officials pursuing "many different avenues" over the past months to secure her freedom.
Mr. Biden approved moving forward with Bout's release this past week, and over the past 48 hours, Griner was moved from the penal colony where she was imprisoned to Moscow, and then flown to the United Arab Emirates.
On Wednesday, U.S. officials met with Whelan's family. On Thursday, Bout's conditional grant of clemency was completed once U.S. officials on the ground in the UAE confirmed Griner had arrived.
Jean-Pierre said Cherelle Griner was invited to the White House for a meeting with national security adviser Jake Sullivan and, when she arrived Thursday morning, was welcomed into the Oval Office where Mr. Biden told her of Griner's return, Jean-Pierre said.
Griner is on the plane back to the U.S., she said.
By Melissa Quinn
WNBA chief: League feels "joy and relief" with Griner's release
Cathy Engelbert, commissioner of the WNBA, said the league is "grateful beyond measure" to all who helped secure Griner's freedom.
"There has not been a day over the past ten months where we all haven't had Brittney Griner on our minds and in our hearts and that has now turned into a collective wave of joy and relief knowing that she will soon be reunited with her family, the WNBA player community, and her friends," she said in a statement. "BG has shown extraordinary courage and dignity in the face of enormous adversity."
Echoing the sentiments of others, Engelbert said the WNBA hopes for Whelan and other Americans unjustly detained to be returned to the U.S.
By Melissa Quinn
Paul Whelan "greatly disappointed that more has not been done" to secure release
Paul Whelan spoke by phone to CNN from the Russian penal colony where he is being held, and said he was "greatly disappointed that more has not been done to secure my release, especially as the four year anniversary of my arrest is coming up."
Whelan said he was glad to hear Griner had been freed, but added that he was "led to believe that things were moving in the right direction, and that the governments were negotiating and that something would happen fairly soon." The retired Marine said the Russians considered him a spy, meaning they place him on "a level higher than what they did with Trevor [Reed] and Brittney" in talks with the U.S.
"That raises a lot of concerns because none of it is true. And they're trying to get out of the United States what the United States may not be able to provide, but this is basically political extortion," he told CNN.
"I would say that if a message could go to President Biden, that this is a precarious situation that needs to be resolved quickly," he added. "My bags are packed. I'm ready to go home. I just need an airplane to come and get me."
By Stefan Becket
Pelosi: Putin's "cruelty" against Griner shows "brazen contempt for human rights"
House Speaker Nancy Pelosi commended Mr. Biden, Blinken and national security officials for their work in freeing Griner from Russia and said both the country and Congress are "overjoyed" to learn of her release.
"Today, our hearts are with her dear wife, Cherelle, and the entire Griner family as their beloved Brittney is safely on her way back to America and will be home for the holidays," the speaker said in a statement.
Pelosi lamented that Griner suffered "unthinkable trauma" for 10 months while she was wrongfully imprisoned in Russia and criticized Russian President Vladimir Putin for the harm to Griner during her detention.
"Putin's cruelty against Brittney — and his monstrous actions against Ukraine — are staggering reminders of his brazen contempt for human rights, human dignity and the rule of law," she said.
Pelosi, too, said Congress supports the Biden administration's ongoing efforts to secure the release of Whelan and other Americans wrongfully detained in Russia.
By Melissa Quinn
Griner was moved from penal colony a "couple days ago," officials say
Senior administration officials told reporters in a call Thursday morning that Griner was moved a to Moscow "couple days ago" from the penal colony where she was imprisoned, before being taken to the UAE for the prisoner swap. The officials said the president spoke to her from the tarmac in the UAE, and she is in the air and on her way back to the states. 
One official said she is "in good health" and was in an upbeat mood, eager to get back to her wife, friends, family and WNBA. 
The officials said it became clear in recent weeks that the U.S. could bring Brittney Griner home or no one at all. The Russian's made clear the only option for Griner's release was the exchange for Bout. Bout was given an act of clemency from the president in order to be released, but the guilt of his conviction remains.
Yesterday, a senior U.S. official visited Whelan's sister in person to share the news about Griner. The officials also said the president has made clear to the Whelan family that when they are ready, he is eager to personally convey his commitment to Paul's case. Another senior U.S. official also spoke to Paul from prison to inform him of today's news.
The officials also thanked former New Mexico Gov. Bill Richardson, who has been working in his capacity as a private citizen to facilitate the release of Griner and Whelan.  
The officials said the negotiations with Russia were very targeted and only about bringing wrongfully detained Americans home. They said they also briefed Ukraine on the negotiations to make sure they knew the talks were about that one issue.
One official expressed the deepest appreciation to the UAE for assisting in facilitating the transfer.
— Gillian Morley
Former U.S. ambassador to Russia says prisoner swap was "take-it-or-leave it proposition"
Ambassador John Sullivan, who stepped down as the top U.S. diplomat in Moscow in September, said on "CBS Mornings" that the talks to free Brittney Griner were "extremely difficult negotiations," with the Russians focused only on freeing Griner in exchange for Bout.
"We're dealing with a government that isn't bound by law or morals, our counterparty. It's not a typical diplomatic negotiation. And my understanding is that the Russians really presented the president, President Biden, with a take-it-or-leave it proposition. One for one, it was Brittney," Sullivan said, citing conversations with current and former officials. "And unfortunately, we've had to leave other Americans, in particular Paul Whelan."
The ambassador said he believed the Russians "had in mind a particular deal in this case, because Brittney Griner is such a celebrity, so popular in the United States — popular, I might add, among basketball fans and others in Russia. Brittney's case really dominated the discussion and the focus." 
Sullivan said he believed the White House and State Department were "turning with a laser focus on" securing Whelan's release, now that Griner is heading home. 
The ambassador said Griner has almost certainly been evaluated by doctors on her flight back to the U.S., and may not have been aware of her imminent release ahead of time.
"I'm confident, as we've done in prior cases, there will be personnel on the plane — medical, social, others, who will be helping Brittney," he said. "This is an enormous change for her. She may have known nothing about this transfer until they took her to the airport and put her on a plane. You can imagine what a jarring shock that is." 
By Stefan Becket
Who is Viktor Bout?
The release of Viktor Bout, the international arms dealer nicknamed the "Merchant of Death," has long been a high priority for the Kremlin. Bout, a former Soviet military translator, is believed to be close to Russian President Vladimir Putin. 
Western officials say Bout's arms trafficking operation helped fuel civil wars across the world by supplying more sophisticated weapons, sometimes to both sides of the bloody conflicts.
He was arrested in a sting by U.S. drug enforcement agents in Thailand in 2008. After a lengthy legal fight, he was convicted on terrorism charges for conspiring to kill Americans and sentenced to 25 years in prison.
"Viktor Bout, in my eyes, is one of the most dangerous men on the face of the Earth," Michael Braun, the former chief of operations for the U.S. Drug Enforcement Administration, told "60 Minutes" in 2010. 
According to a New Yorker profile published in 2012, Bout insisted that he was never a spy, but others, including his former business partner and a former CIA officer, said he had once worked for the GRU, the Soviet foreign military intelligence agency. 
"They will try to lock me up for life," Bout told The New Yorker before his sentencing. "But I'll get back to Russia. I don't know when. But I'm still young." 
Read more here.
Blinken says U.S. "will not relent" in efforts to secure Paul Whelan's release
Secretary of State Antony Blinken said in a statement that while the U.S. is celebrating Brittney Griner's release, Paul Whelan and his family "continue to suffer needlessly." He echoed Mr. Biden's commitment to the administration's efforts to secure Whelan's release from Russian custody.
"Despite our ceaseless efforts, the Russian Government has not yet been willing to bring a long overdue end to his wrongful detention," Blinken said. "I wholeheartedly wish we could have brought Paul home today on the same plane with Brittney. Nevertheless, we will not relent in our efforts to bring Paul and all other U.S. nationals held hostage or wrongfully detained abroad home to their loved ones where they belong.  
By Melissa Quinn
Paul Whelan's brother says Biden administration made "the right decision" to bring Griner home
David Whelan, the brother of Paul Whelan, the 52-year-old Marine veteran who remains imprisoned in Russia, says he's happy Griner is free and praised the Biden administration's handling of her release.
"I am so glad that Brittney Griner is on her way home," he wrote. "As the family member of a Russian hostage, I can literally only imagine the joy she will have, being reunited with her loved ones, and in time for the holidays," adding, "The Biden Administration made the right decision to bring Ms. Griner home, and to make the deal that was possible, rather than waiting for one that wasn't going to happen."
He said that the government "this time" told the Whelan family in advance that "Paul would be left behind." Whelan's brother pointedly noted that Griner's release differed from American Trevor Reed's in April, when the Whelan family was not told in advance.
This time, David Whelan said the "early warning meant that our family has been able to mentally prepare for what is now a public disappointment for us. And a catastrophe for Paul." He went on to say that he did not know whether his brother has been made aware of Griner's release, but "he will surely learn from Russian media." And he said his parents have spoken with him every day since Dec. 2, and he expects they will speak to him soon. 
David Whelan also said that there "has always been a strong possibility that one might be freed without the other," and reiterated, "It is so important to me that it is clear that we do not begrudge Ms. Griner her freedom." 
He called on the U.S. to be more assertive and more nimble, saying it needs "a swifter, more direct response," perhaps "taking more law-breaking, Kremlin-connected Russians into custody."  
Read more here.
Lauren Hoenemeyer contributed reporting.
By Ellen Uchimiya
Cherelle Griner: "Today my family is whole"
Cherelle Griner, Brittney Griner's wife, said she was "overwhelmed with emotions" and expressed "sincere gratitude" for Mr. Biden, Vice President Kamala Harris, Secretary of State Antony Blinken and other national security and State Department officials.
She also offered thanks to Griner's teammates on the Phoenix Mercury and the Women's National Basketball Players Association.
"Today my family is whole," she said in the Oval Office on Thursday morning.
While celebrating her wife's release, Cherelle Griner said the couple would "remain committed" to working to free other Americans still held hostage.
"There are still people out here who are enduring what I endured the last nine months of missing tremendously their loved ones," she said. "Today is just a happy day for me and my family."
By Melissa Quinn
The background to the prisoner swap
It remains unclear what led to the breakthrough, but the Biden administration made at least one concession by agreeing to reduce the swap to one American for one Russian.
At the end of November, the State Department blasted the Russian government for a failure to bargain in good faith. As recently as Sunday, on CBS News "Face the Nation," Secretary of State Antony Blinken said U.S. negotiators were "actively engaged" with their Russian counterparts.
Asked by CBS News about reports of Russia's desire for a one-for-one swap in spite of America's hopes to return both Griner and Whelan, Blinken noted that any deal would be subject to mutual agreement.
"The other side gets a vote in this. It's not just what we want. It's what they're prepared to do," Blinken said, without denying the Russian reports. However, he indicated the administration was continuing to push for the return of both Americans.
"One way or another, one day or another, we're going to see that through," he said.
In July, the Biden administration said it had offered the Kremlin what it described as a "significant proposal" to bring both American prisoners home. The White House never publicly confirmed what the U.S. had offered, but privately, officials indicated to CBS News that initial news reports pointing to the potential for only Bout's release were incorrect, and that the president was prepared to consider letting two Russian prisoners return in exchange for both Griner and Whelan's freedom.
Biden: "It's a good morning"
President Biden delivered brief remarks celebrating Griner's release from Russia, but pledged that his administration remains committed to freeing Paul Whelan from Russian custody, too. 
"It is a good morning," Mr. Biden said. "This is a day we've worked toward for a long time, we never stopped pushing for her release. We took painstaking and intense negotiations."
Flanked by Harris, Blinken and Cherelle Griner, the president offered gratitude to administration officials for their work to secure Griner's release, as well as the United Arab Emirates for helping to facilitate her return.
Mr. Biden acknowledged the difficulty of the months following Griner's arrest and detention in February, which he called "hell," but said she was in "good spirits" and "relieved" to be heading home. He asked that she be given "space, privacy and time" to heal from her detention.
"The fact remains that she's lost months of her life and experienced the needless trauma," he said.
The president praised Griner's athletic abilities, calling her an "incomparable athlete," and said despite the mistreatment she endured, she acted with "grit and incredible dignity."
"She represents the best about America," Mr. Biden said.
The president said that just as his administration did not forget about Griner, "we've not forgotten about Paul Whelan."
"This was not a choice of which American to bring home. We brought home Trevor Reed when we had a chance earlier this year," Mr. Biden said. "Sadly, for totally illegitimate reasons, Russia has treated Paul's case differently than Brittney's, and while we have not yet succeeded in securing Paul's release, we are not giving up. We will never give up."
The president said his administration has been and remains in touch with Whelan's family, and vowed to continue negotiating for his release.
"I don't want any American to sit wrongfully detained," he said.
By Melissa Quinn
Former DEA agents say Bout's return was priority for Putin
Former U.S. Drug Enforcement Administration agents involved in the apprehension of Bout more than a decade ago told CBS News correspondent Catherine Herridge that the Russian arms dealer was always considered a serious threat to U.S. and to global security, given the global reach of his weapons deals. The former agents said bringing him to justice was a herculean effort that spanned three continents. After he was eventually caught and extradited from Thailand, he was convicted on charges including conspiring to kill Americans. 
Another former DEA agent told CBS News in a text message, "This will damage the deterrence and consequences of committing crimes against the United States knowing they have this method now of negotiating to get killers and criminals out of serving their sentences in the US." The agent also said that organized criminal groups would "continue to commit harm against US citizens."
And one other DEA agent said the trade was "terrible for our rule of law and just reduced our criminal trials to trivial political stunts."
Bout has always been a high priority for Putin, one former U.S. official told CBS News, due not only to his background and high profile, but also because of his personal closeness to the Russian leader.
Prior to his arrest, Bout was accused by the U.N. of arming Liberian President Charles Taylor during the brutal civil war in Sierra Leone. He served as the inspiration for Nicholas Cage's character in the movie "Lord of War." Bout's release is sure to spark criticism from some of the DEA agents who tracked and arrested him.   
— Tucker Reals, Catherine Herridge and Andy Triay
"Bring Our Families Home" campaign cheers release of Brittney Griner
Bring Our Families Home, a campaign by family members of American hostages, applauded the release of Griner but reiterated its call for Mr. Biden to bring Whelan back to the U.S.
"We celebrate the long overdue return of Brittney Griner and her safe return home to her wife, family,  teammates, and the WNBPA who fought for her relentlessly. While we celebrate Brittney's homecoming, our hearts break for the Whelan family," Jonathan Franks, the group's spokesperson, said in a statement. "Paul Whelan has been let down and left behind at least three times by 2 Presidents. He deserves better from his government, and our Campaign implores President Biden to urgently secure Paul's immediate return using all tools available."
By Melissa Quinn