China declined an invitation for its minister of defense to meet with U.S. Defense Secretary Lloyd Austin on the sidelines of an annual international defense summit in Singapore later this week, the Pentagon said late Monday. 
"The [People's Republic of China] informed the U.S. that they have declined our early May invitation for Secretary Austin to meet with PRC Minister of National Defense Li Shangfu in Singapore this week," Pentagon press secretary Brig. Gen. Patrick Ryder said in a statement. 
Both Austin and Li are scheduled to travel to Singapore to attend the Shangri-La Dialogue on June 2-4 and give remarks. Austin met with Li's predecessor on the sidelines of the summit last year, but Austin has not spoken with Li since he assumed his position in March 2023. 
"I have reached out to my counterpart on a number of occasions," Austin told Congress earlier this month. "There's a new minister of defense in the seat now. I've reached out to him. I've sent him a letter and — and I offered to talk as well. I'll continue to do that. I think that's critical."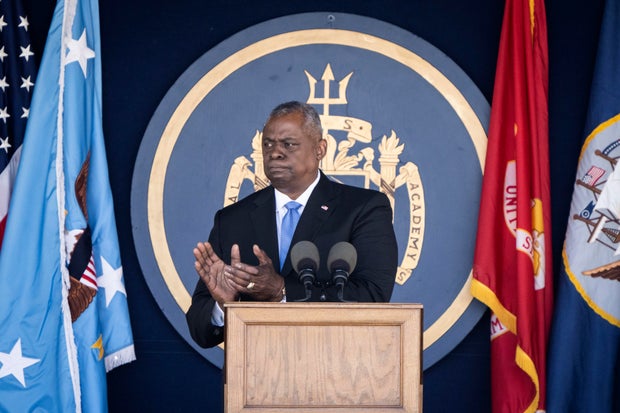 The invitation from the Pentagon was part of the Biden administration's push to restore communications between high-level officials after tensions stemming from the Chinese spy balloon, House Speaker Nancy Pelosi's visit to Taiwan, and Russia's ongoing invasion of Ukraine. 
Earlier this month, National Security Adviser Jake Sullivan met with China's top diplomat Wang Yi in Vienna, Austria, and Commerce Secretary Gina Raimondo met with her Chinese counterpart in Washington, D.C. 
A senior defense official said late Monday that since 2021, China has declined or failed to respond to over a dozen requests from the Department of Defense for key leader engagements, multiple requests for standing dialogues, and nearly ten working-level engagements.
The Wall Street Journal first reported on Monday China rejected the U.S. invitation. 
Ryder in his statement said the Pentagon will continue to seek open lines of communication with Chinese counterparts at multiple levels "as part of responsibly managing the relationship." 
Eleanor Watson
CBS News reporter covering the Pentagon.