At the Rome headquarters of the United Nations' World Food Programme (or WFP), Cindy McCain may still be learning her way around the building, but as the agency's new executive director she needs no introduction to the mission and potential of the agency she now runs, nor one of her biggest responsibilities: raising money. "I've only been on the job 24 hours, but I know I'll spend a good portion of my time fundraising, and making sure we have the means to do what we need to do," she said.
WFP is comprised of more than 20,000 people working in 123 countries, with the ambitious, and increasingly challenging, goal of ending world hunger. But WFP tells us currently they have a quarter of the funds they need – a $17-billion gap – which is causing cutbacks.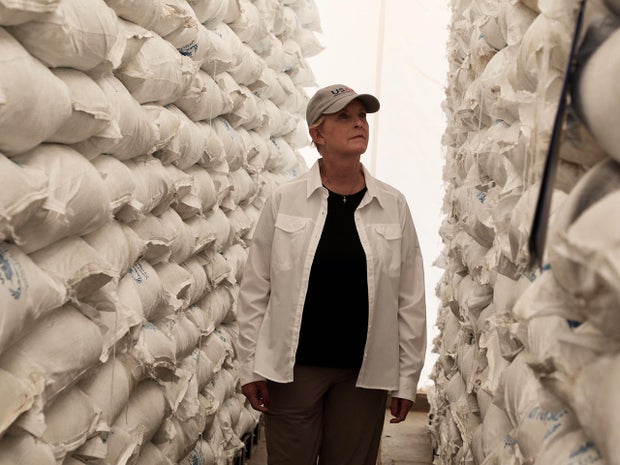 Doane asked, "What prepares you for those sorts of decisions, to decide who can eat, who can't eat?"
"I don't know yet, because I haven't had to make a decision like that," McCain replied. "I know that's coming."
WFP delivered food assistance to 158 million people last year, but says nearly 350 million people need it. It's an "unprecedented food crisis," they say, worsened by COVID, supply chains, cost, and conflict. Ukraine once produced about half of the WFP's wheat supply.
The United States is WFP's biggest donor, contributing more than $7 billion last year. China, by comparison, is #44 on the donor list, giving just about $12 million.
Doane asked, "Will you go after China to donate more?"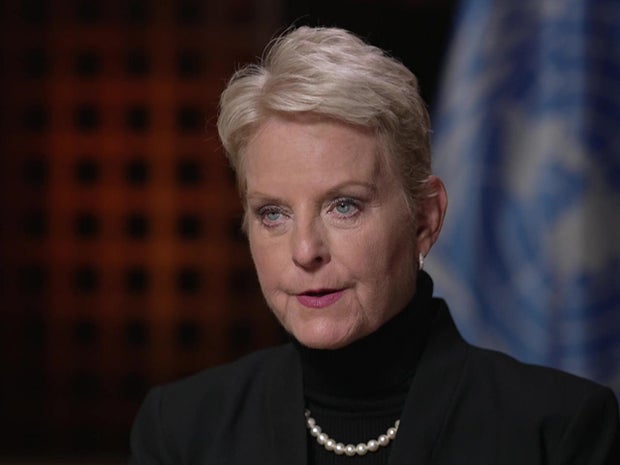 McCain replied, "I don't know if 'go after' is the right word, but I certainly will be engaged with China, as well as the Middle East, and some other parts of South America as well." She also aims to raise corporate funding.
McCain has dedicated much of her life to humanitarian work, and over the last year-and-a-half has been traveling with WFP in her role as the U.S. Ambassador to the U.N. agencies in Rome.
Doane said, "You've been critical of Russia in the past in your role as ambassador."
"As ambassador, yes."
"Now, you work for the United Nations, which includes all countries. Russia is on the Security Council. Do you regret what you said?"
"No, I was representing the United States of America," she replied. "And, as you know, WFP is nonpolitical. Our goal is to feed people."
"Is that tough, to shed your political side?"
"Well, you know, everybody's got their own personal views. So, I won't say that it's tough to shed it. I keep it in its right silo over here."
McCain has not kept her political views siloed in the past, nor did her husband, John McCain, the longtime U.S. Senator from Arizona and Republican presidential nominee. She was outspoken when she endorsed President Biden in 2020 over former President Trump. But reflecting her new role, she avoided commenting on Trump's recent arraignment. "You know, it's the justice system at work; I don't know what else to say," she noted.
"This is a more diplomatic Cindy McCain than we've heard in the past?"
"My kids get a kick out of it!" she laughed.
A lifelong Republican, she's also good friends with the Bidens, who introduced her to John McCain.
Doane asked, "Is there any advice or counsel that your late husband, Senator McCain, gave you?"
"A lot," she replied.
"Is something that still sticks with you today, something that you think about?"
"Do the right thing," McCain said. "He was always about doing the right thing."
"How much have you thought about him in taking on this role?" 
"All the time. He's with me at every moment."
"What do you think about?"
"What he would say, what he would think of all this. I know exactly what he would say and what he would think of it. And also, I think he'd be proud, at least I hope he would."
"I can see the emotion in your eyes," Doane said.
"We miss him," McCain replied.
At WFP headquarters, there's a map of flashing lights marking places where food is scarce. It's an insurmountable "to-do" list.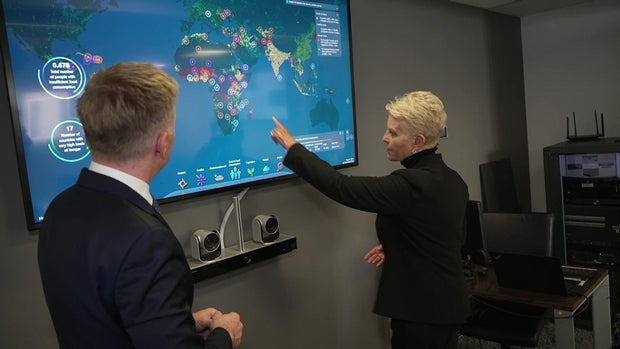 Doane asked, "What made you decide to do this? This is a challenging job. It's potentially thankless. People will still be hungry. Why not stay home and worry about less challenging things?"
"Well, that's what my kids were asking me before I left," she laughed.
"You don't need the work."
"No," she said, "but I want the work."
It's work – and fundraising – to give food and hope to the world's hungriest.
---
EDITOR'S NOTE: The United Nations has condemned the killing of three World Food Programme employees in Sudan on Saturday, April 15. 
WFP executive director Cindy McCain released a statement on Sunday which read in part: "I am appalled and heartbroken by the tragic deaths of three WFP employees on Saturday 15 April in violence in Kabkabiya, North Darfur while carrying out their life saving duties on the front lines of the global hunger crisis. Two WFP employees were also injured in the same incident. We have informed the families of these dedicated team members and stand with them and our entire WFP family at this time of catastrophe. …
"While we review the evolving security situation, we are forced to temporarily halt all operations in Sudan. WFP is committed to assisting the Sudanese people facing dire food insecurity, but we cannot do our lifesaving work if the safety and security of our teams and partners is not guaranteed." 
For more info:
United Nations World Food Programme
Story produced by Anna Matranga and Mary Lou Teel. Editor: Lauren Barnello. 
Thanks for reading CBS NEWS.
Create your free account or log in
for more features.