London — Buckingham Palace released details over the weekend about the various thrones that King Charles III and his wife, Queen Consort Camilla, will use during their formal coronation ceremony on May 6. One of them, according to the woman who was tasked with sprucing it up, is "the oldest surviving piece of furniture still used for its original purpose, so it's incredibly rare."
Krista Blessley, Paintings Conservator at Westminster Abbey in London, spent weeks before the coronation giving the incredibly fragile "Coronation Chair," also known as St. Edwards Chair, a makeover.
"Stone of Destiny" brought to London from Scotland for king's coronation 
The Coronation Chair's role
Built in 1309, the six-and-a-half-foot tall throne made of Baltic oak has "been used for every coronation of an English monarch, with a few exceptions, since then," Blessley told CBS News. She said a lot of the renovation work involved "sticking those layers of gilding back down and making sure it's completely sound before the coronation."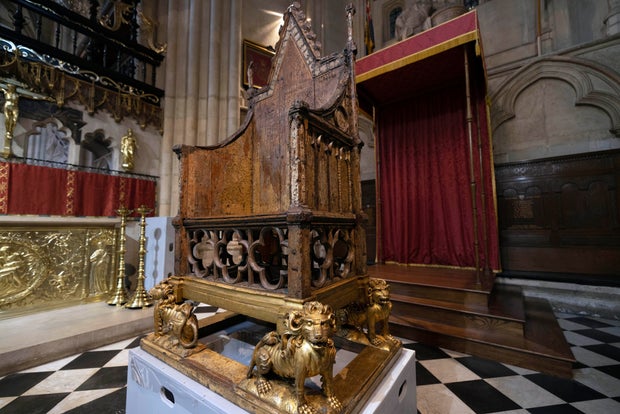 Buckingham Palace said St Edward's Chair would be used, as it has been for centuries, for the "moment of crowning" on Saturday.
The coronation schedule and how to watch the ceremony
Coronation Chair's recycled companions
Charles and Camilla, who will lose the "Consort" from her title and become simply Queen Camilla upon her crowning, will use several other chairs during the ancient ceremony, however.
According to the palace, the couple will sit in the "Chairs of Estate" and two "Throne Chairs" during other parts of the service.
"In the interests of sustainability, Their Majesties have chosen to use Chairs of Estate and Throne Chairs from the Royal Collection made for previous Coronations," the palace said in its statement on Sunday, noting that those chairs, also "have been conserved, restored and adapted as required."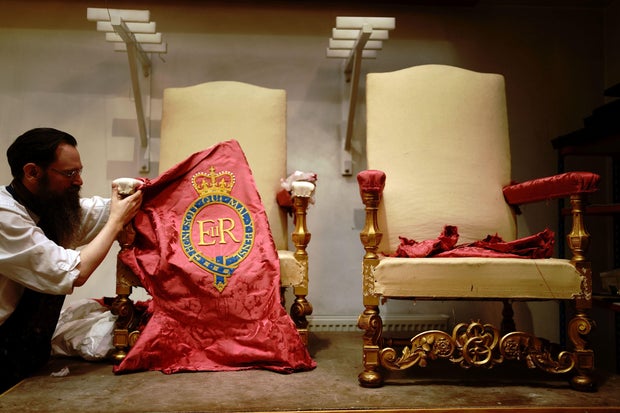 The late Queen Elizabeth II, Charles' mother, was the last person to use the Coronation Chair, for her coronation ceremony in 1953. But then, the world watched in black and white, so Blessley wanted to make sure the thrones' colors shone through this year. 
A contemporary crowning achievement
"There's birds, there's figures of saints and kings," she said of the elaborate and intricate decorations on the vaunted antique. "It really is an exquisite example of the kind of craftsmanship that doesn't survive anymore."
Details on the Crown Jewels set to feature in the coronation ceremony
The Coronation Chair has survived graffiti from schoolchildren and tourists in the 18th and 19th centuries, and even a bomb attack in 1914 that was attributed to suffragettes campaigning for women to gain the right to vote.
Blessley said the restoration of the Coronation Chair would be her own crowning achievement.
"I'm going to feel proud that I worked on the chair on the day of the coronation," she told CBS News. "I'm going to feel relieved when it's over and everything is still where it should be. It's an exciting time and it's a real privilege to be a part of it."
Ian Lee

Ian Lee is a CBS News correspondent based in London, where he reports for CBS News, CBS Newspath and CBS News Streaming Network. Lee, who joined CBS News in March 2019, is a multi-award-winning journalist, whose work covering major international stories has earned him some of journalism's top honors, including an Emmy, Peabody and the Investigative Reporters and Editors' Tom Renner award.
Thanks for reading CBS NEWS.
Create your free account or log in
for more features.