The chaos continued in southern Ukraine Friday as security forces, emergency workers and regular citizens risked life and limb to evacuate people from a vast area flooded by the destruction of a crucial dam in Russian held territory. At least several square miles along a southern stretch of the Dnipro river, lined by industry and farmland, have been inundated by floodwater that's swirling with debris, fuel and other contaminants.
Ukraine accused Russia of blowing up the Nova Kakhovka hydro-power plant and dam "from inside" early Tuesday morning, unleashing a torrent of water from the massive reservoir it held back onto the surrounding Kherson region.
The city of Kherson is less than 50 miles downstream from the broken dam. Ukraine's Interior Minister Ihor Klymenko said Friday in a social media post that four people were confirmed dead and at least 13 more were missing amid the flooding. He said some 2,412 people had been evacuated. A Russian official in the region put the death toll at eight.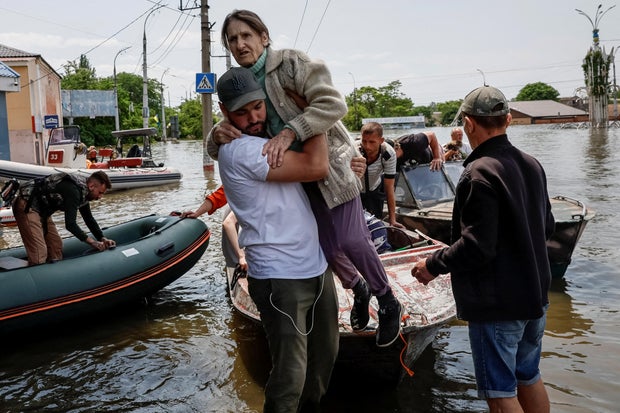 Ukrainian President Volodymyr Zelenskyy said on the Telegram messaging app that "hundreds of thousands of people" in towns and villages along the flooded Dnipro were struggling to find fresh drinking water.
"In more than 40 settlements, life is broken," said the president, who's top diplomat earlier this week accused Russia of blowing up the dam in a "heinous war crime."
Russia, whose forces had occupied the key piece of infrastructure for months, claimed it was Ukrainian troops that damaged the dam, but Moscow has offered no evidence to back up the claim. Military analysts have said Vladimir Putin's troops, who are facing a counteroffensive by Ukrainian forces, stood the most to gain with the dam's destruction.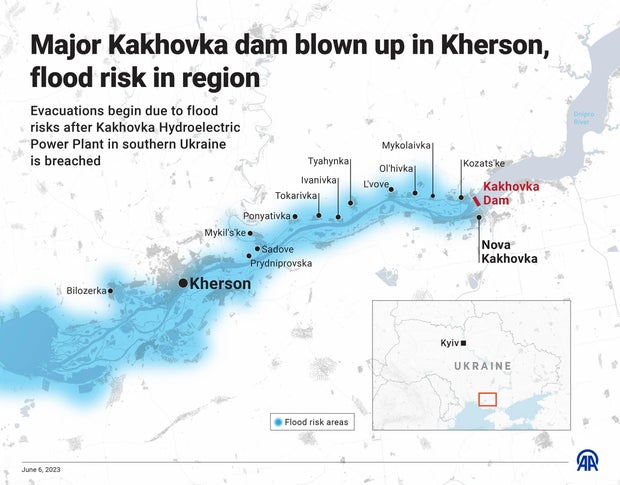 The dam was also a key road across the Dnipro river, which in much of southern Ukraine serves as a geographic barrier between Ukrainian-held ground to the west, and Russian-held ground to the east. By flooding a wide stretch along the southern portion of the river, the border between the two sides has been enlarged by several times, which will complicate any concerted bid by Ukrainian troops to push Russia back in the parts of the Kherson region it still occupies.
Ukraine's long-awaited counteroffensive was underway, a U.S. official told CBS News on Friday, saying Ukrainian brigades trained by U.S. and NATO forces were making good progress as they engaged Russian troops in the Zaporzhzhia region, just north of Kherson.
In the city of Kherson, which Ukraine reclaimed from Russian forces last year, and the flooded areas around it, rescue efforts in the disaster zone have been severely hampered by the fact that it is also an active war zone.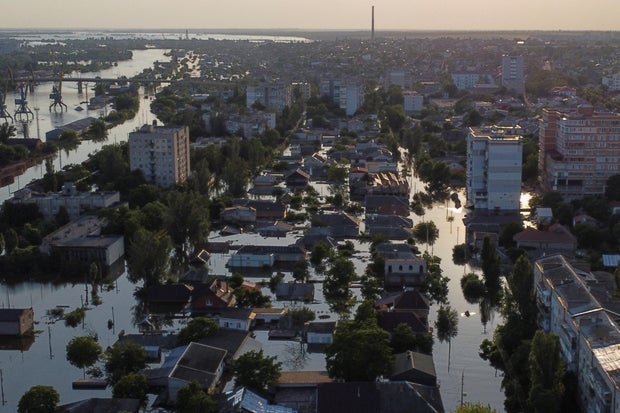 Evacuating residents is a deadly business. Boats move swiftly through the flood-stricken areas, ferrying people not only to dry land, but also away from the ongoing Russian bombardment.
News cameras rolled as one elderly man was rescued by volunteers from his submerged home, only to be hit moments later in the head by flying shrapnel as a shell landed nearby. 
Asked what it was like operating under such conditions, one rescue worker just blurted out, "adrenaline!" before indicating that he needed to get moving because of incoming fire.
Ukraine's Chief Rabbi, Moshe Reuven Azman, was among those helping emergency crews bring residents to safety on Thursday when more shells landed nearby. He was recording a video for social media about the efforts when he and his fellow rescuers were forced to duck for cover as explosions rang out nearby.
"We are now in Kherson, we're trying to evacuate people… miraculously survived," he said later in a tweet with the video. 
North of Kherson, meanwhile, on the long front line that stretches up and down the full length of eastern Ukraine, the country's forces have stepped up offensive operations around the beleaguered city of Bakhmut, which was only recently taken by Russian troops.
Ukrainian officials have said they're making steady gains along the front line in recent days and weeks but, despite intense speculation, they have not declared a formal start to the long-awaited full-scale counteroffensive.
U.S. officials told CBS News this week that the counteroffensive appeared to be in its opening phases, and they've noted an increase in fighting in a key region along the southern front line.
Thanks for reading CBS NEWS.
Create your free account or log in
for more features.