Four suspects believed to have been involved in the July 7, 2021 assassination of Haitian President Jovenel Moïse have been transferred to the United States from Haiti, federal authorities said Tuesday. Two of the suspects were among the first to be arrested in connection with the slaying.
The defendants, James Solages, 37, Joseph Vincent, 57, Alejandro Riveria Garcia, 44, and Christian Sanon, 54, are currently being held in U.S. custody. Solages and Vincent, both U.S. citizens from Florida, were arrested in Haiti shortly after the assassination. 
Solages, Vincent and Rivera are facing charges of conspiring to commit murder or kidnapping outside the U.S. and providing material support and resources resulting in death, according to the Department of Justice.
In April 2021, the criminal complaint alleges, Solages, Sanon and others met in South Florida to discuss regime change in Haiti and support for Sanon, an aspiring Haitian political candidate. During that meeting, a list of equipment and weapons that would be needed to change the regime in Haiti was shared, the complaint alleges. The list included rifles, tear gas, grenades, ammunition and other equipment, according to the complaint. Sanon then used the equipment to support his "private military" forces of about 20 Colombian nationals in Haiti, the complaint alleges, which was led by Riveria.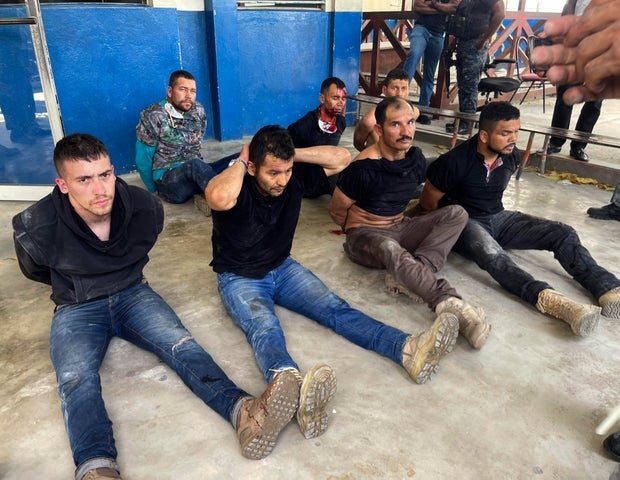 Sanon shipped 20 ballistic vests in early June to Haiti, the complaint alleges. The group of four men met on July 6, 2021, at a house near the president's residence where firearms and equipment were distributed, the complaint alleges.
Sanon is charged with conspiring to smuggle goods from the U.S. and providing unlawful export information, the Justice Department said.  
The next day, a squad of gunmen assassinated Moïse and wounded his wife in an overnight raid on their home. Moïse was shot 12 times and killed. His wife, Martine Moïse, was also shot multiple times but survived. Police said they killed four suspects and arrested two others hours later. 
Approximately 20 other Colombian citizens and a group of Haiti-based dual Haitian-American citizens plotted to kidnap or kill the Haitian president, according to 2022 federal charging documents reviewed by CBS Miami.
The Colombian government has said that the majority of the ex-soldiers were duped and thought they were on a legitimate mission to provide protection and that only a few knew it was a criminal mission.
The four defendants were detained in Haiti until Tuesday's transfer to the United States, federal officials said. Seven individuals are now in U.S. custody for their roles in the assassination plot, authorities said.
Thanks for reading CBS NEWS.
Create your free account or log in
for more features.