Israeli military tells U.N. that 1.1 million Palestinians need to evacuate to southern Gaza within 24 hours
The Israeli military informed the United Nations late Thursday night that the entire population in the northern Gaza Strip should evacuate south.
Stephane Dujarric, a U.N. spokesperson, said in a statement that liaison officers with the Israeli military informed the U.N. just before midnight local time Thursday that the entire population north of the Wadi Gaza wetlands should "relocate to southern Gaza within the next 24 hours."
According to the U.N., there are about 1.1. million people who live in northern Gaza.  
The U.N. "considers it impossible for such a movement to take place without devastating humanitarian consequences," Dujarric said, and "strongly appeals for any such order, if confirmed, to be rescinded avoiding what could transform what is already a tragedy into a calamitous situation."
The U.N. response "to Israel's early warning to the residents of Gaza," Israel's U.N. Ambassador Gilad Erdan said, was "shameful" and ignores the brutality of the attack on Israel.
According to the latest numbers from the U.N., at least 338,000 Gaza residents have been displaced since Hamas invaded southern Israel on Oct. 7, prompting retaliatory airstrikes by Israel on Gaza.   
About 300,000 Israeli soldiers have amassed outside the border of the Gaza Strip. Israel Defense Forces international spokesperson Lt. Col. Jonathan Conricus on Wednesday did not explicitly say Israel was preparing a ground assault of Gaza, but noted the troops, along with tanks, armored vehicles and other artillery, were "making preparations for the next stage of the war which will come when the timing is opportune and fit for our purposes." 
— Jordan Freiman contributed to this report.  
By Pamela Falk
U.S. cities bolster security amid Israel-Hamas war
While there is no reported credible threat, CBS News has reviewed multiple internal law enforcement bulletins and security assessments circulated in the last 48 hours that warn that homegrown and domestic violent extremists are likely to mobilize in response to the Israel-Hamas conflict.  
The assessments include private intelligence analysis, including recent work by the group Insikt, which describes itself as a team of veteran threat researchers. "Violent extremists in North America, Europe, and Australia are likely to plan physical attacks and increase virtual harassment campaigns against Jewish and Muslim communities — as well as entities perceived to be related to them — in the wake of Hamas' October 7, 2023, hybrid attack and incursion into Israel and Israel 's military response," the report said.  
The group said it's unaware of specific or credible terror threats right now, "but actors associated with violent extremist movements outside the conflict zone have called for broader mobilizations since the beginning of the incursion."  
Insikt says that historically, escalations in the conflict between Israelis and Palestinians have triggered violence against Western Jewish communities, targeting "houses of worship, community centers, government facilities, and public demonstrations."  
Read the full story here. 
Israeli businessman who sought to employ Palestinians lost daughter in music festival attack
Tel Aviv — Eyal Waldman said goodbye to his youngest daughter Thursday, 24-year-old Danielle Waldman.
"Today, we buried my daughter, my youngest daughter, Danielle," Waldman told CBS News foreign correspondent Charlie D'Agata. "She was an amazing girl, only 24, and never done anything bad to anyone."
Danielle Waldman, a California native, and her boyfriend, Noam Shai, were fatally shot while trying to flee the Supernova trance music festival in the southern Israeli desert as Hamas militants invaded the region from the Gaza Strip in the early morning hours of Oct. 7.
They were among at least 260 festivalgoers who were killed in the surprise attack, according to Israeli officials.
"They were attacked by five terrorists from two sides, three from behind," Waldman said of Danielle and Shai. 
Footage of their bullet-riddled car showed the ferocity of the attack.
In December 2019, "60 Minutes" profiled Eyal Waldman. At the time, the high-tech executive was building his business by building bridges, employing Palestinians in the West Bank for his leading computer chip company.
"I want to strive for peace," Waldman told "60 Minutes" at the time. "I want to engage with the Palestinians. But if I think you are threatening any of what's important to me, I will kill you."
Now, having lost what's more important to him than anything, the former Israeli commando says those behind the attack should pay the price.
"You know, for the short term, we need to resolve this thing," Waldman said. "Maybe not in a peaceful way. And we need to show force, and we need to be strong."
Watch the full story below:
Israeli music festival massacre site holds remnants of horrific attack
Days after Hamas gunmen killed more than 260 people, some of the thousands of people who attended the Supernova music festival that turned deadly returned to the site to collect their gear.
One man who spoke with CBS News' Holly Williams on Thursday said it was "hell."
Remnants of the crowd's belongings – blankets, tents, clothing – remain at the site after Saturday's deadly attack.
Israeli Defense Forces soldiers remain at the festival site to guard the area in the event of another attack and to clean up the carnage.
Watch the story in the video below or read more here.
By Joe Ruiz
At least 20,000 Americans have reached out to State Dept. since Hamas attacks
At least 20,000 U.S. citizens have reached out to the State Department since the Hamas attacks through online forms or via phone calls. A spokesperson said the department has sent messages to let people know they will provide detailed information to "any U.S. citizen who indicates interest in departure assistance."
The State Department announced Thursday it was arranging evacuation flights and ships to help Americans leave Israel beginning on Friday. 
After leaving Israel and arriving in other locations, people would be able to "make their own onward travel arrangements to the destination of their choice," the State Department said. It plans to "augment" the initial transportation options in the coming days. 
The State Department said it was in touch with multiple citizens currently in Gaza requesting assistance to depart. The spokesperson said the department was in contact with their Egyptian counterparts to explore "options based on the security situation on the ground and what is possible."
U.S. citizens needing assistance are being asked to reach out to the State Department via its website.
By Cara Tabachnick
WHO warns hospitals in Gaza at a "breaking point"
The World Health Organization on Thursday released a statement warning that Gaza's health system was at a "breaking point" amid the escalating airstrike campaign carried out by Israel in retaliation for Hamas's surprise assault.
"Time is running out to prevent a humanitarian catastrophe if fuel and life-saving health and humanitarian supplies cannot be urgently delivered to the Gaza Strip amidst the complete blockade," the WHO statement said. "As injuries and fatalities continue to rise due to the ongoing air strikes on the Gaza Strip, acute shortages of medical supplies are compounding the crisis, limiting the response capacity of already overstretched hospitals to treat the sick and injured."
The WHO also said it had documented attacks against health care facilities and personnel in Gaza. "WHO has documented 34 attacks on health care in Gaza since last Saturday that have resulted in the death of 11 health workers on duty, 16 injuries, and damages to 19 health facilities and 20 ambulances," the health body said. 
Israeli officials – who imposed a total air, land and sea blockade of the Gaza Strip after Hamas gained control of the territory in 2007– have ordered a complete siege, preventing fuel and supplies from entering Gaza during the current counteroffensive.
Israel's energy minister, Israel Katz, on Thursday posted on X, formerly known as Twitter, that there would be no pause in the siege unless Hamas released the hostages it captured during the terror attack.
"Humanitarian aid to Gaza? No electrical switch will be lifted, no water hydrant will be opened and no fuel truck will enter until the Israeli hostages are returned home. Humanitarian for humanitarian. And nobody should preach us morals," Katz said.
By Elias Lopez
France bans pro-Palestinian demonstrations
French Minister of the Interior Gérald Darmanin told police chiefs across the country that pro-Palestinian demonstrations must be banned because they would be "likely to lead to disturbance of the peace." 
Darmanin told police to arrest anyone trying to organize a demonstration or engaging in disorderly conduct.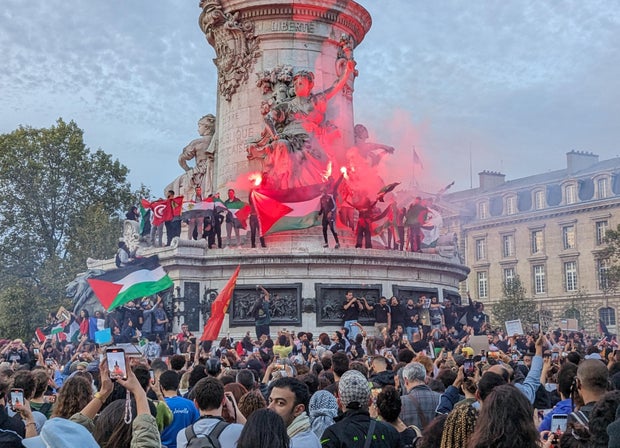 Darmanin reminded France's police chiefs of the importance of "systematic and visible" protection of places frequented by French Jews, including synagogues and schools. Some 10,000 law enforcement agents have been deployed to 580 sensitive sites.
Darmanin also ordered police to ensure that non-French nationals found to be disturbing the peace have their residency papers revoked and be expelled from the country.
The minister said 101 antisemitic acts have been recorded since Oct. 7, when Hamas launched its deadly attacks on Israel. Forty-one people have been arrested in connection with those infractions. 
French President Emmanuel Macron said Thursday afternoon that 13 French citizens were killed in Israel, and said that the country is "doing everything" to secure the release of French hostages taken by Hamas. 
"We share Israel's pain," Macron said, and reiterated the country's firm support of Israel.
By Elaine Cobbe
"I'm scared to move around": Palestinians in East Jerusalem stay home for fear of violence
The streets of East Jerusalem were emptier than usual on Thursday, as many people decided to remain at home. As the sun set, the usually bustling Damascus Gate entrance to Jerusalem's Old City was almost completely empty.
Palestinian human rights lawyer and advocate Munir Nuseibah works to help provide Palestinians in East Jerusalem with legal aid when they have housing or other issues with the Israeli government. He said that since Saturday's brutal attack by Hamas, he had started to live like he was under lockdown for COVID-19.
"There is a lot of revenge, I believe, that is ongoing right now. And the Palestinians in general in Jerusalem, they are very scared," Nuseibah told CBS News. "I am scared to move around in my own city. I feel that I should only go out to do the necessary things."
One Palestinian tour guide walking his young daughter through a park earlier in the day said he has been out of work since Hamas launched its attack on Israel on Saturday, and he's been mainly staying indoors with his family.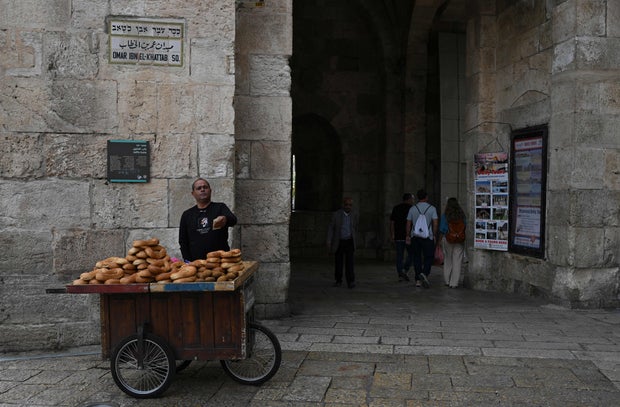 "People don't go out much, but she's doing school on Zoom now, and she was bored, so I thought I'd take her out a little bit," the tour guide said. "It's a scary situation. Everyone is worried about the Jews attacking them."
He said he wanted things to go back to the way they were before Saturday's brutal attack by Hamas. 
"It wasn't supposed to happen. People want to live. Jews want to live, Arabs want to live… I hope it goes back to the way it was," he said.
By Haley Ott
Blinken says Hamas' "depravity… harkens back to ISIS"
U.S. Secretary of State Antony Blinken addressed reporters on Thursday in Tel Aviv, where he met with Israeli Prime Minister Benjamin Netanyahu and other top officials and vowed U.S. support for the country. 
He described Hamas' attacks on Israel as "depravity in the worst imaginable way" and said acts by the militant group "harkens back to ISIS."
"It almost defies comprehension," Blinken said. 
Blinken is heading to Jordan on Thursday night to meet with King Abdullah and Palestinian leader Mahmoud Abbas, as well as senior officials from U.S. allies Saudi Arabia, the United Arab Emirates, Qatar and Egypt. He said the U.S. and these allies "will continue pressing countries to help prevent the conflict from spreading and use their leverage with Hamas to immediately and unconditionally release the hostages."
"We'll also discuss how we can continue to make real our affirmative vision for a region that's more peaceful, more prosperous, more secure, more integrated," Blinken said. "And in fact, that is the choice and the choice in some ways has been made even more stark by the actions of Hamas on Saturday."
"One path forward is a region that comes together – integrated, normalized relations among its countries, people working in common purpose for common benefit, more peaceful, more stable," he said. "And then there is the path that Hamas has shown in the stark, clear light — terror, destruction, nihilism. The choice could not be more clear."
By Caroline Linton
Iran says "new front" in Hamas war depends on Israel actions
Iran's foreign minister, whose government supports Hamas and other Middle East militant groups, said on Thursday that the opening of a "new front" against Israel would depend on Israel's actions in Gaza.
The United States fears there could be a second front on Israel's northern border with Lebanon if Hezbollah, another heavily armed Islamist group backed by Iran, were to intervene in the current war.
"Officials of some countries contact us and ask about the possibility of a new front (against Israel) being opened in the region," said Foreign Minister Hossein Amir-Abdollahian during a meeting with Iraqi Prime Minister Mohammed Shia al-Sudani.
Although Tehran has been a long-term backer of Hamas, Iranian officials have been adamant that the country had no involvement in the militants' attack against its arch-enemy Israel on Saturday.
"We tell them that our clear answer regarding future possibilities is that everything depends on the actions of the Zionist regime in Gaza," Amir-Abdollahian said, according to a statement from the Iranian foreign ministry.
The West has been cautious about Iran since Saturday, but leaders have warned Tehran in no uncertain terms against intervening in the war.
President Biden said on Wednesday that he had "made it clear to the Iranians: Be careful."
By AFP
Palestinian gunman killed after wounding Jerusalem police officers
Two officers were wounded Thursday in a shooting in Israeli-annexed east Jerusalem. The gunman, a 20-year-old man from the city's eastern sector, was killed by Israeli forces, police said. 
The gunman, who has not been identified, "opened fire at police officers who were standing in front of the" Shalem police station near the Old City, police spokesman Dean Elsdunne said.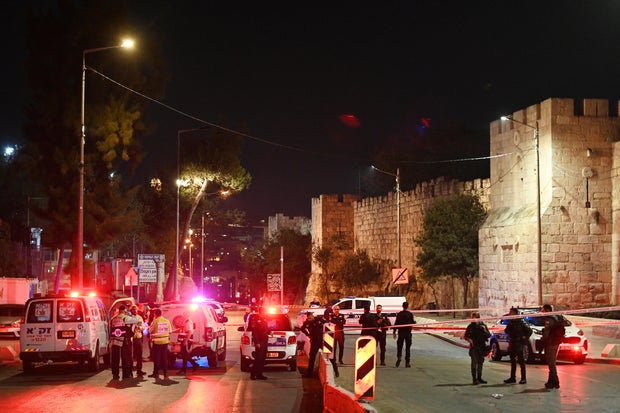 An AFP photographer saw what appeared to be a dead body outside the police station with dozens of officers in the area.
One of the officers was in serious condition and the other was lightly wounded, police said, citing medics.
As the gunman "attempted to flee the scene", officers "managed to… successfully neutralize him. He was declared deceased at the scene," said Elsdunne.
At least 33 Palestinians have been killed in east Jerusalem and the occupied West Bank in violence related to the Israeli-Palestinian conflict since Saturday. 
By AFP
338,000 people displaced in Gaza, U.N. says
The United Nations' Office for the Coordination of Humanitarian Affairs (OCHA) said Thursday the number of displaced people in the Gaza Strip has climbed 30% since the day before.
There are now 338,000 people displaced in Gaza, which is one of the most densely populated areas in the world. More than two million people live in the 139-square-mile territory. 
The U.N. Relief and Works Agency (UNRWA) said nearly 218,000 displaced people are sheltering in 92 of its schools and facilities in the Gaza Strip. Over 2,500 homes have been "destroyed or severely damaged and rendered uninhabitable" amid a barrage of retaliatory airstrikes from Israel. 
At least 88 education facilities have also been struck, UNRWA said, including 17 of its schools and 70 Palestinian Authority schools. Twelve UNRWA personnel have been killed since the violence began. 
People in Gaza are also suffering as Israel halted the entry of water, food, medicine and fuel, cutting electricity supplies to the Palestinian enclave. The territory's sole power plant has run out of fuel, OCHA said, causing a blackout. 
UNRWA also warned a water crisis is looming in its emergency shelters and across the Gaza Strip as a whole. Water pumps and desalination plants cannot operate without electricity. 
Humanitarian workers have been able to offer some assistance, including bringing fresh bread to 137,000 displaced people and delivering 70,000 liters of fuel to water and sanitation facilities to help them operate. 
By Kerry Breen
U.S. reaches "quiet understanding" with Qatar not to release $6 billion in Iranian oil money
The U.S. has reached a "quiet understanding" with Qatar not to release any of the $6 billion in Iranian oil revenue that was unfrozen as part of the U.S.-Iran prisoner swap last month, a source with knowledge of the arrangement told CBS News.
As part of the high-stakes deal to release five Americans who had been wrongfully detained in Iran, the Biden administration included the transfer of the Iranian oil assets from a restricted account in South Korea to Qatar.
The timing of the understanding that was reached was not disclosed by the source, so it is not known whether this transpired after Hamas attacked Israel over the weekend.
In a briefing with reporters on Thursday afternoon, White House national security spokesman John Kirby insisted that "the regime was never going to see a dime of that money."
Read the full story here. 
Caitlin Yilek and Olivia Gazis contributed to this report.
By Nancy Cordes
"Emergency government" sworn in one day after being formed in Israel
Israeli lawmakers swore in an "emergency government" in a 66-4 vote on Thursday, the country's parliament said, one day after Prime Minister Benjamin Netanyahu announced a war-time partnership with rival Benny Gantz.
Gantz and four members of his party were sworn in as ministers. Earlier Thursday, opposition chief Yair Lapid announced he would not join the government and criticized the Israeli government for not preventing this weekend's brutal attack, calling it an "unpardonable failure." 
The AFP contributed reporting.
By Kerry Breen