Israeli airstrikes on Gaza continued a day after President Biden visited Tel Aviv and gave the country's leaders and people his firm support as the Jewish state grapples with the perilous realities of its war against Hamas militants. Tension in the region was still rising Thursday over Israel's relentless strikes on Gaza — and warring narratives over what happened at the Al Ahli hospital in Gaza City on Tuesday night, where Palestinian officials say an explosion killed hundreds of people. 
U.S. and Israeli officials including Mr. Biden said Wednesday that evidence shows the explosion was caused by a rocket fired by the Palestinian Islamic Jihad militant group that fell short of its target, but many in the region still blame the carnage on the Israeli military. 
Protests have erupted across the Middle East in the wake of the deadly blast, including in Tunisia, Bahrain, Egypt, Lebanon, and Morocco. At demonstrations in the Israeli-occupied West Bank, Palestinian officials said two teenagers were shot dead by Israeli forces. The Israeli military said it was looking into the report.  
Mr. Biden backed Israel's right to quash Hamas, which has ruled the Gaza Strip for almost two decades, but he urged Israelis not to be consumed by rage, warning that wartime decisions made without careful consideration would lead to mistakes. 
The U.S. leader secured a commitment from Israel to stop bombing the area around Egypt's Rafah border crossing with the Gaza Strip so desperately needed humanitarian aid can flow into the enclave for the first time since Israel imposed a complete blockade on Oct. 7.
But it remained unclear on Thursday when the border would open, and instead of aid, it was still Israeli missiles reaching Gaza's two million inhabitants. A residential building just yards from the Al Quds hospital in Gaza City was struck Wednesday, sending medical staff and civilians running for cover inside.
As of Thursday, health officials in Hamas-controlled Gaza say Israeli strikes have killed almost 3,800 people and wounded almost 12,500 others, a majority of them women and children. That number includes more than 470 said to have been killed in the hospital blast, which Israel denies causing.
In Israel, officials say Hamas' attack killed some 1,400 people and wounded 3,500 others.  
The U.S. State Department said Thursday the death toll includes 32 Americans, and 11 U.S. citizens remain unaccounted for. Efforts to secure the release of hostages held by Hamas remains "ongoing," a State Department spokesperson said, 
32 Americans killed in Israel-Hamas conflict, State Department says
The number of Americans killed in the fighting between Israel and Hamas militants rose to 32, the State Department said Thursday, with 11 people still unaccounted for. 
"With respect to our work to secure the release of hostages, that work is ongoing," State Department spokesperson Matthew Miller said at a briefing. 
"I don't want to offer a public assessment of where they might be or their situation," Miller said about American hostages inside Gaza.
By S. Dev
U.N. to inspect aid shipments into Gaza under Israel-Egypt deal
A U.N. flag will be raised at the Rafah crossing between Egypt and Gaza to protect against Israeli airstrikes under a U.N.-brokered deal between Israel and Egypt to allow aid into the Palestinian territory.
An Egyptian official and a European diplomat said observers from the U.N. will also inspect trucks carrying aid before crossing into Gaza.
They said the U.N will oversee the aid, along with the Egyptians and Palestinian Red Crescent societies, to ensure it is given to civilians and not used by Palestinian militants.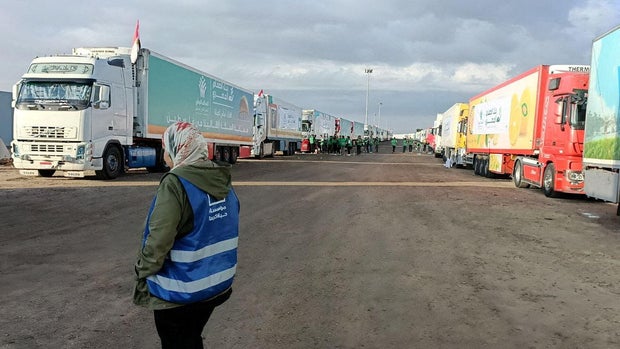 The Egyptian official said they are still negotiating with Israel over allowing fuel into Gaza, where a shortage has forced the closure of multiple hospitals.
The official and the diplomat spoke on condition of anonymity because they were not authorized to brief the media.
By The Associated Press
U.S. Navy warship in Red Sea intercepts three missiles heading north out of Yemen
A U.S. Navy warship on Thursday took out three missiles that had been fired from Yemen and were heading north, U.S. officials said.
The officials said the USS Carney, a Navy destroyer, was in the Red Sea and intercepted the three missiles. It wasn't immediately certain if they were aimed at Israel. One of the officials said the U.S. does not believe the missiles were aimed at the ship.
The officials spoke on condition of anonymity to discuss military operations not yet announced.
Iranian-backed Houthi rebels have expressed support for the Palestinians and threatened Israel. Last week, in Yemen's Sanaa, which is held by the Houthi rebels still at war with a Saudi-led coalition, demonstrators crowded the streets waving Yemeni and Palestinian flags. The rebels' slogan long has been, "God is the greatest; death to America; death to Israel; curse of the Jews; victory to Islam."
Last week, Abdel-Malek al-Houthi, the rebel group's leader, warned the United States against intervening in the ongoing conflict between Israel and Hamas, threatening that his forces would retaliate by firing drones and missiles.
By The Associated Press
Biden to ask Congress for Israel, Ukraine funding in address
President Biden will address the nation from the Oval Office Thursday night at 8 p.m. ET to affirm the United States' solidarity with Israel and Ukraine and ask Congress for $100 billion in supplemental funding, including billions in wartime aid for each country.
The president's address, only his second from the Oval Office, comes on the heels of his whirlwind trip to Israel, where he met with Prime Minister Benjamin Netanyahu and Israeli President Isaac Herzog. 
Mr. Biden will speak about the response to Hamas' attack on Israel, in addition to Russia's war in Ukraine, emphasizing how the conflicts matter for global security, a senior White House official said, adding that the president believes it's important to speak directly to the American people about how Israel and Ukraine relate to the United States' national security interests.
Mr. Biden and his aides have been working on the speech throughout the course of the week, including on Air Force One on the way back from Israel, according to the official.
In Israel, the president pledged $100 million to U.S. aid to civilians in Gaza and the West Bank, while declaring America's unwavering support for Israel.
Read the full story here.
— By Kathryn Watson, Weijia Jiang
More than 300 arrested in Capitol Hill protest urging cease-fire
More than 300 people were arrested for illegally demonstrating and three people were charged with assaulting police after protesters descended on Capitol Hill to call for a cease-fire between Israel and Hamas.
Hundreds of demonstrators from Jewish advocacy groups, including Jewish Voice for Peace and If Not Now, poured into a congressional office building on Wednesday. They wore shirts that read "Jews say cease fire now" and chanted "let Gaza live" and "not in my name" before they were detained by Capitol Police.
Demonstrations are not allowed inside Capitol buildings, and police said they warned the crowd gathered in the rotunda of the Cannon House Office Building to stop before they began making the arrests.
The 305 people arrested for illegally demonstrating were subsequently released and those charged with assault were held in custody pending an appearance before a judge.
A few liberal members of Congress have been pushing for a resolution in the war, saying that Israeli bombardment of civilians in Gaza is leading to a humanitarian crisis.
The protesters were never in the U.S. Capitol, as some falsely stated on social media.
Read the full story here.
By The Associated Press
California Gov. Newsom says he is traveling to Israel
Gavin Newsom, the governor of California, said Thursday he is on his way to Israel. 
Newsom announced his plans in a post on X, formerly known as Twitter. He was already traveling overseas to visit China to "advance climate action, economic development and tourism, and to combat xenophobia," according to a post on the official account of the California governor's office. 
Newsom said that in Israel he will meet with those impacted by Hamas' Oct. 7 attacks and offer California's support. 
The announcement comes one day after New York Gov. Kathy Hochul visited the country.
By Kerry Breen
Israel says girl and her grandmother found dead
A young girl and her grandmother, who were believed to have been taken hostage by Hamas militants on Oct. 7, were found dead on Wednesday, Israel said on social media Thursday. 
Noya Dan and her 80-year-old grandmother, Carmela Dan, were in the Nir Oz kibbutz in Israel when it was attacked by Hamas militants. Abbey Onn, a relative of theirs, told CBS News that three other relatives were also missing, and that all five were presumed to be hostages of Hamas. 
"We are devastated to announce that Noya and her grandmother Carmela's bodies were discovered yesterday," Israel's statement said.
It's not clear where the bodies were found, or what happened to the other family members. 
Israel previously said on X, formerly known as Twitter, that Noya had autism and was 12 years old. It said she was a "massive Harry Potter fan" and shared a photo of her wearing a Harry Potter costume and clutching the sixth book in the series. 
Onn described Carmela Dan as "the mother and grandmother" not just to her family "but to a much larger community," and said that her family members "loved the simple things." Israel said in a prior post on X that Carmela Dan turned 80 earlier this week. 
By Kerry Breen
MTV Europe Music Awards canceled
The MTV European Music Awards will not be held this year because of the "volatility of world events," the event's organizers said in a statement Thursday.
The EMAs were scheduled to take place in Paris, France, on Nov. 5, but "out of an abundance of caution," the event was canceled. 
"The MTV EMAs are an annual celebration of global music," the event organizers said. "As we watch the devastating events in Israel and Gaza continue to unfold, this does not feel like a moment for a global celebration. With thousands of lives already lost, it is a moment of mourning. Thank you for your understanding and for all that you do. You are the heart of this show." 
Scheduled performers included American singer Sabrina Carpenter, who recently opened for Taylor Swift on her "Eras" tour, and K-pop singer Jung Kook, according to the event's website. 
MTV Entertainment Group is a subsidiary of the Paramount Media Networks, which is a division of CBS News' parent company Paramount Global.
The statement said the EMAs would be hosted again in November 2024. 
By Kerry Breen
Tensions high in Europe amid anger over war
Tensions are high in Europe as anger over the Israel-Hamas war has led to a rise in bomb threats and growing fears of hate crimes.
In Germany's capital, Berlin, police reported four cases of the Star of David being daubed on the doors of Jewish residents — echoing the Nazi wartime practice of painting the star on Jewish businesses to discourage people from frequenting them.
In London, the Met Police said they have seen a rise in antisemitic and Islamophobic crimes reported since Hamas militants attacked Israeli soldiers and civilians on Oct. 7. Three Jewish schools in the British capital closed amid fears they might be targeted.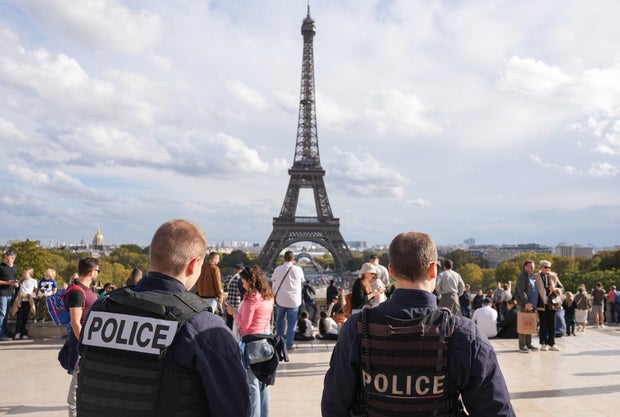 In France, which has Europe's highest Jewish and Muslim populations, there has also been a rise in security threats. The country raised its terror alert to the highest level after a teacher was killed in a stabbing at a school on Oct. 13. And by Wednesday evening, more than a dozen airports across the country had been evacuated at some point following bomb threats or scares, and a total of 130 flights were canceled. 
Read the full story here.
By Elaine Cobbe
U.N. chief calls for release of hostages, "immediate humanitarian ceasefire"
United Nations Secretary-General António Guterres has requested "the immediate and unconditional release" of hostages held by Hamas, and "immediate" humanitarian aid in the Gaza Strip. 
Guterres, who spoke from Cairo, Egypt, alongside the country's Foreign Minister Sameh Shoukry Thursday, called for an "immediate humanitarian ceasefire" to meet those goals. 
Guterres
"Civilians in Gaza desperately need core services and supplies, and for that we need rapid, unimpeded humanitarian access," Guterres said. "We need food, water, medicine and fuel now. We need it at scale and we need it to be sustained. It is not one small operation that is required. It is a sustained effort to deliver humanitarian aid to the people of Gaza." 
Guterres said he has seen U.N. preparations in Egypt to deliver "massive support" to those in Gaza. He called Egypt, whose Rafah border crossing is the only access point to Gaza not controlled by Israel, "our only hope."
"Through its actions and through its openness, Egypt is showing how it is a pillar of international cooperation and a lynchpin in helping to … defuse tensions and to ease colossal human pain and suffering," Guterres said.
By Kerry Breen
Israel defense minister tells troops "be ready" for Gaza ground invasion
Israel's defense minister has told ground troops to be ready to enter the Gaza Strip, though he is not saying when the invasion will start.
In a meeting with Israeli infantry soldiers on the Gaza border Thursday, Yoav Gallant urged the forces to "get organized, be ready" for an order to move in.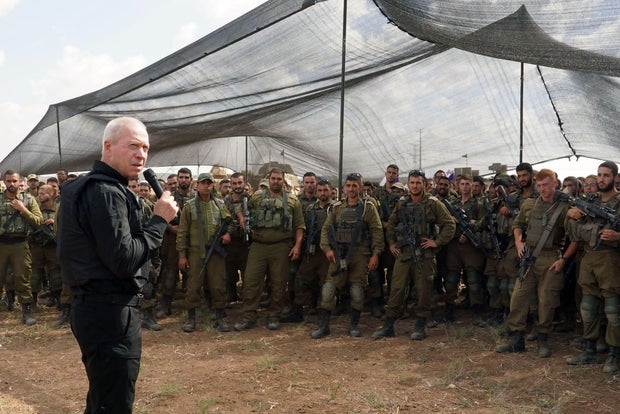 "Whoever sees Gaza from afar now, will see it from the inside," he said. "I promise you."
Israel has massed tens of thousands of troops along the border following the bloody Oct. 7 cross-border massacre by Hamas militants.
By The Associated Press
State Department issues "worldwide caution" alert
The State Department issued a "worldwide caution" alert Thursday warning U.S. citizens overseas to "exercise increased caution due to the potential for violence."
The alert said "increased tensions in various locations around the world, the potential for terrorist attacks, demonstrations or violent actions against U.S. citizens and interests, the Department of State advises U.S. citizens overseas to exercise increased caution."
To stay safe, U.S. citizens should stay alert in locations frequented by tourists, the State Department said, and sign up for its Smart Traveler Enrollment Program to receive information and alerts about the situation in a specific country. The program also helps the State Department locate travelers in emergency situations. Citizens should also monitor the State Department's website and social media pages.
Earlier on Thursday, the State Department urged all citizens in Lebanon to leave the country and advised not traveling there, citing the "unpredictable security situation" in the area.
Read more here.
By Kerry Breen
Gaza Health Ministry issues urgent request for diesel
The Gaza Health Ministry has issued an urgent request for diesel after a fifth major hospital closed due to a lack of fuel.
The Yemen al-Saeed Hospital in the north of the Gaza Strip was forced to shut down after running out of fuel, the ministry said Thursday.
Beit Hanoun Hospital, Dora Children's Hospital, Karama Hospital and the International Eye Hospital in Gaza have already closed due to fuel shortages and air strike damage, the ministry said. Services have also halted at 14 smaller primary health centers in the enclave for the same reasons, it said.
The ministry issued an urgent call to all gas stations in Gaza and anyone else who may have a spare liter of diesel to immediately call a hotline so that the fuel can be transferred to Gaza's hospitals, now powered by backup generators with scant fuel supplies.
The remaining healthcare facilities in Gaza are operating at over 150% capacity, the ministry said.
By The Associated Press
European Parliament calls for "humanitarian pause" in Gaza
The European Parliament has called for a "humanitarian pause" in Gaza to make sure aid can reach the needy, and stressed that Israel's right to defend itself can only be done within the strictures of international law.
In the nonbinding resolution adopted in a 500-21 vote, with 24 abstentions, European lawmakers also called for the immediate release of all hostages kidnapped by Hamas.
The call for a "humanitarian pause" stopped short of demanding a cease-fire.
By The Associated Press
WHO says aid "ready to go" into Gaza
The World Health Organization has humanitarian aid ready to enter Gaza, WHO director-general Tedros Adhanom Ghebreyesus said in a news briefing Thursday. 
Ghebreyesus said a "planeload" of supplies is waiting in Egypt, and an additional four flights with about 44 tons of supplies will arrive in the area in the next week. The supplies "include trauma medicines to treat wounded patients, medicines for those with diabetes, cancer and cardiovascular disease, and other essential health supplies to serve the needs of 300,000 people, including pregnant women," he said. 
"Our trucks are loaded and ready to go," he said. "We are working with Egypt and Palestine Red Crescent Societies to deliver our supplies into Gaza as soon as the Rafah crossing is opened, hopefully tomorrow."
Ghebreyesus said he met with Egyptian President Abdel Fattah El Sisi, who agreed to "facilitate the delivery of medical supplies to Gaza" through the Rafah crossing, which is the only access point into the Gaza Strip not controlled by Israel. 
On Wednesday, Israeli officials said they would not prevent aid – food, water and medicine – from entering Gaza via Egypt, but it remains unclear when aid will go in. The director-general called on Israel to allow fuel into the Palestinian territory, saying it is needed to operate hospital generators, ambulances and desalination plants in Gaza.
"War will bring nothing but destruction and horror, and it will do nothing to make the region more secure – in fact, the opposite," Ghebreyesus said. "The only solution – the only hope – is dialogue, understanding and peace."
By Kerry Breen
IDF carries out counterterrorism operation in West Bank, arresting dozens
The Israel Defense Forces said Thursday that its security forces carried out a counterterrorism operation in the West Bank and apprehended more than 80 "wanted suspects," including 63 alleged Hamas operatives. 
The IDF said over 500 "wanted suspects" have been apprehended in the area since Oct. 7, and said 330 of those suspects are "operatives of Hamas." The Israeli military said it confiscated "a large number of weapons."
The IDF also "apprehended a number of wanted suspects in the Nur Shams Camp," a refugee camp in the West Bank. The AFP reported that, according to the Palestinian health ministry, four people were killed in the operation.  
The IDF said their forces demolished the home of Ahmed Yasin Jadin, whom they described as a Hamas terrorist who carried out a shooting attack that killed an Israeli soldier in July. While that operation was underway, a "violent riot" began in the town of Burdus, the IDF said, with "approximately 20 suspects" throwing objects including Molotov cocktails at the soldiers and blocking routes with "burning tires and trash cans." 
"The forces responded with live fire and a hit was identified," the IDF said. The IDF did not elaborate on what that meant or if anyone had been killed or injured. The AFP reported that one person was killed in Burdus, but did not say if it was related. 
By Kerry Breen
Miami Beach firefighters volunteer to help in Israel
At least 13 firefighters from the Miami area will be heading to Israel to help fill the need for first responders as many Israeli reservists are called up for military duty.
Miami Beach Commissioners agreed to the plan Wednesday after the firefighters volunteered, CBS Miami reports.
Officials said the effort to send help began with a call to Miami Beach Fire Department Chief Virgil Fernandez.  
"It gave me absolute pride," he said.  
"The fact that our own firefighters from Miami Beach are proactively offering to help out means the world to me," said city commission member Stephen Meiner.
Many of those who volunteered also went to Haiti after devastating earthquakes there.
An Israeli search and rescue team flew in to help Miami-Dade County in 2021 following the deadly collapse of a condo building in Surfside.
Israel's Supreme Court postpones hearing on judicial overhaul
Israel's Supreme Court is postponing a flashpoint hearing on Prime Minister Benjamin Netanyahu's contentious judicial overhaul plan because some of the government's representatives in the case have been called up for reserve duty, according to the court postponement order.
The hearing, originally set for Sunday, has now been moved to Nov. 5.
The case deals with the legality of Justice Minister Yariv Levin's refusal to convene the judicial appointments committee, a move which critics say will help Levin augment the bench to suit his far-right coalition's policy preferences.
The case will make the third major hearing on the overhaul, after two cases were heard last month. Since the outbreak of war, Netanyahu's government has largely put the overhaul on hold.
By The Associated Press
Leaders of Egypt, Jordan reiterate support for Gaza after bilateral talks
King Abdullah of Jordan and President Abdel Fattah El Sisi of Egypt reaffirmed their countries' "unified position in rejecting the policy of collective punishment" in the Gaza Strip after joint bilateral talks. 
The news release, which came from the Royal Hashemite Court of Jordan, criticized policies including "siege, starvation or displacement of people." 
It's been estimated that about one million people in Gaza have been displaced, and the Hamas-controlled territory has been under a total blockade as Israel launches airstrikes in response to Hamas' brutal terror attacks on Oct. 7. On Wednesday, Israel announced that it would not stop humanitarian aid from entering Gaza through Egypt, but there has not been any aid delivered yet. 
The two leaders also "expressed rejection of any attempt at the forced displacement" of Gaza residents into Jordan or Egypt, and "reiterated the call to immediately stop the war on Gaza, protect civilians, lift the siege, and deliver humanitarian aid to the people there." 
The leaders also condemned the blast at Al Ahli hospital, which they warned was a "dangerous escalation" in the war. Israel and Gaza have traded blame for the explosion, with Israel saying it was caused by a failed militant rocket. The United States has released some of its own intelligence findings supporting Israel's statements. 
President Biden was supposed to meet with Sisi, Abdullah and Palestinian Authority president Mahmoud Abbas in Jordan after a visit to Israel Wednesday, but the meeting was canceled following the hospital explosion. 
The leaders of Jordan and Egypt warned that "if the war does not stop and expands, it threatens to plunge the entire region into a catastrophe." 
By Kerry Breen
Gaza hospital shuts off lights to conserve fuel
Gaza's second-largest hospital has switched off the lights in the majority of the facility as staff try to conserve energy amid fuel shortages.
Lights are still on in Nasser Hospital's intensive care unit, but in many other departments, doctors are using cellphones and flashlights to illuminate procedures.
"The siege on Gaza has to be lifted," UNRWA spokesperson Juliette Touma said. "UNRWA is calling for regular and sustained humanitarian access to the Gaza Strip."
By The Associated Press
U.K. Prime Minister Rishi Sunak visits Tel Aviv one day after Biden
British Prime Minister Rishi Sunak landed in Israel on Thursday to meet with leaders in Tel Aviv, including Israeli Prime Minister Benjamin Netanyahu. He was expected to continue to push for the swift opening of a humanitarian aid route into Gaza and to work to facilitate the departure of British citizens trapped there.
Upon landing in Tel Aviv, the U.K. leader said his country stands with Israel, calling the attacks by Hamas on October 7 an "unspeakable, horrific act of terrorism." He then met with families of people who are being held hostage by Hamas militants in Gaza.
In a meeting with Israeli President Isaac Herzog, Sunak stressed the importance of providing the humanitarian aid. "Palestinians are victims of what Hamas has done. It's important that we continue to provide humanitarian access," he said.
Sunak told reporters, "It's important that the conflict doesn't escalate regionally. That's why I'm talking to as many people as I can across the region."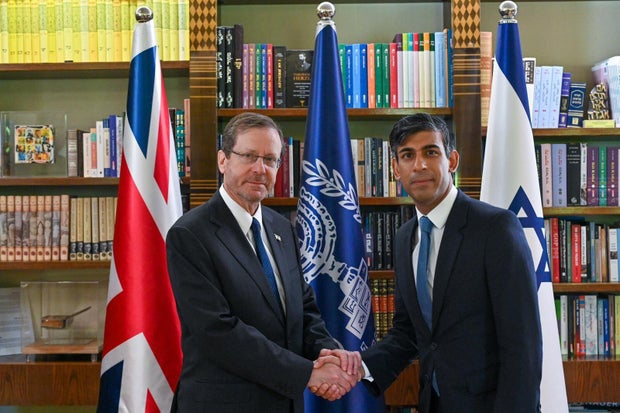 After his meetings with Israeli leaders, Sunak will head for Saudi Arabia, where he will meet with Crown Prince Mohammed bin Salman, his spokesperson said.
After the explosion at the Al-Ahli hospital on Tuesday, before he set off on his trip, Sunak's office released a statement saying it was a "watershed moment for leaders in the region and across the world to come together to avoid further dangerous escalation of conflict" and said the U.K. would be "at the forefront of this effort."
By Haley Ott
Health Ministry in Hamas-run Gaza puts death toll at 3,785 after 13 days of Israeli airstrikes
The death toll in the Gaza Strip after 13 days of relentless Israeli airstrikes had reached 3,785 on Thursday, according to the Hamas-controlled Palestinian territory's Health Ministry. 
Ministry spokesman Ashraf al-Qudra said the death toll included 1,524 children and 1,000 women, and that 12,493 other people were wounded, including 3,983 children and 3,300 women.
The toll given by the Health Ministry includes some 470 people killed in an explosion Tuesday night at a hospital in Gaza City, which Israel has vehemently denied any blame for. Both Israel and the U.S. say evidence shows it was a rocket fired by the Hamas-allied Palestinian Islamic Jihad group that caused the blast.
The Health Ministry blamed Israeli airstrikes for the deaths of 44 medics and said another 70 had been injured. It said 23 ambulances had also been destroyed.
By Khaled Wassef
Palestinians say 12 killed in Israeli strike in southern Gaza, where people were told to seek safety
Israeli airstrikes pounded locations across the Gaza Strip early Thursday, including parts of the south that Israel had declared as safe zones, heightening fears among more than 2 million Palestinians trapped in the territory that nowhere was safe.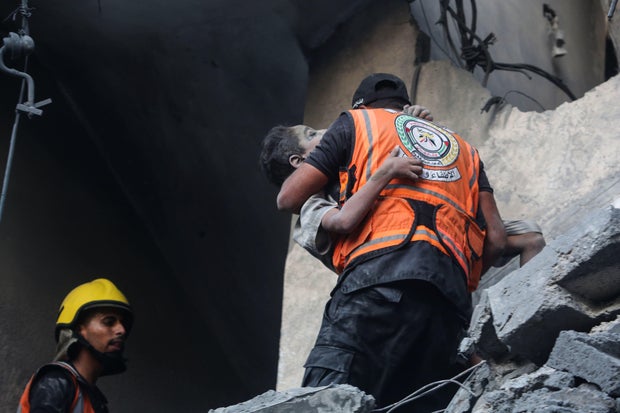 In the nearly two weeks since a devastating Hamas rampage in southern Israel, the Israeli military has relentlessly attacked Gaza in response. Even after Israel told Palestinians to evacuate the north and head to what it called "safe zones" in the south, strikes continued overnight throughout the densely populated territory.
A residential building in Khan Younis, a city in southern Gaza where hundreds of thousands of Palestinians had sought shelter, was among the places hit. Medical personnel at Nasser Hospital said they received at least 12 dead and 40 wounded.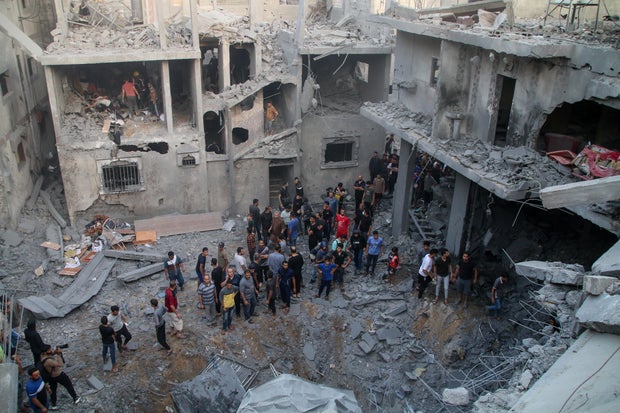 By The Associated Press
Israeli military says 203 hostages held in Gaza Strip
Israel's military said Thursday that 203 people were being held hostage in the Gaza Strip. It was an increase in the number of confirmed captives from 199, and it came, almost two weeks after Hamas militants based in the Palestinian territory stormed through border walls and fences into southern Israel, murdered hundreds of people and kidnapped others.
There are Israelis of all ages among those believed to be in Hamas captivity, including soldiers. At least 13 U.S. nationals have been confirmed missing since the Hamas terror attack on Israel, but the U.S. government has not confirmed how many are believed to be among the hostages in Gaza.
President Biden, speaking in Tel Aviv Wednesday during a fleeing, high-stakes visit to show U.S. solidarity with Israel and to try to contain the regional conflict, said rescuing the hostages held in Gaza was his highest priority.
The U.S. has been working with regional partners, including officials in Qatar, where Hamas has a political office, to secure the captives' release.
The family of one American hostage, Omer Neutra, told CBS News they want the U.S. and Israeli governments to "do everything, and we mean everything, to bring them back as soon as possible." Watch more of their story in the video below:
By Tucker Reals
DHS and FBI warn of "heightened" potential for violence amid Israel-Hamas conflict
The U.S. government warned law enforcement nationwide Wednesday that fighting between Israel and Hamas has "sharpened the focus of potential attacks" in the United States for individuals and institutions with "perceived" ties to the turmoil.
 An intelligence bulletin issued by the Department of Homeland Security (DHS), FBI and National Counterterrorism Center urged law enforcement officials and private sector security partners to "remain vigilant" in the days following Hamas' deadly assault on Israel.  
According to the bulletin, federal law enforcement observed an increase in threats to Jewish and Muslim communities in recent days, noting that "hoax bomb threats have targeted several synagogues across the United States—likely intended to disrupt services and intimidate congregants."
U.S. intelligence analysts write that while Hamas "has not conducted or called for attacks in the United States," the "perceived success" of their terrorist attacks may motivate homegrown violent extremists.
The bulletin identifies "possible signposts" that may indicate potential violence, including explicit praise of tactics, techniques and procedures associated with Hamas' attack in online spaces commonly associated with or used by violent extremists.  
Read more here.
— By Catherine Herridge, Nicole Sganga, Andres Triay.  
Israel's intelligence, border security failure most surprising aspect of Hamas attack, analyst says
Dan Raviv, a Middle East news analyst and former CBS News correspondent, said what surprised him most about Hamas' attack on Israel was the country's intelligence and border security failures.
"The Israelis are thought of as the best, in the Middle East certainly, when it comes to security and military strength, yet on the morning of October 7 they didn't know Hamas was going to attack," he told CBS News. "And because Hamas was able to punch right through that border fence, it's amazing, more than 2,000 Hamas and other fighters from Gaza came through."
Raviv argued that if Israel successfully drives Hamas out of power in the Gaza Strip, a stated goal of Prime Minister Benjamin Netanyahu, the Palestinian Authority should take control of the territory.
"Persuade them to come back to the Gaza strip, they were kicked out by Hamas in 2007, persuade them to come back with a promise of a lot of money, investment, they can open the port, they're relatively moderate, they've made deals with Israel. So there's a possibility there, maybe," Raviv said.
He noted, however, that Palestinian Authority President Mahmoud Abbas was one of the Arab leaders who pulled out of a summit with President Biden following a deadly blast at a hospital in Gaza.
By Jordan Freiman
Airstrike kills 7 children in Gaza home, residents and doctors say
Residents and doctors in this southern Gaza town said an airstrike slammed into a home, killing seven small children.
The news spread quickly on social media, as grisly images of dead and bloodied toddlers lined up side-by-side on a hospital stretcher stirred outrage in Gaza and the West Bank.
Bandaged and caked in dust, the bodies were brought to the Gaza European Hospital in Khan Younis along with three other dead members of the Bakri family. Photographers swarmed the operation room as women covered their eyes and doctors wept.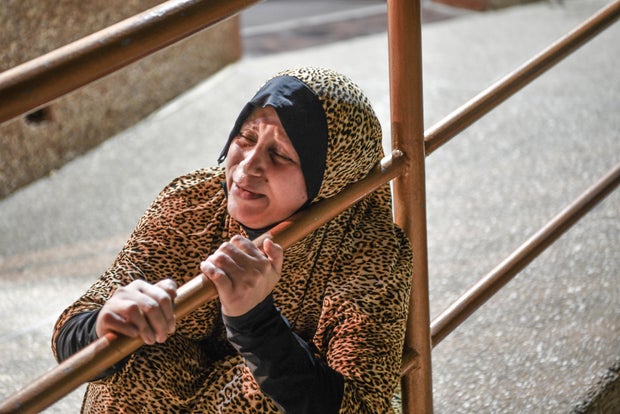 "This is a massacre," hospital director Dr. Yousef Al-Akkad said, his voice choking with emotion. "Let the world see, these are just children."
Local medics also confirmed that the children were killed in a strike and said the Bakri family was just one of many such cases Wednesday.
There was no immediate comment from the Israeli military.
By The Associated Press