Hurricane Hilary, which was forecast to bring "catastrophic flooding" to parts of the southwestern U.S., has prompted the National Hurricane Center to issue a tropical storm warning for Southern California for the first time in the region's history. 
Hilary was downgraded Saturday from a Category 4 to a Category 2 hurricane. As of Saturday afternoon, it was centered about 640 miles southeast of San Diego, and 285 miles southeast of Punta Eugenia, a community in Baja California, Mexico. The hurricane had maximum sustained winds of 110 mph, according to the National Hurricane Center. It was moving north northwest at 17 mph, the center said. 
By the time Hilary reaches California, it is forecast to have downgraded to a tropical storm.   
It will stick pack a major punch, however. Widespread "moderate to heavy" rain is expected into early Monday for Southern California, with a high risk of flash flooding that could include "landslides, mudslides and debris flow" in mountains and deserts, according to the National Weather Service in San Diego.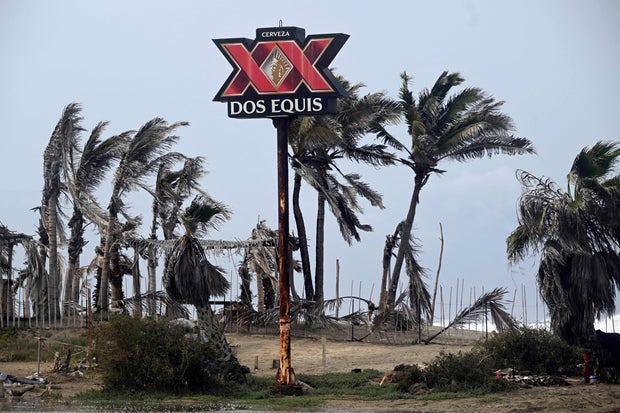 The tropical storm warning, which was upgraded Friday night from what was also the first-ever tropical storm watch for the region, is in effect for most of Southern California, including large swaths of San Diego, Orange and Los Angeles counties, along with California's Catalina Island, according to the National Weather Service. 
L.A. County officials were advising all Catalina residents and visitors to leave the island as soon as possible Saturday ahead of the storm's arrival. 
In its advisory, the NHC said that heavy rains were already affecting portions of Baja California and the Southwestern U.S. Saturday. The agency warned that "catastrophic and life-threatening flooding" was "likely" for both regions.
Hilary is forecast to move close to the west-central coast of Mexico's Baja California Peninsula Saturday night into Sunday morning, and then move across Southern California Sunday afternoon into Sunday night, the NHC said.
A tropical storm is defined as having winds of at least 39 mph, according to the National Weather Service.   
California Gov. Gavin Newsom issued a state of emergency Saturday for all of Southern California. 
A White House spokesperson said that President Biden had been briefed on Hilary and that his team was working "with state and local agencies ahead of the storm." The president and his family are vacationing in Lake Tahoe in Northern California. The president and first lady Jill Biden are slated to travel to Hawaii Monday to survey the destruction from the Maui wildfires. 
"It is rare — indeed nearly unprecedented in the modern record — to have a tropical system like this move through Southern California," said Greg Postel, a hurricane and storm specialist at the Weather Channel who has a doctorate in atmospheric sciences.
Forecasters said the storm is expected to produce 3 to 6 inches of rainfall, with maximum amounts of 10 inches, across portions of Mexico's Baja California Peninsula. The same rainfall amounts are expected across portions of Southern California and southern Nevada.
Postel said there will likely be "damaging wind gusts," especially at higher elevations, in the area, and swells along the coast.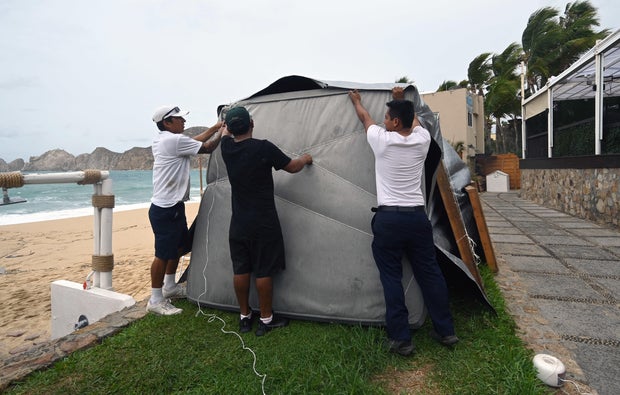 California was drenched by a historic amount of rain this winter after being hit with an unprecedented number of atmospheric rivers. Chris Heiser, emergency services director for the city of San Diego, told CBS News Friday that those storms may have helped prepare officials for what is to come from Hilary.
"That really allowed us to get a feel for what the impact of heavy rains and winds are," Heiser said. "But this one's got some unique features. The amount of rainfall is substantial, especially up in the mountains. And the majority of the population of San Diego is at the base of those mountains."
"We're looking at this to be a significant storm, possibly one of those that sets records, and so we're preparing accordingly," he added.
Capistrano Beach in the Orange County city of Dana Point Friday was one of several where crews were building berms to protect the coastal community from high surf.
"We're getting ready now ahead of this event as it makes landfall to make sure we're prepared," said Chris Dargan, a spokesperson for California Governor's Office of Emergency Services.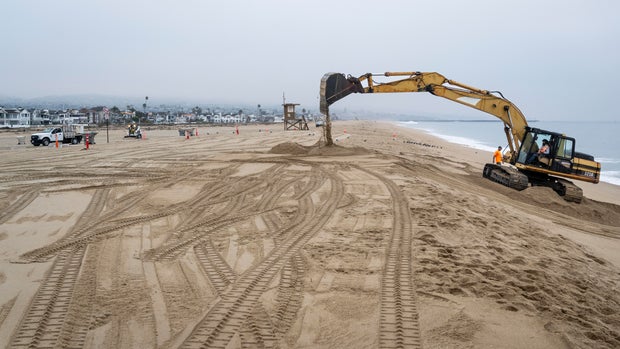 Nevada Gov. Joe Lombardo announced late Friday that 100 National Guard troops had been activated ahead of Hilary.
Los Angeles County Sheriff Robert Luna said in a news briefing that "swift water rescue personnel and rescue aircraft are on alert and ready for immediate response."
The San Diego Padres, Los Angeles Dodgers and Los Angeles Angels all had home games scheduled for Sunday. However, those games have been shifted to Saturday double-headers in anticipation of the storm, Major League Baseball announced Friday.
The Navy on Friday night announced it would be moving vessels out of San Diego Bay to avoid damage from the storm. Ships and submarines left Naval Base San Diego, Naval Base Coronado and Naval Base Point Loma on Saturday and will remain at sea until Hilary passes over the region, the Navy said in a news release.
"In order to ensure the safety of our Sailors and ships, we are taking all necessary measures to mitigate potential damage to infrastructure and Third Fleet vessels caused by the storm," said Vice Adm. Michael Boyle, commander, U.S. Third Fleet, in the news release. "Safety remains our top priority, and putting all capable ships to sea makes it easier for us to manage the situation ashore."
Meanwhile, the National Park Service announced closures due to Hilary on their website. 
"Joshua Tree National Park managers are closing park areas that are vulnerable to extreme flooding. These closures will take place Friday evening, August 18, 2023. This is a preemptive measure in anticipation of Tropical Storm Hilary."
And in Los Angeles County, officials asked the homeless to stay away from waterways and river channels during the storm.
Kerry Breen

Kerry Breen is a news editor and reporter for CBS News. Her reporting focuses on current events, breaking news and substance use.
Thanks for reading CBS NEWS.
Create your free account or log in
for more features.