Hurricane Lee, which became the season's first Category 5 storm last week, weakened to a Category 2 on Wednesday as it continued churning northward on a path that could reach New England this weekend. The National Hurricane Center has issued its first hurricane and tropical storm watches for portions of the northeast U.S. coast.
As of 11 p.m. EDT Wednesday, Lee had maximum sustained winds of 105 mph. It was centered about 345 miles south-southwest of Bermuda and was heading north-northwest at 9 mph.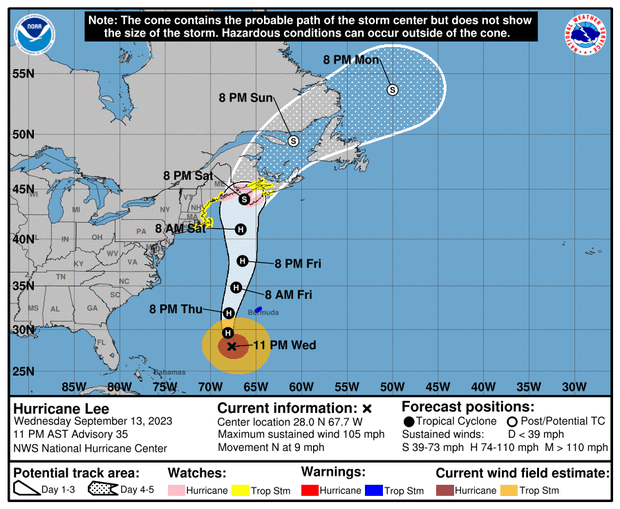 A hurricane watch has been issued for portions of down-east Maine, from Stonington to the U.S.-Canada border. A tropical storm watch has been issued for a large area of coastal New England, from Watch Hill, Rhode Island, to Stonington, Maine, including Block Island, Martha's Vineyard and Nantucket.
A storm surge watch has been issued for Cape Cod Bay and Nantucket, with the potential for "life-threatening storm surge flooding" in parts of southeastern Massachusetts late Friday and Saturday.
The Canadian Hurricane Centre has also issued a hurricane watch for the New Brunswick coastline from the U.S.-Canada border to Point Lepreau, including Grand Manan Island, the hurricane center said.  
A tropical storm warning was also in effect for Bermuda as of Wednesday morning, meaning that tropical storm conditions were possible within 48 hours.
"The center of Lee will pass west of Bermuda Thursday and Thursday night and then approach the coast of New England or Atlantic Canada late this week," the Miami-based hurricane center said.
Earlier, it warned that dangerous surf and rip currents were already affecting parts of the southeastern U.S. coast and that those conditions would continue to spread northward along much of the U.S. East Coast.
The hurricane center also warned that large ocean swells were affecting the Lesser Antilles, the U.S. and British Virgin Islands, Puerto Rico, Hispaniola, the Bahamas, Bermuda and the Turks and Caicos Islands, which were "likely to cause life-threatening surf and rip current conditions."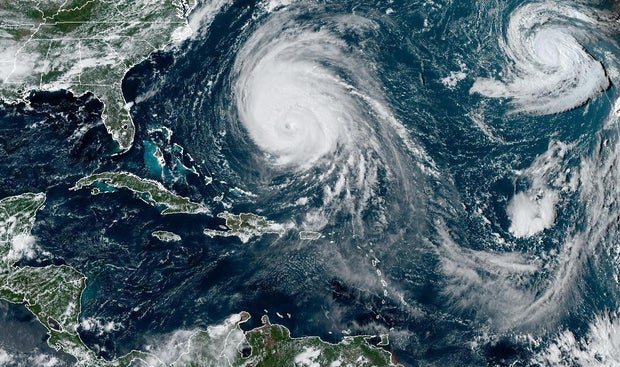 "Slow weakening is forecast during the next few days, however Lee is likely to remain a large and dangerous hurricane into the weekend," as it moves north, the agency said.
CBS News senior weather and climate producer David Parkinson estimated Monday, "if you sum up all the probabilities," the odds are about 2/3 against any U.S. landfall and a 1/3 chance of landfall along the northeast U.S. coast, most likely north of Cape Cod, Massachusetts.
"Realistically, this looks like a Nova Scotia landfall (as it has all along) with a healthy chance (~25%) of a down east Maine landfall on Saturday/early Sunday," he noted on Tuesday. By that point, he said, it would have weakened to a tropical or post-tropical storm.
"We should expect a pretty decent amount of coastal flooding, especially in places that get battered by nor'easters, as waves at the beach will be in the 12-foot range in spots. Lots of erosion can be expected in Cape Cod and Nantucket," he said, with winds gusting in the range of at least 50 or 60 mph, and at least 4 inches of rain drenching eastern New England.
Parkinson laid out a few possible scenarios for Lee. One would involve a cold front coming off the East Coast that could trap Lee and push it north against the coastline, bringing potentially stormy weather to areas along the coast.
However, if no cold front forms, Parkinson explained, Lee would then potentially stay out at sea for a longer period until it reaches Newfoundland and Labrador in Canada. 
Chris Warren, meteorologist for The Weather Channel, also said Friday that a jet stream that is currently dipping south could help determine whether Lee goes "well away from land, or much closer."
Warren added that "regardless" of Lee's path, it will still bring "large waves and dangerous rip currents up and down the East Coast." 
As meteorologists predicted, Lee gained strength quickly. Early Wednesday, Lee was a tropical storm with sustained winds of 65 mph — but grew within hours into a Category 1 hurricane on the Saffir-Simpson scale when it reached maximum sustained wind speeds of 74 mph. The following day it exploded from Category 2 to Category 4 and then all the way to Category 5, meaning sustained wind speeds of 157 mph or higher. 
Meteorologists consider storms that fall within Categories 3, 4, or 5 to be "major" hurricanes, due to their potential to cause "significant loss of life and damage," the National Hurricane Center says, warning that "catastrophic damage will occur" from a Category 4 or 5 making landfall.
Lee's emergence comes just days after Hurricane Idalia left a path of destruction across the Southeast. 
How do hurricanes get their names? A look at the naming process and 2023's full list
That storm made landfall in the Big Bend region of Florida's Gulf Coast, where it razed homes and downed power poles. It then headed northeast, slamming Georgia and flooding South Carolina beachfront communities, sending seawater into the streets of downtown Charleston. In North Carolina, it poured more than 9 inches of rain on Whiteville, flooding downtown buildings. 
Idalia claimed several lives in Florida and Georgia. The financial toll from damage and lost economic activity is expected to be in the $12 to $20 billion range, according to Moody's Analytics.
Thanks for reading CBS NEWS.
Create your free account or log in
for more features.