Israel says 200 more targets hit by overnight airstrikes on Gaza
The Israel Defense Forces (IDF) said early Tuesday that it carried out dozens more airstrikes on overnight, with fighter jets hitting "200 targets" in the Gaza neighborhoods of Rimal and Khan Yunis, which the military said were being "used as terror hubs for the Hamas terrorist organization, and a large number of terror attacks against Israel are directed there."
The strikes also targeted the "Islamic Jihad terror infrastructure in Khan Yunis, a Hamas weapons storage site located inside a mosque, and operational terror infrastructure used by Hamas terror operatives."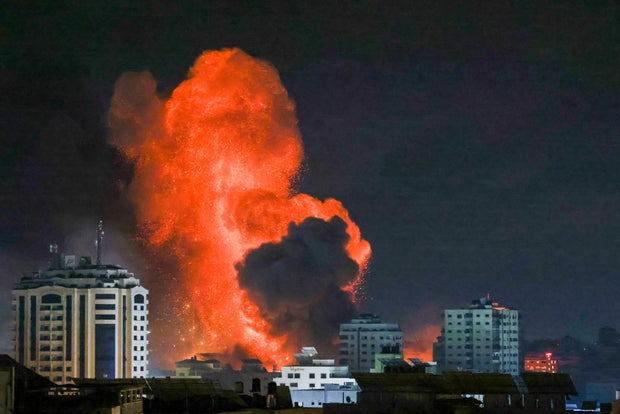 Israel said its forces had also re-established control over the border fence separating Gaza from Israel, and the IDF's Army Radio quoted a chief spokesperson as saying the gaps in the border created during Hamas' initial assault on Saturday were being mined to prevent any further incursions.
By Tucker Reals
Airstrike kills 2 Palestinian journalists in Gaza, local news reports
An Israeli airstrike in Gaza City killed two Palestinian journalists early Tuesday, according to the Palestinian news agency Wafa.
Wafa identified the journalists as editor Saeed Al-Taweel and photographer Mohammed Sobih. The airstrike occurred close to an area housing several media offices.
Three Palestinian journalists reportedly were shot and killed while reporting in Gaza on Saturday. The Committee to Protect Journalists, citing Palestinian press freedom groups, identified two of them as photographer Ibrahim Mohammad Lafi and reporter Mohammad Jarghoun. CPJ said it confirmed that freelance reporter Mohammad El-Salhi also was killed.
Lafi worked for Ain Media, and Jarghoun reported for Smart Media, CPJ said.
By The Associated Press
Blinken speaks with Israeli foreign minister
U.S. Secretary of State Antony Blinken spoke with Israeli Foreign Minister Eli Cohen, the State Department said late Monday.
"The Secretary reiterated U.S. condolences to the people of Israel and all those impacted by Hamas' violence and reaffirmed our efforts to secure the immediate release of all hostages," State Department spokesperson Matthew Miller said in a statement.
By Jordan Freiman
Israel continues strikes on Gaza
Israel's military continued attacking Gaza on Tuesday, the IDF said. The IDF launched strikes against two separate mosques, which Israel claimed were being used by Hamas as an operational command center and for "operational infrastructure."
The IDF also struck what it claimed was a weapons compound and "an Islamic Jihad operational meeting point inside a house."
By Jordan Freiman
Israeli deputy commander killed near Lebanon border, IDF says
Israel's military said early Tuesday that a deputy Israeli commander was killed in clashes on the northern border with Lebanon.
The military identified the deputy commander as Alim Abdallah, but did not specify the exact circumstances of his death.
Palestinian militants from the Islamic Jihad group slipped from Lebanon into Israel, sparking Israeli shelling into southern Lebanon. Lebanon's Hezbollah militant group said five of its members were killed, and it retaliated with a volley of rockets and mortars at two Israeli army bases across the border.
By The Associated Press
U.S., France, Germany, Italy and U.K. vow to support Israel
The leaders of the U.S., France, Germany, Italy and the U.K. vowed Monday to support Israel and condemned the attack by Hamas militants.
"We make clear that the terrorist actions of Hamas have no justification, no legitimacy, and must be universally condemned," President Biden, French President Emmanuel Macron, German Chancellor Olaf Scholtz, Italian Prime Minister Giorgia Meloni and British Prime Minister Rishi Sunak said in a joint statement. "There is never any justification for terrorism. In recent days, the world has watched in horror as Hamas terrorists massacred families in their homes, slaughtered over 200 young people enjoying a music festival, and kidnapped elderly women, children, and entire families, who are now being held as hostages."
The leaders said they recognize the "legitimate aspirations of the Palestinian people, and support equal measures of justice and freedom for Israelis and Palestinians alike."
"But make no mistake: Hamas does not represent those aspirations, and it offers nothing for the Palestinian people other than more terror and bloodshed," they added.
By Jordan Freiman
"Dozens" of Israelis being held captive, IDF says
Israeli officials have not given an official accounting of how many of the country's citizens have been taken captive by Hamas militants, but an IDF spokesperson told CBS News on Monday that it was in the "dozens."
"The list is comprised of Israeli nationals, women, children, men, elderly, disabled, toddlers and infants, as young as baby age and as old as 80, including Holocaust survivors," IDF international spokesperson Lt. Col. (Res.) Jonathan Conricus said on "Prime Time." "I don't have a final number that is cleared for publication yet, but we are talking about dozens of Israelis that are held captive in Gaza at the hands of Hamas and Islamic Jihad."
Conricus said Hamas would "bear the consequences" of taking Israeli citizens into Gaza. 
Earlier Monday, the IDF said it had "details of most of the kidnapped Israelis." As of around 1:30 pm ET the IDF said it had notified 30 families and would continue notifying more.
By Jordan Freiman
Major U.S. airlines halt service to Tel Aviv amid attacks
Three major U.S. airlines have suspended service to Tel Aviv as the war continues this week.
United, American and Delta have canceled multiple flights into Tel Aviv. At the same time, some international carriers continue to operate in some form flying into and out of Tel Aviv's Ben Gurion Airport, while others have canceled flights.
"We operated two scheduled flights out of Tel Aviv late Saturday and early Sunday and accommodated our customers, crews and employee travelers who were at the airport," United Airlines said in a statement. "Our Tel Aviv flights will remain suspended until conditions allow them to resume."
International carriers such as Virgin Atlantic, Air France and carriers in the Lufthansa group have either canceled or limited their flights to Tel Aviv. El Al, the Israeli national carrier, continues to fly into and out of Ben Gurion Airport, the carrier said on its website.
By Joe Ruiz
"We couldn't breathe": Israeli mom describes surviving attack
Miri Messika says she and her family barely survived when Hamas fighters infiltrated and attacked their home in Be'eri, a kibbutz just three miles from the border with Gaza. She, her husband and three children jumped from a second floor window after militants set their apartment on fire.
"It was very frightening," she told CBS Evening News anchor and managing editor Norah O'Donnell. "We couldn't breathe because of the smoke and because of the gas."
They made it to a neighbor's bomb shelter, where they hid for seven hours listening to the gunfire outside. 
Rescue workers now say they have recovered the bodies of about 100 people killed by the attackers in Be'eri, a community of just 1,000 residents. Watch the interview with Messika in the video below.
Israel strikes 2 tunnels used by Hamas, military says
The Israeli military said early Tuesday local time that it struck two tunnels used by Hamas militants to enter Israeli territory. 
Authorities did not immediately provide more information on the location of the tunnels.
The militant group has used tunnels in the past. It has an established a network running from Gaza to Egypt to smuggle in weapons, as well as attack tunnels burrowing into Israel.
By The Associated Press
Brandeis University professor says daughter, son-in-law were killed in attacks
Ilan Troen, a professor at Brandeis University, was in Israel when his his daughter, son-in-law and grandson became victims in the Saturday attacks. "My grandson has witnessed the murder of his mother by people who rehearsed what they were doing," Troen told CBS Boston.
Deborah Matias, 50, and her husband Shlomi were killed by militants. "The terrorists came into their place, broke through the doors, shot them," said Troen.
He said his daughter's last act of motherhood was protecting her son, Roten.
"They made sure to fall on him and thereby saved his life. Although a bullet actually entered his abdomen, but he was saved," said Troen, who rushed to a hospital in southern Israel to be with his 16-year-old grandson, who is recovering from his injuries.
By WBZ-News Staff
Pro-Israel, pro-Palestinian protesters face off in NYC
Protesters took to the streets in New York City for dueling rallies over the war between Israel and Hamas. Pro-Israel and pro-Palestinian supporters gathered outside the Israel consulate Monday afternoon.
There were passionate pleas from both sides, with many in the crowd having relatives in either Israel or the Palestinian territories. 
"I'm just afraid for my family. Whatever happened is just inhumane, and I'm here to support," said Yael Udi. "My friend's niece, she has been kidnapped. They do not know her whereabouts. She was in that party and they're still looking for her."
Nas Shuaib was standing with the Palestinians. 
"In the West Bank, I have relatives, and our village is on lockdown, and the settlers are going house to house attacking our people," Shuaib said. "The United States has to stay out of the conflict, unless they're going to do a peaceful negotiation." 
Brooklyn resident Ava Marron said, "What brought me to this rally is wanting a two-state solution where Palestinians and Israelis can have humanity and live peacefully."
The NYPD stepped up security to make sure things didn't get out of hand, and there were no arrests reported.
By Lisa Rozner
Chicago area mother and daughter missing in Israel after Hamas attack
A Chicago area mother and daughter are among those missing in Israel following this weekend's attacks. 
Judith and Natalie Raanan were in Nahal Oz, a kibbutz in southern Israel near Gaza that was attacked by militants over the weekend, and they haven't been heard from since. Judith Raanan is a congregant of Chabad of Evanston, where Rabbi Meir Hecht said the family fears the worst.
"Apparently from the information that we have at this time, it seems like they've been abducted, the two of them, mom and daughter to Gaza," Hecht said. "And we are praying for their well-being and for their safety of all of our brothers and sisters in the land of Israel."
By Charlie De Mar
FBI says no credible threats to U.S. after attacks on Israel
The Federal Bureau of Investigation said Monday that it was "closely monitoring" events in Israel after the Hamas attacks, but that it had no "specific and and credible intelligence indicating a threat to the United States."
"We will not hesitate to adjust our security posture, as appropriate, to protect the American people," the FBI said in a statement "We are closely coordinating with our counterparts in the region as well as other international partners."
The agency said reports of deceased, injured or missing Americans were being investigated. On Monday, President Biden confirmed that at least 11 Americans had been killed during the attacks and that others remained unaccounted for.
By Elias Lopez
Biden confirms at least 11 Americans killed in Israel
President Biden confirmed in a statement Monday afternoon that at least 11 American citizens were killed during the attacks in Israel.
"Sadly, we now know that at least 11 American citizens were among those killed — many of whom made a second home in Israel," Mr. Biden said in a statement released by the White House. "It's heart wrenching. These families have been torn apart by inexcusable hatred and violence."
Mr. Biden also said other Americans remained unaccounted for. "We are working with Israeli officials to obtain more information as to their whereabouts," the president said. "My heart goes out to every family impacted by the horrible events of the past few days."
The president said the State Department was providing services for Americans still in Israel, adding that "commercial flights and ground options are still available" for those wanting to leave the country.
"Please also take sensible precautions in the days ahead and follow the guidance of local authorities," Mr. Biden added. 
By Elias Lopez
More than 100 killed in small Israeli community, rescue service says
Israeli rescue service Zaka says more than 100 bodies have been recovered from a small farming community that was the scene of a hostage standoff during Hamas' attack against Israel. That toll is part of the total of at least 900 dead reported by Israeli officials so far.
Be'eri, a kibbutz not far from the border with Gaza, had a population of about 1,000 people before the attack.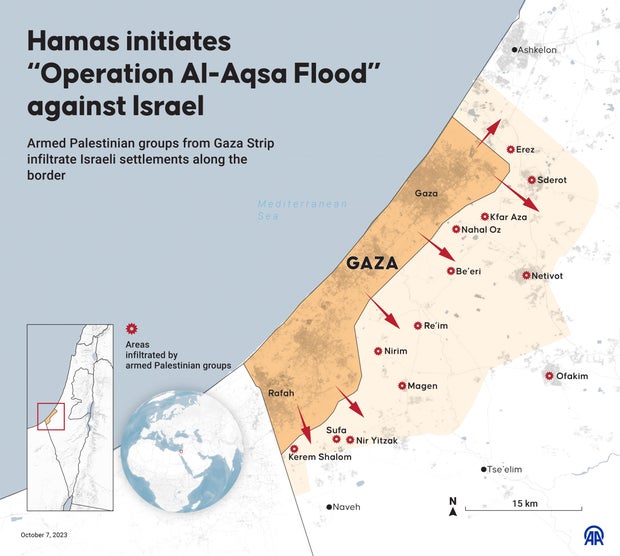 By The Associated Press
Israeli reserve troops called up for duty
Israel is calling up 300,000 reserve troops as it responds to the deadly surprise attack by Hamas militants. Cars were lined up for as far as the eye could see outside a military base where some of those personnel came to report for duty.
"I never thought something like this could happen," a military reservist named Hila told CBS News as she prepared to join the fight. "… We feel like it's the Holocaust all over again."
Another reservist, a 24-year-old law student, said, "Israel want[s] peace, but they, Gaza Strip, don't want peace,"
Hamas claimed its assault was aimed at ending Israel's 16-year blockade of Gaza and brutal treatment of Palestinians in the West Bank. Israeli Prime Minister Benjamin Netanyahu said his nation's retaliation against the militant group has only just begun.
By Haley Ott
Hamas made a "mistake of historic proportions," Netanyahu says
Israeli Prime Minister Benjamin Netanyahu released a strong message on Monday, promising retaliation against Hamas after its brazen attacks against Israel. 
"We didn't want this war. It was forced upon us in the most brutal and savage way," Netanyahu said. "But though Israel didn't start this war, Israel will finish it."
The statement comes as Israel intensifies its campaign of airstrikes against Hamas targets in Gaza and deploys combat divisions and activates reservists to fight. 
"Hamas will understand that by attacking us, they have made a mistake of historic proportions," Netanyahu said. "We will exact a price that will be remembered by them and Israel's other enemies for decades to come."
In his statement, Netanyahu also thanked President Biden "for his unequivocal support," as well as the people and Congress of the United States of America.
"In fighting Hamas, Israel is not only fighting for its own people," Netanyahu said. "It is fighting for every country that stands against barbarism."
The surprise attack by Hamas was the deadliest day in decades of conflict in the region. During an earlier call with Netanyahu, President Biden "emphasized that the U.S. stands alongside Israel," Israeli officials said.
By Elias Lopez
NYPD officers in Israel during attacks
A group of NYPD officers was in Israel when Hamas attacks began Saturday morning. Richard Priem, the COO of Community Security Service, told CBS News how they sheltered during the strikes and what his group did to keep Americans safe. Watch his interview in the video below:
Airstrikes in Gaza
Israel said it struck hundreds of Hamas targets in Gaza overnight between Sunday and Monday. Four Israeli combat divisions were deployed to the south and another 100,000 reservists were activated to fight.
CBS News' Marwan al-Ghoul reported from Gaza City that the Israeli airstrikes had been relentless since Saturday, with houses, apartment buildings and mosques among the structures hit, mostly without warning, overnight. Images of the area showed buildings in Gaza completely reduced to rubble in the aftermath. Israel has long accused Hamas and other militant factions of keeping fighters and weapons in or near civilian infrastructure.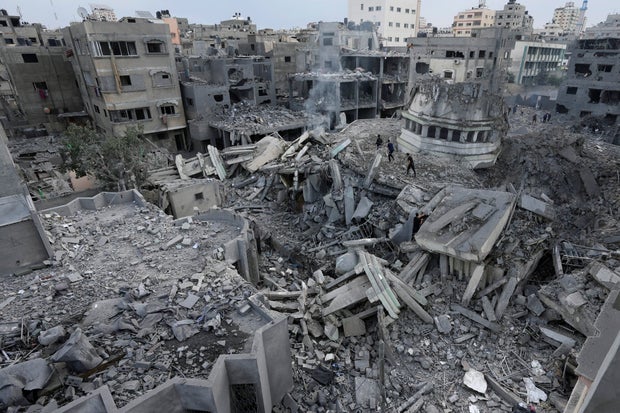 Samar Alyan, who lives in the sprawling al-Shati refugee camp just outside of Gaza City, described the overnight bombings to CBS News on Monday. The camp is home to about 150,000 refugees.
"I could not sleep last night as the planes bombed the mosque nearby, causing casualties and breaking the windows of my house," Alyan said, adding, "We do not know what fate has in store for us … Israel retaliates on civilians."
Inside Gaza City itself, displaced people sought shelter inside schools operated by UNRWA, the United Nations' humanitarian agency in Palestinian territories.
—Haley Ott, Holly Williams and Tucker Reals contributed reporting.
By Emily Mae Czachor
Hamas threatens to kill hostages
Hamas threatened on Monday to kill hostages it is holding if Israeli airstrikes continue "targeting" Gaza residents without warning.
"We declare that any targeting of our people in their homes without prior warning will be regrettably faced with the execution of one the hostages of civilians we are holding," a spokesman for Ezzedine al-Qassam Brigades, the armed wing of Hamas, said in an audio statement, news agencies reported.
Hamas also said they are not open to negotiating a prisoner exchange with Israel as long as fighting continues, a member of the group's political office in Doha told AFP.  
Israel's Government Press Office said Sunday that Hamas took more than 100 hostages. Those kidnapped included women, children and the elderly, and they are believed to have been moved into Gaza.
Sisters Inbal Albini, 55, and Noam Peri, 40, told CBS News that their father, Chaim Peri, 79, and Albini's half brother, Daniel Darlington, 35, were kidnapped.
"Terrorists broke into the house and looked for people and then they took him," Peri said Sunday, at a makeshift center in Tel Aviv for loved ones of people either taken hostage or missing. She told CBS News that her mother also witnessed her father being taken.
Qatari mediators told Reuters Monday that they wanted to negotiate with Hamas to win freedom for the Israeli women and children who had been taken prisoner, in exchange for the release of 36 Palestinian women and children from Israel's prisons.
By Emily Mae Czachor
Harrowing accounts of music festival attack
Horrific details and harrowing stories of survival began to emerge in the hours and days after the attack, including accounts of the massacre that unfolded Saturday at the Supernova music festival in the southern Israeli desert, near the border with Gaza. Hundreds of attendees were killed as gunmen from the Palestinian militant group Hamas stormed the festival, shooting into the crowd and taking people hostage. One aid group reported that 260 bodies were recovered from the site. 
One video widely shared on social media shows a young woman calling for help with her arm outstretched as she is taken away on a motorcycle. After she was identified as Noa Argamani, a university student, people began to repost the video alongside the caption, "Her name is Noa."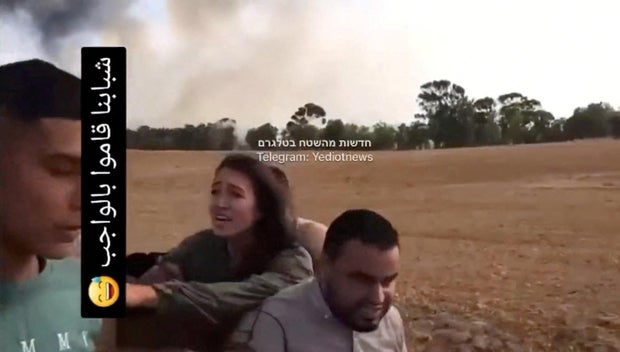 Argamani's father, Yaakov, called her "an amazing person" and "a sweet child" in comments to CBS News. Speaking in Hebrew, Yaakov said he only wants the Israeli government to use "peaceful measures" to get his daughter back. 
"We need to act with sensitivity," he said. "They also have mothers who are crying. The same as it is for us." 
Another attendee, Gal Levy, 22, managed to survive the attack after being shot in both legs. He told CBS News' Imtiaz Tyab he waited six hours for help. "I feel let down by the government. I feel let down by the army," he said. "I lost like two liters of blood, and I was really sure after the guy that came — the terrorist, to take us — that that's it. I'm gonna die."
By Emily Mae Czachor
"Complete siege" of Gaza Strip
Israeli Defense Minister Yoav Gallant said he had ordered a "complete siege" of the Gaza Strip in the wake of the Hamas attack, with officials cutting electricity to the densely-populated region and blockading food and fuel.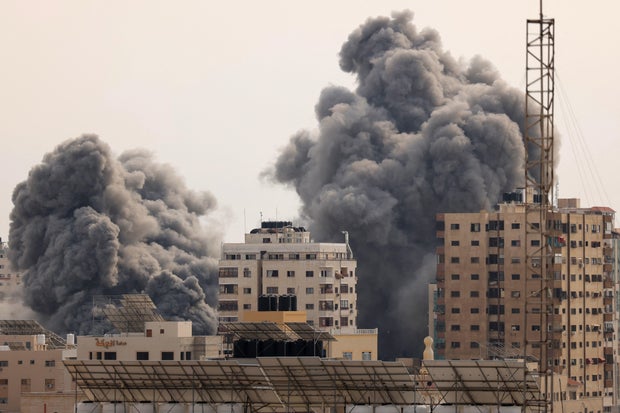 The Israeli military launched a series of deadly airstrikes on Gaza, which is controlled by Hamas. 
The Israel Defense Forces (IDF) said "fighter jets and helicopters, aircraft and artillery struck over 500 Hamas and Islamic Jihad terrorist targets in the Gaza Strip" on Sunday and into Monday morning. The Israeli military said it destroyed tunnels and at least seven "Hamas command centers" in Gaza, as well as a command center used by Islamic Jihad, which is another militant group that operates in the Gaza Strip.
Hamas continued lobbing rocket fire into Israel, with warning sirens sounding in Tel Aviv on Monday.
Israel's military said Monday that, after two days of fighting, it had retaken control of all communities that came under attack in southern Israel, and that there were no more active militants in the area.
CBS News senior foreign correspondent Holly Williams reported from southern Israel that Israel is expected to launch a full ground incursion into Gaza in the coming days.
By Emily Mae Czachor
Americans among the dead and missing, officials say
In addition to the hundreds of Israelis and Palestinians confirmed dead, at least nine Americans were killed in the attacks, the U.S. National Security Council said Monday. There are also concerns that a number of Americans were among those taken hostage.
"I expect the situation of the hostages to take on increasing focus over the course of the coming days," Deputy National Security Adviser Jon Finer said on "CBS Mornings," adding that the U.S. will be "laser focused" on it.
"Just given the sheer numbers involved, we do expect that there may well be Americans who have been caught up in the hostage taking," Finer said. 
In an interview on "Face the Nation" Sunday, Secretary of State Antony Blinken said U.S. officials were working to verify reports that multiple Americans were dead or taken hostage as Hamas carried out its attack on Israel.
By Emily Mae Czachor
U.S. pledges support to Israel
The surprise attack by Hamas was the deadliest day in decades of conflict in the region. U.S. political leaders immediately condemned the Hamas assault.
"The United States stands with the people of Israel in the face of these terrorist assaults. Israel has the right to defend itself and its people, full stop," President Biden said in remarks Saturday. 
"There's never a justification for terrorist attacks. And my administration's support for Israel's security is rock solid and unwavering," Mr. Biden said.
The White House said additional U.S. assistance for the Israeli military was on its way, with more to follow over the coming days. 
During a call with Israeli Prime Minister Netanyahu, Mr. Biden "emphasized that the U.S. stands alongside Israel," the Israeli president's office said, with the prime minister describing the support as "unreserved."
U.S. Defense Secretary Lloyd Austin also confirmed Sunday that the U.S. will be "rapidly providing the Israel Defense Forces with additional equipment and resources, including munitions." And he said he had ordered American military ships, including an aircraft carrier and additional aircraft, to move closer to the eastern Mediterranean in response to the attack on Israel.
By Emily Mae Czachor
Israel is "at war"
In a televised address Saturday after Hamas launched its attack, Israeli Prime Minister Benjamin Netanyahu declared that the country was "at war" and said Palestinian militants would "pay an unprecedented price." He vowed the Israeli military would use all of its resources to destroy Hamas. 
Hamas, the Palestinian militant group that governs the Gaza Strip — a 230-square-mile area that is home to some 2.3 million people and has been under Israeli blockade since 2007 — is designated a terror organization by Israel and the United States. 
Hamas is backed by Iran and gets most of its funding and support from the Iranian regime. 
"What I can say, without a doubt, is that Iran is broadly complicit in these attacks," U.S. deputy national security adviser Jon Finer said on "CBS Mornings" Monday. "Iran has been Hamas' primary backer for decades. They have provided them weapons. They have provided them training. They have provided them financial support. And so, in terms of broad complicity, we are very clear about a role for Iran."
By Emily Mae Czachor