Biden reiterates support for Israel but says "we can't lose sight" of Palestinian suffering
President Biden again stated the United States' support for Israel in remarks in Philadelphia Friday, but he also warned that the country "can't lose sight" of the humanitarian crisis unfolding in the Gaza Strip. 
"We're making sure Israel has what it needs to defend itself and respond to these attacks," said Mr. Biden. "It's also a priority for me to urgently address the humanitarian crisis in Gaza." 
Mr. Biden said that he had directed teams to communicate directly with governments in the Middle East and "surge support" and humanitarian resources. 
Mr. Biden drew a line between civilians and members of Hamas, describing Hamas as a "pure evil" that "make Al-Qaeda look pure." Secretary of State Antony Blinken compared Hamas to ISIS in recent remarks. 
"We can't lose sight of the fact that the overwhelming majority of Palestinians have nothing to do with Hamas, and Hamas' appalling attacks, and they're suffering as a result as well," said Mr. Biden. 
By Kerry Breen
BBC journalists assaulted by police in Tel Aviv, broadcaster says
Several journalists from the BBC were dragged from their car, searched and pushed against a wall by Israeli police in Tel Aviv, the broadcaster said Friday. 
The BBC said the journalists were driving to a hotel when their car was intercepted. Their vehicle was marked "TV" in red tape. Reporters Muhannad Tutunji and Haitham Abudiab said they identified themselves as journalists and showed police their press ID cards. Tutunji said he tried to film the incident, but his phone was thrown on the ground and he was hit on the neck. 
"One of our BBC News Arabic teams deployed in Tel Aviv, in a vehicle clearly marked as media, was stopped and assaulted last night by Israeli police," a BBC spokesperson said. "Journalists must be able to report on the conflict in Israel-Gaza freely."
Earlier Friday, a journalist for Reuters was killed in Lebanon when an Israeli shell hit a group of international journalists. Several other reporters were injured.
By Kerry Breen
Map shows evacuation zone in Gaza
A graphic created by the Associated Press shows the evacuation zone Israel has ordered in the Gaza Strip. The zone covers a sizable chunk of the Palestinian territory.
Israel has told residents of northern Gaza to flee to the territory's southern half, which borders both Israel and Egypt. Palestinians have since begun a mass exodus, the Associated Press reported.
Gaza is one of the most densely populated places in the world. More than 1 million people live in the northern part of the territory. The United Nations warned the migration of so many people cannot "take place without devastating humanitarian consequences." 
By Kerry Breen
Netanyahu: "This is only the beginning"
Prime Minister Benjamin Netanyahu addressed Israel in a televised address Friday night, after the beginning of the Jewish sabbath. 
"We are striking our enemies with unprecedented might," Netanyahu said. "I emphasize that this is only the beginning." 
"We will end this war stronger than ever," Netanyahu continued. "We will destroy Hamas." 
Netanyahu did not elaborate on what further actions the country might take as it retaliates against Hamas for its brutal attack on Israelis last Saturday. 
Reuters and the Associated Press contributed reporting. 
By Kerry Breen
MSF says Gaza hospital given 2 hours to evacuate
Médecins Sans Frontières (MSF), an international medical organization also known as Doctors Without Borders, says Israel gave Al Awda Hospital in Gaza two hours to evacuate.
"We unequivocally condemn this action, the continued indiscriminate bloodshed and attacks on health care in Gaza," it said in a post on X, formerly known as Twitter. 
The organization said it is trying to protect its staff and patients, and that its staff on Friday evening local time was still treating patients. 
By Sarah Lynch Baldwin
Biden speaks with families of 14 American still missing
President Biden on Friday spoke for over an hour with families of Americans who are missing following Hamas' attack on Israel, according to the White House and a source familiar with the conference call. 
The president, joined by National Security Advisor Jake Sullivan, Special Envoy for Hostage Affairs Roger Carstens, Undersecretary of State John Bass, and National Security Council Coordinator for the Middle East Brett McGurk, spoke with families of 14 Americans still unaccounted for after Hamas attacked Israel, the White House said. 
The U.S. believes Americans are among the scores of hostages being held by Hamas, which the U.S. has designated as a terrorist group.
After speaking with the families, Mr. Biden said, "They're going through agony not knowing what the status of their sons, daughters, husbands, wives, children, are. You know, it's gut-wrenching. I assured them of my personal commitment to do everything possible to return every missing American to their families. We're working around the clock to secure the release of Americans held by Hamas, in close cooperation with Israel and our partners around the region. We're not going to stop until we bring them home."
Mr. Biden sat down earlier with with CBS News' Scott Pelley, in an interview for 60 Minutes, and spoke about his plans for the call.
"I think they have to know that the president of the United States of America cares deeply about what's happened to them — deeply," Mr. Biden said. "We have to communicate to the world this is critical. This is not even human behavior. It's pure barbarism. And we're going to do everything in our power to get them home if we can find them." 
Watch President Biden's interview with Scott Pelley this Sunday on 60 Minutes. 
By Kathryn Watson
Tens of thousands in Middle East protest Israeli airstrikes on Gaza
Tens of thousands of Muslims demonstrated Friday across the Middle East in support of the Palestinians and to protest against the Israeli airstrikes pounding the Gaza Strip, underscoring the risk of a wider regional conflict erupting as Israel prepares for a possible ground invasion there.
From Amman, Jordan, to Yemen's capital, Muslims poured out onto the streets after weekly Friday prayers. At Al-Aqsa Mosque in Jerusalem, Israeli police had been permitting only older men, women and children to the sprawling hilltop compound for prayers, trying to prevent the potential for demonstration as tens of thousands attend on a typical Friday.
Read the full story here.
By Kerry Breen
1 journalist killed, 6 wounded in Israeli strike near Israeli-Lebanon border
An Israeli shell hit a group of international journalists covering clashes on the border in south Lebanon Friday, killing one Reuters journalist and leaving six other people injured. 
"We are deeply saddened to learn that our videographer, Issam Abdallah, has been killed. Issam was part of a Reuters crew in southern Lebanon who was providing a live signal. We are urgently seeking more information, working with authorities in the region, and supporting Issam's family and colleagues." 
Reuters confirmed that two of its other journalists, Thaer Al-Sudani and Maher Nazeh, also sustained injuries.  
Images posted on social media from the scene showed a charred car.
Qatar's Al-Jazeera TV said two of its employees, Elie Brakhya and reporter Carmen Joukhadar, were among the wounded. 
The shelling occurred during an exchange of fire along the Lebanon-Israel border between Israeli troops and members of Lebanon's militant Hezbollah group.
The Lebanon-Israel border has been witnessing sporadic acts of violence since Saturday's attack by the militant Palestinian group Hamas on southern Israel. 
Journalists from around the world have been coming to Lebanon out of concern that war might break out between Hezbollah and Israel.  
On Friday afternoon, President Joe Biden commented on the incident. 
"Our heartfelt prayers are with their families," Mr. Biden said, adding that he was hoping for the injured reporters' "full and swift recovery." 
Reporting from CBS News and The Associated Press.
Israel says troops have carried out raids in Gaza ahead of expected ground offensive
The Israeli military said Friday that troops had entered the Gaza Strip to hunt down Hamas militants and try to find dozens of hostages taken by the Palestinian faction as it launched a terror attack on southern Israel on Oct. 7.
The Israel Defense Forces (IDF) spokesperson did not say how many forces had entered the small, densely-packed Palestinian territory, where Israel is widely expected to launch a full ground invasion in the coming days or even hours.
"Over the past 24 hours, IDF forces carried out localized raids inside the territory of the Gaza Strip to complete the effort to cleanse the area of terrorists and weaponry," a statement from Israel's army said. "During these operations, there was also an effort to locate missing persons."
Israel's government telecommunications minister said Friday that all internet service would be cut off in Gaza from Saturday.
By Tucker Reals
Israeli human rights groups call for end of "indiscriminate harming of civilian lives" in Israel and Gaza
Two dozen Israeli human rights groups, including B'Tselem and Rabbis for Human Rights, put out a joint statement Friday calling for the "end to all indiscriminate harming of civilian lives and infrastructure" in Israel and Gaza.
The statement said the groups "are shocked and horrified in these dreadful days" and that "it will take time to fully understand the implication and consequences of Hamas' heinous attack, for which there can be no justification."
They then called for an end to the "bombardment" impacting civilians in Israel and Gaza.
"Even now, and especially now, we must maintain our moral and humane position and refuse to give in to despair or the urge for vengeance," the statement said.
"It remains our duty in these terrible times – as we count our dead on the Israeli side and worry about wounded, missing, and abducted loved ones, and as bombs are being dropped on residential neighborhoods in Gaza wiping out entire families with no possibility of the burying the dead – to raise our voices loud and clear against the harming of all innocent civilians, both in Israel and Gaza."
The groups called for the release of the hostages being held by Hamas, and said "humanitarian aid must be allowed to reach" civilian populations and medical facilities and that "places of refuge must not be harmed." 
"The killing of additional civilians will not bring back those who were lost," the organizations said.
By Haley Ott
Palestinian journalist shares "pain and fear" in Gaza in her social media posts
"Can you imagine that I lived my whole life here in Gaza and I can't recognize the streets right now?" Plestia Alaqad, a young journalist from Gaza, said in a video posted on her Instagram account.
Alaqad has been documenting the situation on the ground in the enclave of more than 2 million people for days. International journalists have not been able to enter the Palestinian territory since Israel imposed a complete blockade in the wake of its Hamas rulers' terror attack on southern Israel.
"Today has been one of the hardest days for me personally," Alaqad said Friday, the seventh consecutive day of Israeli airstrikes on Gaza. "Seeing kids injured and martyred… Seeing kids screaming and crying out of fear, because of pain or because they don't know anything about their parents… Seeing pain and fear inside of people's eyes.. It's too much to handle.. I'm trying to hold up as much as I can, but literally my heart and brain can't understand or process what's happening." 
She said she was running between buildings and spending a lot of time at a hospital, because it was one of the only places she could access the internet. She said there was no electricity or water.
"I tried to evacuate and go to where my parents are, but I couldn't find a car or a taxi and I need to like walk for an hour or more in which I don't have energy and my back hurts a lot from wearing the press vest which I'm sure it doesn't protect from anything, but at least it makes me feel that I did what I'm supposed to do to protect myself."
In one post on Friday, Alaqad said she was "glad I was able to share part of the truth or part of what's happening with the world… There's still time before the night comes — I'll see if I'll have any options and keep you updated."
By Haley Ott
U.S. National Security Council's John Kirby says Israel's Gaza evacuation call "a tall order"
U.S. National Security Council spokesman John Kirby said Friday that while the Biden administration "understands what they're trying to do here," the Israeli government's call for the roughly 1 million Palestinians in the northern half of the Gaza Strip to evacuate to the south of the enclave was "a tall order."
"They're trying to make the case that they don't want to cause additional civilian casualties," Kirby said in an interview with MSNBC, noting that Gaza's Hamas rulers had conversely "put out an order for people to stay in their homes," which he said was effectively telling civilians to make themselves "human shields."
"We also want to see that there are opportunities, safe passage out of Gaza, writ large – that people have the ability to leave Gaza, and that's not the case right now, so we're continuing to work with the Israelis and the Egyptians," he said. Egypt controls the only exit from the southern Gaza Strip, the Rafah crossing, and says it has been impassable due to Israeli airstrikes.
He acknowledged that getting the 1.1 million who live in northern Gaza, according to the United Nations, south of the Israeli-designated half-way point of the Gaza Wadi wetlands "is gonna be a tall order, given how densely populated it is, given that it's a scene of combat, that there are bombs falling and strikes happening. That is a lot of people to move in a very short period of time."
By Tucker Reals
Gaza Health Ministry says death toll from Israeli strikes almost 1,800
The death toll in the Gaza Strip after six days of Israeli airstrikes carried out in response to Saturday's brutal attack by Gaza's Hamas rulers rose to 1,799 on Friday, according to the Ministry of Health in the Hamas-run Palestinian territory. 
The ministry said the death toll included 583 children and 352 women, and that 7,388 more people were wounded.
By Haley Ott
Top German diplomat pledges solidarity on visit to Israel
Germany's Foreign Minister Annalena Baerbock pledged her country's solidarity during a visit to Israel on Friday. She criticized the brutal terror attack carried out by the Hamas on southern Israel and called on the Palestinian faction to release all of the hostages it has seized. 
"In these terrible days, we stand by your side and feel with you," Baerbock said alongside her Israeli counterpart Eli Cohen. "In these days we are all Israelis." 
Baerbock joined Cohen in Netivot, near the border with the Gaza Strip.
By Anna Noryskiewicz
U.N.'s World Health Organization says forced evacuation of wounded in north Gaza a "death sentence"
The World Health Organization says the forced evacuation of severely ill or badly injured people from hospitals in northern Gaza would amount to a "death sentence" for some.
WHO spokesman Tarik Jasarevic told a U.N. briefing in Geneva on Friday that the two major hospitals in northern Gaza have already exceeded their combined 760-bed capacity, and warned of a shortage of blood in hospital blood banks across Gaza. Furthermore, several medications are in short supply, including for diabetes, seizures and asthma, as well as painkillers and dialysis solution.
In general, "hospital corridors are overflowing. Dead bodies are piling up as there is no more space in morgues," he said.
Jasarevic said some patients – many of whom are children – were on life support systems like mechanical ventilators, "so moving those people is a death sentence. Asking health workers to do so is beyond cruel."
By The Associated Press
Israeli military denies airstrikes have killed hostages in Gaza
Top Israeli military spokesperson Daniel Hagari denied that the Israel Defense Forces airstrikes had killed hostages held by Hamas militants in the Gaza Strip.
"We have our own information and do not believe the lies of Hamas," Hagari told the Al Jazeera Arabic television network, referring to a claim issued by Hamas earlier in the day that 13 hostages held by the group had been killed by the strikes.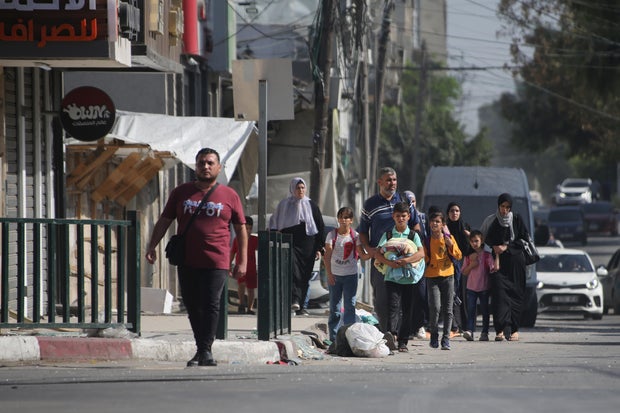 Hagari also denied that Israel has targeted civilian infrastructure, reiterating long-standing Israeli accusations that Hamas uses hospitals and United Nations-run facilities including schools, as command centers and weapons depots via a vast network of tunnels in Gaza.
He renewed Israel's call for Palestinians to flee from the northern portion of Gaza, which includes the densely-packed Gaza City, to the southern half of the Palestinian territory, across the Wadi Gaza wetlands area.
"We will follow your movement. We are not targeting you when you head towards the south," he said, addressing Gaza residents. "We know that Hamas is obstructing the roads to the south."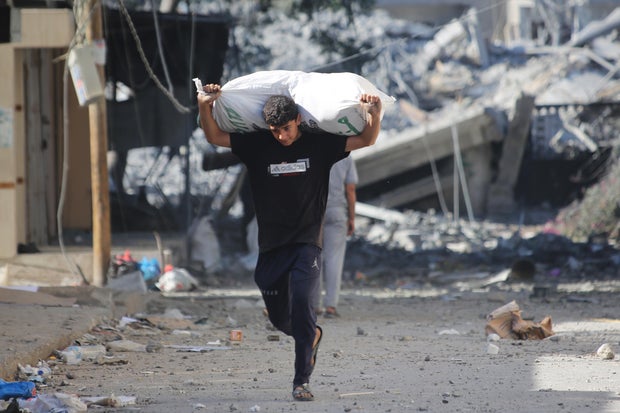 Israel's airstrikes and six-day blockade of the Gaza Strip have made the notion of a mass-exodus of the roughly 1 million people in the northern half of the region "impossible," according to the United Nations, "without devastating humanitarian consequences."
Reporting by CBS News and The Associated Press
U.S. Secretary of Defense says Hamas attacks on Israel are "worse than what I saw with ISIS"
U.S. Secretary of Defense Lloyd Austin met Friday with Israeli Prime Minister Benjamin Netanyahu and told him the terror attack by Hamas militants on Israel are "worse than what I saw with ISIS." 
"As you know, I was the guy who initially put the ISIS campaign together, and this is worse than what I saw with ISIS," the U.S. defense chief said. "We do stand with you, Mr. Prime Minister," he assured Netanyahu. 
"Just as the entire civilized world united to fight ISIS, the entire civilized world has to unite to help us fight Hamas, and I know that you stand with us," Netanyahu responded.  
The meeting took place at Israel's Kirya military base in Tel Aviv, the central command for the Israel Defense Forces. 
By Emmet Lyons
Israel drops leaflets warning northern Gaza residents to leave
Israeli military aircraft dropped thousands of leaflets on the northern Gaza Strip Friday warning residents in the Palestinian territory  to evacuate to its southern half. The U.N. has said that trying to evacuate the roughly 1.1 million people who live in the area would be impossible "without devastating humanitarian consequences."
 The airstrikes have left many of Gaza's roads impassable and Israel has imposed a complete blockade of the region, leaving the territory starved of water, food and fuel.
"Don't return to your homes until further notice from the Israel Defense Forces," the leaflets warned Palestinians who have few options for escape, adding that "all known and public shelters in Gaza City must be evacuated." The leaflets warned that anyone in Gaza who approached the security fence separating it from Israel risked being killed.
"Every morning we wake up to killings and death," Gaza resident Mohamed Abu Ali said Friday. "We don't know where to go. We don't know where is safe."
The northern end of Gaza — a narrow, 25-mile-long strip of land sandwiched between Israel and the Mediterranean sea — is the most densely populated part of the Palestinian territory.
The warning to evacuate from the area came ahead of a widely expected Israeli ground invasion of Gaza, the planning for which has been complicated by Hamas' kidnapping of over 100 people, including some Americans, who are believed to be held at locations across Gaza.
Hamas said Friday morning that 13 of the hostages were killed by Israel's airstrikes over the preceding 24 hours, and it has refused to negotiate over the release of the captives until Israel stops bombing civilians with little or no warning in Gaza.
By Tucker Reals and Imtiaz Tyab.
Jerusalem stays relatively quiet during Friday midday prayers at Al-Aqsa mosque
Friday's midday prayers at the Al-Aqsa mosque in Jerusalem — often a flashpoint for Israeli-Palestinian violence — appeared to have taken place without major incident despite the war raging between Hamas and Israel. 
Only people over the age of 50 were allowed into the mosque to pray, and they came and went without incident amid a heavy Israeli police presence.
Damascus Gate, the main entrance into Jerusalem's Old City from Palestinian East Jerusalem, is often the scene of clashes when tension flares in the region. Today, it remained almost empty.
There were some clashes in the nearby neighborhood of Wadi al-Joz, as Israeli police blocked some Palestinians from approaching the Old City, but no major violence was reported.
By Haley Ott
Reports of unrest along Jordan's border with the West Bank
Social media videos appeared to show unrest inside Jordan on Friday, amid reports of Jordanian authorities firing tear gas at people who were trying to cross the border into the Palestinian territory of the West Bank.
Crisis 24, a risk consultant agency, said there were ongoing demonstrations in solidarity with the Palestinian people taking place in various in major Jordanian cities Friday, including the capital Amman, where U.S. Secretary of State Anthony Blinken met with Jordan's king.   
Jordanian military forces had been deployed along the country's border with the West Bank, Crisis 24 said.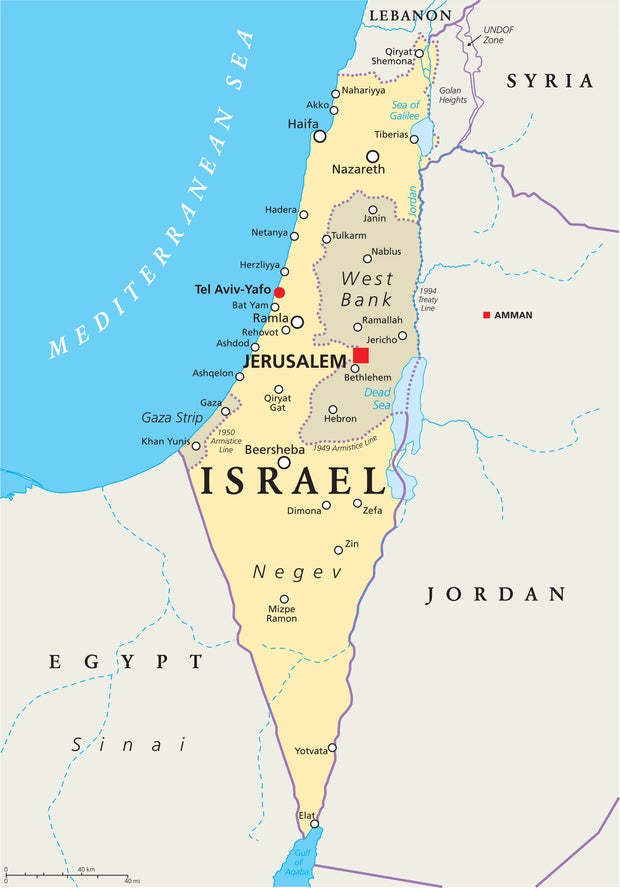 Videos posted on social media showed the huge crowds gathered in Amman, waving Palestinian flags.  
The demonstrations come amid ongoing Israeli airstrikes on the Gaza Strip, the much smaller Palestinian territory controlled by Hamas, which health officials in the region say have killed at least 1,500 Palestinians since Saturday's brutal attack on Israel by Hamas. More than 1,300 people in Israel have been killed.
Hamas had called on Muslims around the world to protest and attack Israelis and Jews in a "day of rage" on Friday.
By Haley Ott
Ireland's leader says Israeli retaliation in Gaza breaches international law
Irish Prime Minister Leo Varadkar has criticized the Israeli military for its ongoing bombardment of the Gaza Strip, calling the strikes and the blockade of the Palestinian territory a form of "collective punishment." 
"Israel is under threat. They do have a right to defend themselves, but they don't have the right to breach international humanitarian law," Varadkar said in a Thursday interview with Irish state broadcaster RTÉ. 
The Irish leader said Israel faces legitimate threats as nation "surrounded by these brutal, savage, groups like Hamas and Hezbollah, countries like Iran, often supported by Islamic fundamentalists and anti-Semites around the world." 
But he called the ongoing airstrikes on Gaza deeply concerning and said, "cutting off power, cutting off fuel supplies and water supplies — that's not the way a respectable democratic state should conduct itself."
"I believe by targeting civilians and by cutting off civilian infrastructure, that is a breach of international humanitarian law," Varadkar said. 
By Emmet Lyons
Hamas fires another barrage of rockets at southern Israel
Hamas militants said they had fired another round of rockets at southern Israeli cities Friday, calling it retaliation for the ongoing Israeli airstrikes on the Gaza Strip. 
Air raid sirens sounded in Ashkelon and Sderot, near the Gaza border, and the Times of Israel newspaper said seven rockets fell in Sderot from the salvo, with five making direct hits but causing no human casualties.
Hamas opened its brutal terror attack on Israel on Oct. 7 with an unprecedented volley of more than 4,000 rockets fired from the Gaza Strip, the small, densely-packed Palestinian territory it has controlled since 2007. 
By Tucker Reals
Israeli embassy employee attacked in China after Hamas call for a "day of rage"
An Israeli embassy worker in Beijing was attacked on Friday, Israel's foreign ministry said. 
"An Israeli employee of the Israeli embassy in Beijing was attacked today," a foreign ministry statement said, adding that the attack did not take place at the embassy compound in the Chinese capital.
"The employee is being treated at hospital and is in stable condition," the statement said. "The motive for the assault is being looked into."
A statement on the Israeli foreign ministry website warned that Hamas had called on "all of its supporters around the world to hold a 'Day of Rage'" on Friday to "attack Israelis and Jews."
"It is reasonable to assume that there will be protest events in various countries that are liable to turn violent," the statement said.
While there is no reported credible threat in U.S. cities, multiple internal law enforcement bulletins and security assessments circulated Wednesday and Thursday warned that homegrown and domestic violent extremists were likely to mobilize in response to the Israel-Hamas war.
Noting Hamas' latest call to action, an NYPD intelligence analyst warned, "these latest statements have the potential to resonate and spark reactionary unrest and exploitative violence beyond the region, warranting elevated vigilance on the part of law enforcement personnel."
This includes CBS News and AFP reporting.
By Tucker Reals
Heavy security, nervous Palestinians ahead of Friday prayers in Jerusalem
There's heavy security ahead of Friday prayers at Jerusalem's Al Aqsa Mosque, amid fears of possible clashes in the area that is often a flashpoint of tension between Israelis and Palestinians.
The streets of Jerusalem' Old City are relatively quiet, with many shops closed, as a limited number of people appeared to be allowed into the mosque compound to pray.
The area where the Al Aqsa compound is located is the third holiest place in Islam. For Jews, the area is known as the Temple Mount. It is the holiest place in Judaism.
Palestinian human rights lawyer Mounir Nuseibah, who lives in the East Jerusalem, the Palestinian part of the city, told CBS News that as Israeli missiles hammer the Gaza Strip, many people in the other Palestinian territories have been avoiding leaving their homes this week amid fear of potential retaliatory attacks.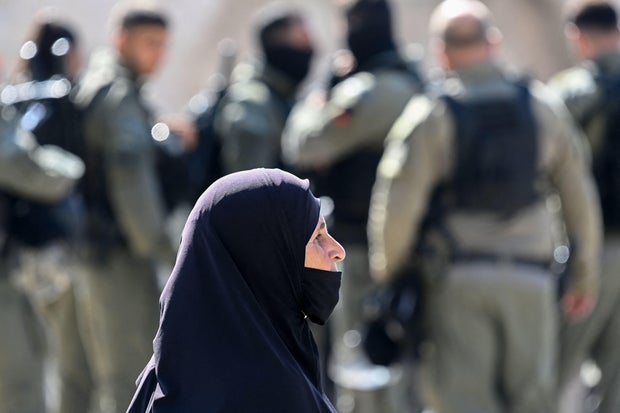 "I'm afraid of the Israeli police. I'm not afraid of the rockets," he said.
Compounding his fears was a pledge by Israel's ultra-nationalist security minister Itamar Ben-Gvir to arm Israeli civilians with 10,000 assault rifles.
"There is a lot of revenge, I believe, that is ongoing right now," Nuseibah told CBS News. "I am scared to move around in my own city."
The French news agency AFP reported that more than 30 Palestinians have been killed in East Jerusalem and the West Bank since Hamas' deadly attack on Israel just over a week ago.
By Haley Ott
Jordan's king meets Blinken, stresses "need to open urgent humanitarian corridors" in Gaza
U.S. Secretary of State Anthony Blinken met Friday in Amman with Joradan's King Abdullah II "to discuss the horrific Hamas terrorist attacks on Israel and efforts to secure the release of all hostages and prevent the conflict from widening," the U.S. State Department said, adding that Blinken had "discussed ways to address the humanitarian needs of civilians in Gaza while Israel conducts legitimate" military operations against Gaza's Hamas rulers. The Palestinian faction has been designated a terrorist organization by the U.S. for decades.
The Jordanian government's readout of the same meeting said Abdullah had "stressed the need to open urgent humanitarian corridors to bring in medical and humanitarian aid to the Gaza Strip, as well as the importance of protecting civilians and stopping the escalation and war on the enclave."
Abdullah "also warned against adopting a policy of collective punishment against residents of the Gaza Strip, stressing the need to protect innocent civilians on both sides, in line with common humanitarian values, international law, and international humanitarian law."
By Tucker Reals
Hamas claims 13 hostages killed by Israel strikes on Gaza
The Hamas group's military wing, the al-Qassam Brigades, claimed Friday that 13 of the hostages captured during the Palestinian faction's terror attack on southern Israel, including non-Israeli nationals, were killed in Israel's retaliatory airstrikes on the Gaza Strip over the preceding 24 hours alone. 
Six of the captives were killed at two different locations in the northern part of the densely-packed Palestinian territory, which has been ruled by Hamas since 2007, while seven others were killed in central Gaza.
Hamas did not say how many of those purportedly killed were foreigners, or which countries they came from.
The Biden administration has said there are 14 U.S. nationals missing in Israel, and Hamas is thought to be holding 100-150 people hostage. 
Hamas threatened earlier in the week to execute a hostage every time Israel carried out an airstrike on a Gaza neighborhood without prior warning, but it has not announced any executions since issuing the threat.
With reporting from CBS News' Khaled Wassef.
By Tucker Reals
Israeli military tells U.N. that 1.1 million Palestinians need to evacuate to southern Gaza within 24 hours
The Israeli military informed the United Nations late Thursday night that the entire population in the northern Gaza Strip should evacuate south.
Stephane Dujarric, a U.N. spokesperson, told CBS News liaison officers with the Israeli military informed the U.N. just before midnight local time Thursday that the entire population north of the Wadi Gaza wetlands should "relocate to southern Gaza within the next 24 hours."
According to the U.N., there are about 1.1. million people who live in northern Gaza.  
The U.N. "considers it impossible for such a movement to take place without devastating humanitarian consequences," Dujarric said, and "strongly appeals for any such order, if confirmed, to be rescinded avoiding what could transform what is already a tragedy into a calamitous situation."
The U.N. response "to Israel's early warning to the residents of Gaza," Israel's U.N. Ambassador Gilad Erdan said, was "shameful" and ignores the brutality of the attack on Israel.
Early Friday local time, the IDF ordered Gaza City's hundreds of thousands of residents to move farther south in the Gaza Strip for their "own safety."
In response, Hamas called on Palestinians to stay put in their homes, according to The Associated Press.
"This is chaos, no one understands what to do," the AP quotes Inas Hamdan, an officer at the U.N. Palestinian refugee agency in Gaza City as saying.
According to the latest numbers from the U.N., at least 338,000 Gaza residents have been displaced since Hamas invaded southern Israel on Oct. 7, prompting retaliatory airstrikes by Israel on Gaza.   
About 300,000 Israeli soldiers have amassed outside the border of the Gaza Strip. Israel Defense Forces international spokesperson Lt. Col. Jonathan Conricus on Wednesday did not explicitly say Israel was preparing a ground assault of Gaza, but noted the troops, along with tanks, armored vehicles and other artillery, were "making preparations for the next stage of the war which will come when the timing is opportune and fit for our purposes." 
— Jordan Freiman contributed to this report.  
By Pamela Falk
U.S. cities bolster security amid Israel-Hamas war
While there is no reported credible threat, CBS News has reviewed multiple internal law enforcement bulletins and security assessments circulated in the last 48 hours that warn that homegrown and domestic violent extremists are likely to mobilize in response to the Israel-Hamas conflict.  
The assessments include private intelligence analysis, including recent work by the group Insikt, which describes itself as a team of veteran threat researchers. "Violent extremists in North America, Europe, and Australia are likely to plan physical attacks and increase virtual harassment campaigns against Jewish and Muslim communities — as well as entities perceived to be related to them — in the wake of Hamas' October 7, 2023, hybrid attack and incursion into Israel and Israel 's military response," the report said.  
The group said it's unaware of specific or credible terror threats right now, "but actors associated with violent extremist movements outside the conflict zone have called for broader mobilizations since the beginning of the incursion."  
Insikt says that historically, escalations in the conflict between Israelis and Palestinians have triggered violence against Western Jewish communities, targeting "houses of worship, community centers, government facilities, and public demonstrations."  
Read the full story here. 
Israeli businessman who sought to employ Palestinians lost daughter in music festival attack
Tel Aviv — Eyal Waldman said goodbye to his youngest daughter Thursday, 24-year-old Danielle Waldman.
"Today, we buried my daughter, my youngest daughter, Danielle," Waldman told CBS News foreign correspondent Charlie D'Agata. "She was an amazing girl, only 24, and never done anything bad to anyone."
Danielle Waldman, a California native, and her boyfriend, Noam Shai, were fatally shot while trying to flee the Supernova trance music festival in the southern Israeli desert as Hamas militants invaded the region from the Gaza Strip in the early morning hours of Oct. 7.
They were among at least 260 festivalgoers who were killed in the surprise attack, according to Israeli officials.
"They were attacked by five terrorists from two sides, three from behind," Waldman said of Danielle and Shai. 
Footage of their bullet-riddled car showed the ferocity of the attack.
In December 2019, "60 Minutes" profiled Eyal Waldman. At the time, the high-tech executive was building his business by building bridges, employing Palestinians in the West Bank for his leading computer chip company.
"I want to strive for peace," Waldman told "60 Minutes" at the time. "I want to engage with the Palestinians. But if I think you are threatening any of what's important to me, I will kill you."
Now, having lost what's more important to him than anything, the former Israeli commando says those behind the attack should pay the price.
"You know, for the short term, we need to resolve this thing," Waldman said. "Maybe not in a peaceful way. And we need to show force, and we need to be strong."
Watch the full story below:
Israeli music festival massacre site holds remnants of horrific attack
Days after Hamas gunmen killed more than 260 people, some of the thousands of people who attended the Supernova music festival that turned deadly returned to the site to collect their gear.
One man who spoke with CBS News' Holly Williams on Thursday said it was "hell."
Remnants of the crowd's belongings – blankets, tents, clothing – remain at the site after Saturday's deadly attack.
Israeli Defense Forces soldiers remain at the festival site to guard the area in the event of another attack and to clean up the carnage.
Watch the story in the video below or read more here.
By Joe Ruiz
At least 20,000 Americans have reached out to State Dept. since Hamas attacks
At least 20,000 U.S. citizens have reached out to the State Department since the Hamas attacks through online forms or via phone calls. A spokesperson said the department has sent messages to let people know they will provide detailed information to "any U.S. citizen who indicates interest in departure assistance."
The State Department announced Thursday it was arranging evacuation flights and ships to help Americans leave Israel beginning on Friday. 
After leaving Israel and arriving in other locations, people would be able to "make their own onward travel arrangements to the destination of their choice," the State Department said. It plans to "augment" the initial transportation options in the coming days. 
The State Department said it was in touch with multiple citizens currently in Gaza requesting assistance to depart. The spokesperson said the department was in contact with their Egyptian counterparts to explore "options based on the security situation on the ground and what is possible."
U.S. citizens needing assistance are being asked to reach out to the State Department via its website.
By Cara Tabachnick
WHO warns hospitals in Gaza at a "breaking point"
The World Health Organization on Thursday released a statement warning that Gaza's health system was at a "breaking point" amid the escalating airstrike campaign carried out by Israel in retaliation for Hamas's surprise assault.
"Time is running out to prevent a humanitarian catastrophe if fuel and life-saving health and humanitarian supplies cannot be urgently delivered to the Gaza Strip amidst the complete blockade," the WHO statement said. "As injuries and fatalities continue to rise due to the ongoing air strikes on the Gaza Strip, acute shortages of medical supplies are compounding the crisis, limiting the response capacity of already overstretched hospitals to treat the sick and injured."
The WHO also said it had documented attacks against health care facilities and personnel in Gaza. "WHO has documented 34 attacks on health care in Gaza since last Saturday that have resulted in the death of 11 health workers on duty, 16 injuries, and damages to 19 health facilities and 20 ambulances," the health body said. 
Israeli officials – who imposed a total air, land and sea blockade of the Gaza Strip after Hamas gained control of the territory in 2007– have ordered a complete siege, preventing fuel and supplies from entering Gaza during the current counteroffensive.
Israel's energy minister, Israel Katz, on Thursday posted on X, formerly known as Twitter, that there would be no pause in the siege unless Hamas released the hostages it captured during the terror attack.
"Humanitarian aid to Gaza? No electrical switch will be lifted, no water hydrant will be opened and no fuel truck will enter until the Israeli hostages are returned home. Humanitarian for humanitarian. And nobody should preach us morals," Katz said.
By Elias Lopez
France bans pro-Palestinian demonstrations
French Minister of the Interior Gérald Darmanin told police chiefs across the country that pro-Palestinian demonstrations must be banned because they would be "likely to lead to disturbance of the peace." 
Darmanin told police to arrest anyone trying to organize a demonstration or engaging in disorderly conduct.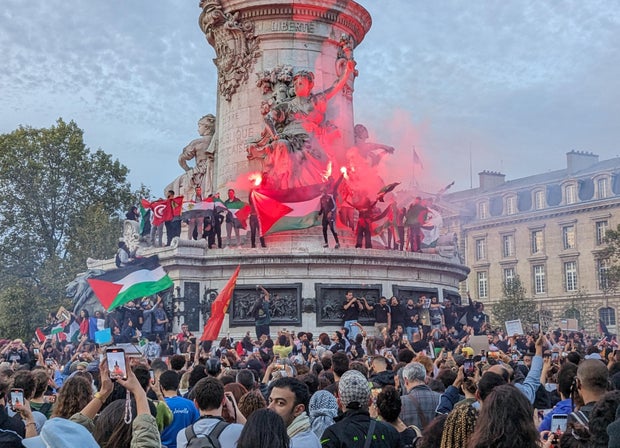 Darmanin reminded France's police chiefs of the importance of "systematic and visible" protection of places frequented by French Jews, including synagogues and schools. Some 10,000 law enforcement agents have been deployed to 580 sensitive sites.
Darmanin also ordered police to ensure that non-French nationals found to be disturbing the peace have their residency papers revoked and be expelled from the country.
The minister said 101 antisemitic acts have been recorded since Oct. 7, when Hamas launched its deadly attacks on Israel. Forty-one people have been arrested in connection with those infractions. 
French President Emmanuel Macron said Thursday afternoon that 13 French citizens were killed in Israel, and said that the country is "doing everything" to secure the release of French hostages taken by Hamas. 
"We share Israel's pain," Macron said, and reiterated the country's firm support of Israel.
By Elaine Cobbe
"I'm scared to move around": Palestinians in East Jerusalem stay home for fear of violence
The streets of East Jerusalem were emptier than usual on Thursday, as many people decided to remain at home. As the sun set, the usually bustling Damascus Gate entrance to Jerusalem's Old City was almost completely empty.
Palestinian human rights lawyer and advocate Munir Nuseibah works to help provide Palestinians in East Jerusalem with legal aid when they have housing or other issues with the Israeli government. He said that since Saturday's brutal attack by Hamas, he had started to live like he was under lockdown for COVID-19.
"There is a lot of revenge, I believe, that is ongoing right now. And the Palestinians in general in Jerusalem, they are very scared," Nuseibah told CBS News. "I am scared to move around in my own city. I feel that I should only go out to do the necessary things."
One Palestinian tour guide walking his young daughter through a park earlier in the day said he has been out of work since Hamas launched its attack on Israel on Saturday, and he's been mainly staying indoors with his family.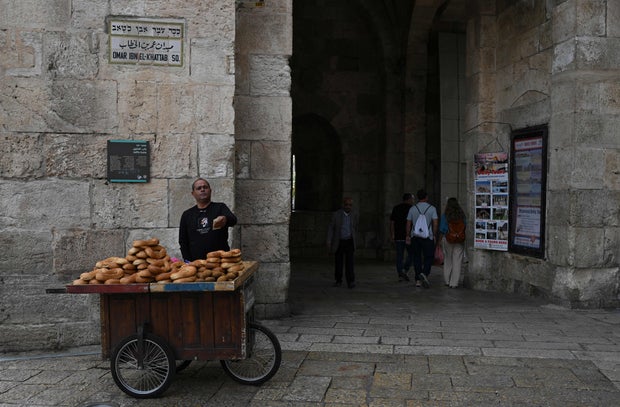 "People don't go out much, but she's doing school on Zoom now, and she was bored, so I thought I'd take her out a little bit," the tour guide said. "It's a scary situation. Everyone is worried about the Jews attacking them."
He said he wanted things to go back to the way they were before Saturday's brutal attack by Hamas. 
"It wasn't supposed to happen. People want to live. Jews want to live, Arabs want to live… I hope it goes back to the way it was," he said.
By Haley Ott
Blinken says Hamas' "depravity… harkens back to ISIS"
U.S. Secretary of State Antony Blinken addressed reporters on Thursday in Tel Aviv, where he met with Israeli Prime Minister Benjamin Netanyahu and other top officials and vowed U.S. support for the country. 
He described Hamas' attacks on Israel as "depravity in the worst imaginable way" and said acts by the militant group "harkens back to ISIS."
"It almost defies comprehension," Blinken said. 
Blinken is heading to Jordan on Thursday night to meet with King Abdullah and Palestinian leader Mahmoud Abbas, as well as senior officials from U.S. allies Saudi Arabia, the United Arab Emirates, Qatar and Egypt. He said the U.S. and these allies "will continue pressing countries to help prevent the conflict from spreading and use their leverage with Hamas to immediately and unconditionally release the hostages."
"We'll also discuss how we can continue to make real our affirmative vision for a region that's more peaceful, more prosperous, more secure, more integrated," Blinken said. "And in fact, that is the choice and the choice in some ways has been made even more stark by the actions of Hamas on Saturday."
"One path forward is a region that comes together – integrated, normalized relations among its countries, people working in common purpose for common benefit, more peaceful, more stable," he said. "And then there is the path that Hamas has shown in the stark, clear light — terror, destruction, nihilism. The choice could not be more clear."
By Caroline Linton
Iran says "new front" in Hamas war depends on Israel actions
Iran's foreign minister, whose government supports Hamas and other Middle East militant groups, said on Thursday that the opening of a "new front" against Israel would depend on Israel's actions in Gaza.
The United States fears there could be a second front on Israel's northern border with Lebanon if Hezbollah, another heavily armed Islamist group backed by Iran, were to intervene in the current war.
"Officials of some countries contact us and ask about the possibility of a new front (against Israel) being opened in the region," said Foreign Minister Hossein Amir-Abdollahian during a meeting with Iraqi Prime Minister Mohammed Shia al-Sudani.
Although Tehran has been a long-term backer of Hamas, Iranian officials have been adamant that the country had no involvement in the militants' attack against its arch-enemy Israel on Saturday.
"We tell them that our clear answer regarding future possibilities is that everything depends on the actions of the Zionist regime in Gaza," Amir-Abdollahian said, according to a statement from the Iranian foreign ministry.
The West has been cautious about Iran since Saturday, but leaders have warned Tehran in no uncertain terms against intervening in the war.
President Biden said on Wednesday that he had "made it clear to the Iranians: Be careful."
By AFP
Palestinian gunman killed after wounding Jerusalem police officers
Two officers were wounded Thursday in a shooting in Israeli-annexed east Jerusalem. The gunman, a 20-year-old man from the city's eastern sector, was killed by Israeli forces, police said. 
The gunman, who has not been identified, "opened fire at police officers who were standing in front of the" Shalem police station near the Old City, police spokesman Dean Elsdunne said.