Lee strengthens into hurricane, expected to be "extremely dangerous" storm by Friday
Lee strengthened into a Category 1 hurricane Wednesday and is "expected to rapidly intensify into an extremely dangerous major hurricane" by Friday, the National Hurricane Center said.
Large ocean swells are expected to reach the Lesser Antilles by Friday, and then the U.S. and British Virgin Islands, Puerto Rico, the Bahamas, Bermuda and Hispaniola by the weekend, the hurricane center said.
"These swells are likely to cause life-threatening surf and rip current conditions," the agency reported. 
Forecasters say it's too soon to project the extent of its potential impacts might look like, but for now, the Leeward Islands, where the Caribbean and Atlantic meet, should stay alert. 
The Leeward Islands includes the Virgin Islands, Anguilla, Saint Martin and Saint Kitts. 
As of 11 p.m. EDT on Wednesday, Lee was traveling west-northwest at 14 mph over the southern Atlantic Ocean, with maximum sustained winds of 80 mph. Its center was about 1,035 miles east of the northern Leeward Islands.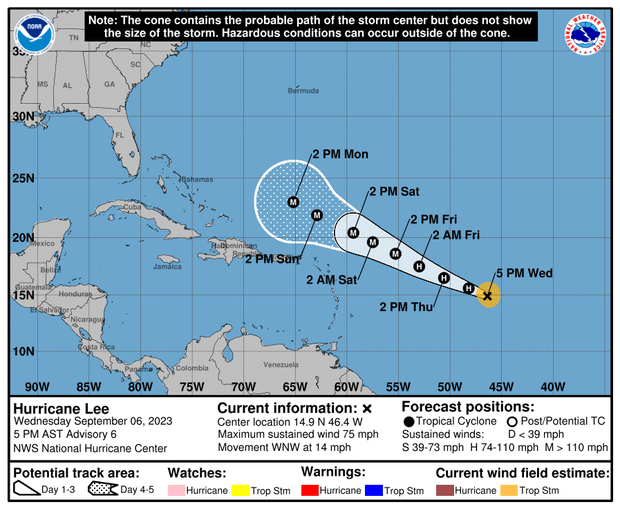 Earlier Wednesday. Lee's center was packing maximum sustained winds of 65 mph — a pickup of 15 mph in mere hours.
This comes just days after Hurricane Idalia left a path of destruction across the Southeast.
How do hurricanes get their names? A look at the naming process and 2023's full list
That storm made landfall Wednesday in Florida, where it razed homes and downed power poles. It then headed northeast, slamming Georgia, flooding many of South Carolina's beachfronts and sending seawater into the streets of downtown Charleston. In North Carolina, it poured more than 9 inches of rain on Whiteville, flooding downtown buildings.
Idalia claimed at least two lives, one in Florida and the other in Georgia. 
Idalia's impact from damage and lost economic activity is expected to be in the $12 to $20 billion range, according to Moody's Analytics.
Thanks for reading CBS NEWS.
Create your free account or log in
for more features.