Turkey negotiating with Hamas for release of civilian hostages
A senior Turkish official told CBS News that Turkey is negotiating with Hamas for the release of civilian hostages. No other details were given. Turkish President Recep Tayyip Erdoğan had an official meeting with Hamas leader Ismail Haniyeh in July 2023.
— Pinar Sevinclidir contributed reporting.
By Jordan Freiman
Videos shared months ago show Hamas training for attack on Israel
Months-old videos show the members of the terror group Hamas simulating assaults on settlements, practicing taking hostages and more. The techniques shown in the videos mirror those used by the group in its bloody, highly-coordinated attack against Israel on Saturday. 
The videos appear to have been online for months, with one video posted as early as December. Some videos were even covered by Israeli media. It adds to the questions about how Israel's U.S.-backed, world-class intelligence agencies missed the signs that Hamas was planning to attack. 
An IDF spokesperson did not respond to a CBS News question about whether the Hamas videos had been seen before Saturday's attack or taken as a warning of an actual, imminent assault. On the day of the unprecedented attack, Hamas was helped by numerous logistical and intelligence lapses, according to the New York Times.
CBS News' Frank Andrews and Khaled Wassef contributed to this report
By Kerry Breen
More than 260,000 displaced across Gaza amid airstrikes, U.N. says
The United Nations Office for the Coordination of Humanitarian Affairs said Wednesday that more than 263,000 people have been displaced across Gaza since Israel began bombarding the territory in response to the Hamas terror attack on Saturday. 
That's an increase of 40% since Tuesday, when there were about 200,000 people displaced in the Gaza Strip. The territory is one of the most densely populated places in the world, with more than two million people living on about 139 square miles of land.
The United Nations Relief and Works Agency for Palestine Refugees said that about 220,000 internally displaced people are sheltering in 92 of the agency's facilities across Gaza. Those numbers are increasing, the agency said. Some of the shelters are overcrowded and are struggling to provide enough food and water.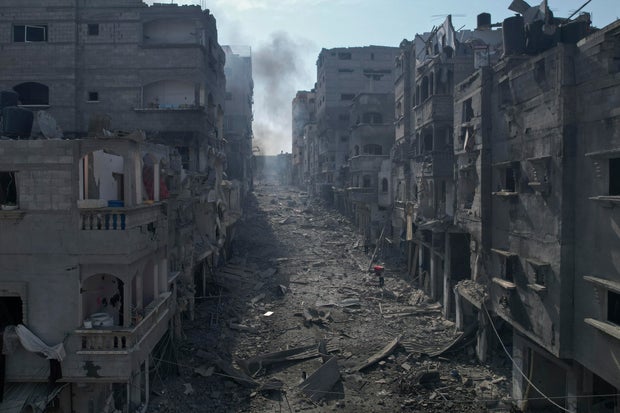 The Gaza Strip has been subject to a blockade for years, but that was tightened to stop the flow of all food, electricity and more in the wake of the Hamas assault. This blockade has led to a severe shortage of drinking water, impacting about 650,000 people, OCHA said. 
More than a thousand housing units in Gaza have been destroyed, and some 560 have been rendered uninhabitable, OCHA said. Hospitals in the area are only partially operational, and Israeli airstrikes have damaged seven facilities that had been providing water and sanitation services to over a million people. Because of this, sewage and solid waste are accumulating in the streets in some areas, OCHA said. 
"Civilians must be protected at all times.  International humanitarian law must be respected and upheld," U.N. Secretary-General António Guterres said. "U.N. premises and all hospitals, schools and clinics must never be targeted … Crucial life-saving supplies –including fuel, food and water– must be allowed into Gaza. We need rapid and unimpeded humanitarian access now." 
CBS News' Pamela Falk contributed to this report.
By Kerry Breen
Arab foreign ministers condemn Gaza airstrikes after emergency meeting
Top Arab diplomats held an emergency meeting in Cairo, Egypt, to discuss the Israeli bombardment of the Gaza Strip as retaliation for Hamas's brutal terror attack over the weekend. 
The meeting was held at the request of the Palestinian Authority and Morocco to discuss Arab efforts to halt the airstrikes. 
"We demand that the Israeli aggression be stopped immediately and that the basic needs of the Palestinian people be secured," said Palestinian Foreign Minister Riyad Al-Maliki during the meeting.
In a brief statement, the Arab League said that attendees discussed "political actions" at the "Arab and international levels to stop the Israeli aggression on Gaza and achieve security and peace based on international law and international legitimacy."
The ministers warned against the displacement of Palestinian people, stressed the need to protect civilians and allow for humanitarian aid to enter Gaza, and condemned the actions of Israel. 
CBS News' Khaled Wassef contributed to this report.
By Kerry Breen
Gaza hospitals relying on generators, officials say
Hospitals in the Gaza Strip are relying on generators to keep lights and equipment on after Israel tightened a blockade on the territory, the Gaza Ministry of Health said Wednesday. An Israeli official said earlier Wednesday that the territory's "local power station has collapsed and there is no electricity in Gaza." 
The Gaza Ministry of Health said in a statement that the generators being used are "already old generators" that "need spare parts and fuel" to continue operating. The blockade around Gaza has cut off food, water, electricity, fuel and other supplies. 
The Ministry of Health's Director General of Engineering and Maintenance, Mazan Al-Araishi, said in the statement that the effects of the blockade meant Israel was "deliberately causing a health disaster." The ministry added that dependence on generators could put hundreds of patients at risk, including "serious repercussions" for "100 premature babies." 
Earlier Wednesday, the ministry said that it had been forced to start rationing health care services provided in hospitals.
Even before the blockade was tightened in response to the bloody assault by Hamas, Gaza only had electricity for about half the day. 
By Kerry Breen
At least 22 Americans dead, State Department says
The U.S. State Department said on Wednesday it can "confirm the deaths of at least 22 U.S. citizens" amid the violence in Israel and Gaza. 
"We extend our deepest condolences to the victims and to the families of all those affected," a State Department spokesperson told CBS News. 
Secretary of State Antony Blinken said Wednesday that there may be more deaths reported. 
"That number could still go up, and it probably will," he said before departing Joint Base Andrews to travel to Israel and Jordan. 
Seventeen Americans remain unaccounted for, said National Security Council coordinator for strategic communications John Kirby in a news conference on Wednesday. "A number" of the missing are hostage of Hamas, he said, but would not give a number. 
On Tuesday, President Joe Biden had said that at least 14 Americans were dead and 20 were unaccounted for.
By Kerry Breen
White House says the U.S. is working to allow safe passage out of Gaza for civilians
The U.S. is in active conversations to allow for safe passage out of Gaza for civilians, White House National Security spokesman John Kirby said Wednesday.
Kirby noted that Israel and Egypt are the two most significant players in the efforts.
"We are having active conversations about trying to allow for that safe passage," Kirby said. "It's the civilians who did nothing wrong so we want to make sure they have a way out."
By The Associated Press
Antony Blinken, other delegates, depart for Israel
Secretary of State Antony Blinken and other officials are on their way to Israel, where Blinken said he will discuss the situation on the ground and ways to support Israelis in their fight against Hamas.
Blinken is accompanied by Barbara Leaf, the assistant secretary of state for Near Eastern affairs; spokesperson Matthew Miller; counselor Derek Chollet; deputy chief of staff for policy Tom Sullivan; U.S. special representative for Palestinian affairs Hady Amr; and Steve Gillen, the deputy special envoy for hostage affairs. 
The delegation is expected to land in Tel Aviv Thursday morning local time before traveling to Amman, Jordan, that evening. The secretary is expected to share condolences for the victims of Hamas' attacks, condemn the attacks and reaffirm the United States' solidarity with Israel. 
Blinken will meet with other senior officials while traveling. 
Before departing Joint Base Andrews, Blinken said the U.S. stands "resolutely" with Israel. 
"Not since ISIS have we seen this depravity," said Blinken.
By Kerry Breen
Chicago-area teen studying abroad in Israel details hiding during attack
Josh Jury, a high school senior from the Chicago area, spent hours hiding in a bomb shelter on Saturday during Hamas' attack on Israel. Jury told CBS Chicago the "stressful" attack "turned (his) world upside down." 
Jury said he awoke to the sound of Israel's siren alert system, which threw him and other classmates "into a shock" as their counselor "started yelling and telling us we had to run to a bomb shelter." 
The study abroad program was meant to end in December, but organizers are working to get the students out of Israel as soon as possible, Jury said. Read more of Jury's story at CBS Chicago. 
By Kerry Breen
Iranian officials were surprised by attack on Israel, according to U.S. intelligence
Senior Iranian officials were surprised by Hamas' attack on Israel, according to intelligence collected by the United States. The intelligence was confirmed by multiple American officials familiar with the matter. 
This preliminarily suggests that Tehran was not directly involved with the deadly assault. Officials briefed on the intelligence said it appears key Iranian officials who would normally be aware of operations in the region were unaware of the planned attack. 
U.S. officials did not provide further information about the intelligence collected. The New York Times first reported that the U.S. has intelligence that the assault by Hamas took senior Iranian officials by surprise. Iran has long supported Hamas with material, financial and logistical support, according to officials. 
"[W]e have said since the beginning that Iran is complicit in this attack in a broad sense because they have provided the lion's share of the funding for the military wing of Hamas, they have provided training, they have provided capabilities, they have provided support, and they have had engagement and contact with Hamas over years and years," national security adviser Jake Sullivan told reporters on Tuesday.  
CBS News' Olivia Gazis contributed reporting. 
By Kerry Breen
Satellite photos show devastation in Gaza after Israeli airstrikes
Since Hamas surprised Israel with a bloody, highly coordinated attack on Saturday, the Gaza Strip has faced relentless airstrikes causing hundreds of deaths. Satellite photos show the destruction caused by the bombardment.
The images show buildings turned into rubble and streets left in ruins.