In a reshuffling of top management at his luxury goods empire, the world's richest man — LVMH chairman and CEO Bernard Arnault — tightened his family's grip by appointing his daughter, Delphine Arnault, as the new head of Christian Dior.
The 47-year-old had been an executive vice president at Louis Vuitton, LVMH's biggest brand, since 2013, and will serve as chair and CEO of the French label starting in February, LVMH announced Tuesday.
"The appointment of Delphine Arnault is another milestone in a career journey in fashion and leather goods defined by excellence, first during 12 years at Christian Dior and then at Louis Vuitton for the past decade where she was number two with responsibility for all of the Maison's product activities," Bernard Arnault said in a statement.
The Frenchman cofounded the luxury conglomerate in 1987. LVMH also owns brands including Sephora, Fendi, Marc Jacobs, Givenchy, Moët & Chandon, Fenty Beauty, Tiffany & Co, TAG Heuer, and Bulgari. It is Europe's most valuable company.
Arnault praised his daughter in the statement, saying that "under her leadership, the desirability of Louis Vuitton products advanced significantly, enabling the brand to regularly set new sales records. Her keen insights and incomparable experience will be decisive assets in driving the ongoing development of Christian Dior." 
Pietro Beccari, who has been the head of Dior since 2018, will now be moving to replace long-time Louis Vuitton CEO Michael Burke. Arnault commended Beccari for his "exceptional" work at the house. Burke — who is Arnault's longest-serving lieutenant, and has also been chairman of jewellery label Tiffany — will continue to work alongside Bernard Arnault, the statement said.
Bloomberg estimates Arnault's fortune at $178 billion. He overtook Elon Musk in December 2022 as the world's richest man.
Arnault has four other sons, each of which also hold management positions at LVMH and its brands.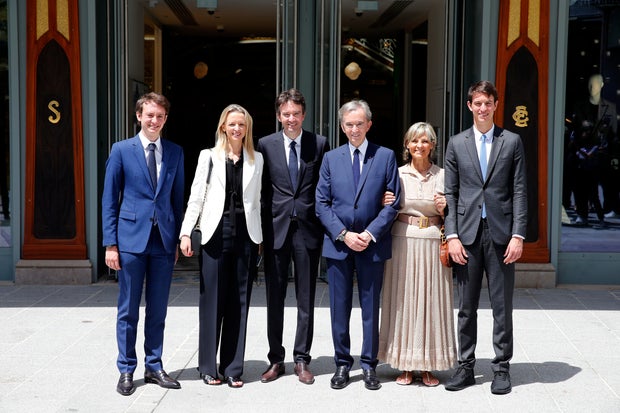 Antoine Arnault, 45, was recently appointed as CEO of Christian Dior SE, the holding company through which the family owns its controlling stake in LVMH. He is also the CEO of high-end footwear and apparel label Berluti, and the chairman of Italian label Loro Piana.
Alexandre Arnault, 30, is executive vice president, in charge of product and communications at Tiffany & Co. He was CEO of LVMH-owned German luggage-maker Rimowa between 2016 and 2020.
Frederic Arnault, 28, has been the CEO of watch brand Tag Heuer since 2020.
Jean Arnault, 24, heads marketing and product development for Louis Vuitton's watches division since August 2021 and used to intern at prestigious companies such as McLaren and Morgan Stanley.
The 73-year-old Bernard Arnault has signaled no intention of stepping down from his role at LVMH. The company last year raised the maximum age requirement for its CEO from 75 to 80, Reuters reports.
Natacha Larnaud

Natacha Larnaud is a social TV producer for CBS News.
Thanks for reading CBS NEWS.
Create your free account or log in
for more features.