Canada is experiencing its most destructive wildfire season on record, as hundreds of blazes burning from coast to coast continue to send tremendous plumes of smoke into the atmosphere. Thick bands of soot and smoke particles captured over the last month by satellite images showed the extent of the air pollution traveling south over the Canadian border and into the United States, producing hazy skies and triggering air quality alerts across the country. 
Wildfire season typically happens around this time of year in Canada, which is home to about 9% of the world's forests. But with the season occurring annually from May until October, devastation seen from the outset this year put the country almost immediately on track for its worst season in more than 30 years. Out-of-control blazes have cropped up in nearly every corner of Canada and forced thousands of people to evacuate. 
A map updated daily by the Canadian Interagency Forest Fire Centre shows how widespread the wildfires have become, although eastern provinces like Quebec, Ontario and Nova Scotia have been hit particularly hard this year by large and at times uncontrollable blazes. Officials on Tuesday reported the highest number of active fires in Quebec, with 117 blazes recorded. British Columbia, along Canada's west coast, had the second-highest number of active blazes — 99 — followed by Alberta and Ontario.
The spread — reaching from the westernmost provinces right across to the eastern ones — is unusual, particularly so early in the year, Canadian government officials have said. Political leaders, including President Joe Biden, and environmental experts acknowledge the causal link between rising temperatures driven by climate change, as well as drought, and the extreme wildfire season that Canada is experiencing now. Plus, as CBS News previously reported, harsh weather conditions in Canada are fueling the fires and making it harder for firefighters to combat the flames. 
The interagency fire center has recorded 2,956 wildfires since the beginning of 2023. The fires have scorched at least 7.8 million hectares — or around 19.2 million acres — of land across Canada this year, according to the center. This acreage surpassed the amount of land burned in 1989, which previously held Canada's annual record, the country's National Forestry Database reported.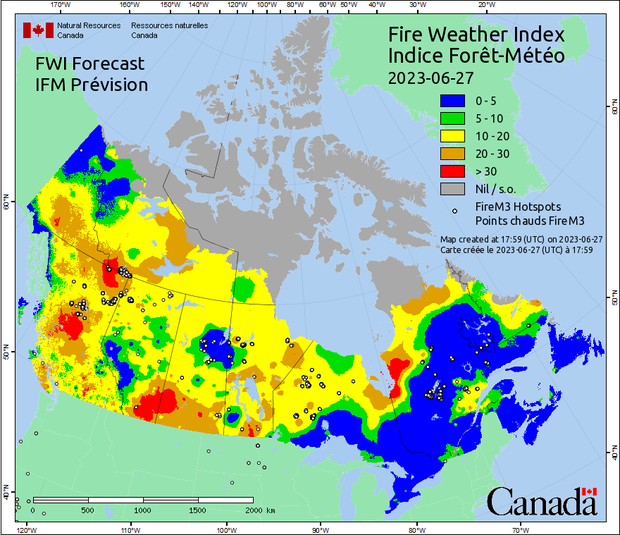 There were 490 active fires burning in Canada on Tuesday, according to the latest interagency tally, with two new blazes recorded since officials put out the previous day's update.
After wildfire smoke traveling south from eastern Canadian provinces brought a marked spell of fog, fumes and copper skies to the northeastern U.S. earlier in June, states being affected most severely this week are in the Midwest, with air quality in Chicago and Minneapolis ranked as the world's worst and second-worst on Tuesday, according to the Swiss air quality technology company IQAir. Meanwhile, NASA published an image Tuesday that showed a thick band of smoke from the wildfires in eastern Canada drifting across the Atlantic Ocean and reaching as far as Europe.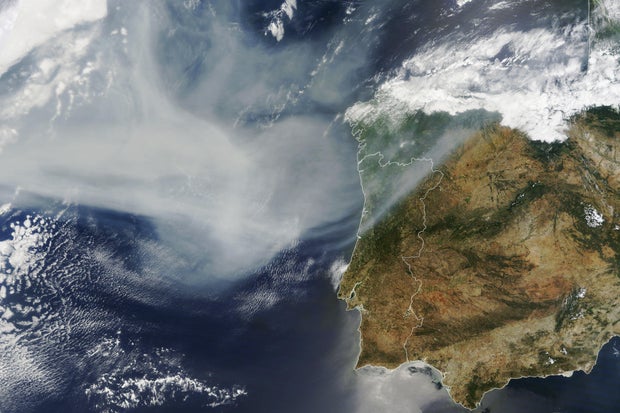 As of Tuesday, a majority of Canada's active fires were classified as "out of control," with 259 blazes fitting that distinction. The number was up slightly from the 250 fires marked as out of control by the agency 2 weeks ago. Of the remaining wildfires being monitored, 158 were marked "under control" and another 73 were "being held," which is the label assigned when a fire is not under control but also is not moving.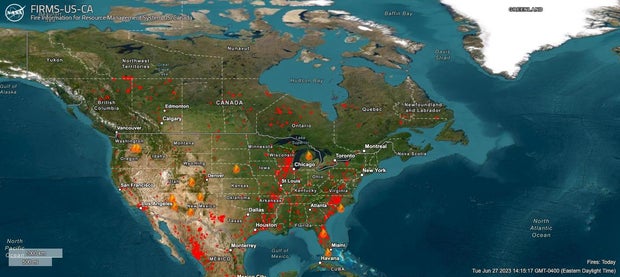 Canadian officials have declared a "national preparedness level 5" in response to the wildfires, which means the country will deploy any resources necessary to combat the flames. Mr. Biden said earlier this month that firefighters from the U.S. would be sent to Canada to assist in the effort, alongside others from Australia, New Zealand and South Africa, a research officer from the Canadian Forest Office previously told CBS News.
Thanks for reading CBS NEWS.
Create your free account or log in
for more features.