Hurricane Otis made landfall on southern Mexico's Pacific coast early Wednesday morning as a dangerous Category 5 storm, the National Hurricane Center said, warning that the area around Acapulco could see "catastrophic damage."  
In a matter of hours, Otis strengthened from a tropical storm into a major hurricane before making landfall just before 1:30 a.m. Eastern, according to the hurricane center. The storm slammed into Mexico's coast with maximum sustained winds of 165 mph and hurricane-force winds extending up to 30 miles from its center.
The hurricane center warned that "catastrophic damage" was likely as the eye of the storm moved onshore.
It was forecast to bring anywhere from 8 to 20 inches of rain through Thursday across the Mexican states of Guerrero and Oaxaca, and may also cause "life-threatening coastal flooding."
The hurricane center warned of "extremely destructive winds near the core" of Otis, with powerful gusts posing a risk to the upper floors of high-rise buildings.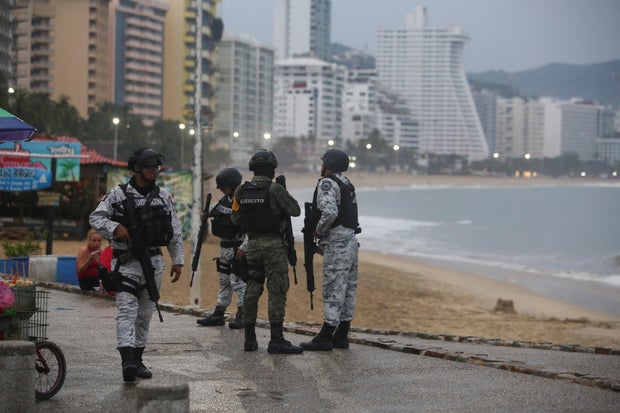 A storm is deemed a major hurricane when it reaches Category 3 or above on the Saffir-Simpson Hurricane Wind Scale due to the potential for "significant loss of life and damage," per the hurricane center.
A hurricane warning was in effect for Punta Maldonado west to Zihuatanejo.
Mexico's army and navy deployed more than 8,000 troops to Guerrero with specialized equipment to aid in rescues, according to The Associated Press.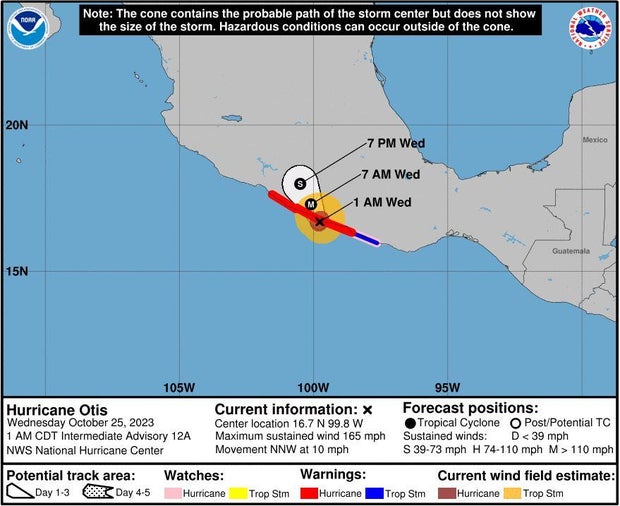 Authorities closed Acapulco's port, home to some 300 fishing boats. The beach city, which has a population of about one million, is a major tourist destination.
Danielle Banks, meteorologist for The Weather Channel, said Otis was expected to weaken after making landfall, and the hurricane center said Otis would "likely dissipate over southern Mexico" by Wednesday night. 
Thanks for reading CBS NEWS.
Create your free account or log in
for more features.