Two passenger trains derailed in India on Wednesday, killing at least 13 people and trapping hundreds of others inside more than a dozen damaged coaches, officials said.
About 400 people were injured and taken to hospitals, and the cause of the accident was under investigation, officials said.
The number of dead was not immediately clear. The director-general of state fire services, Sudhanshu Sarangi, confirmed at least 13 deaths. The New Delhi television news channel reported that 30 people were feared dead.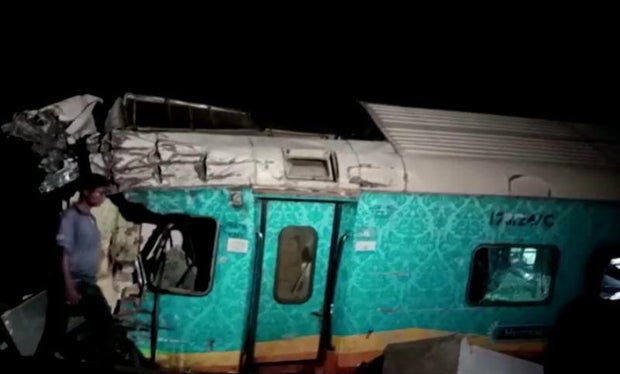 Nearly 500 police officers and rescue workers with 75 ambulances and buses responded to the accident, said Pradeep Jena, the top bureaucrat of the Odisha state.
Rescuers were attempting to free 200 people feared trapped in the wreckage, said D.B. Shinde, administrator of the state's Balasore district.
Amitabh Sharma, a railroad ministry spokesperson, said 10 to 12 coaches of one train derailed, and debris from some of the mangled coaches fell onto a nearby track. It was hit by another passenger train coming from the opposite direction.
Up to three coaches of the second train also derailed.
The Press Trust of India news agency said the derailed Coromandel Express was traveling from Howrah in West Bengal state to Chennai, the capital of southern Tamil Nadu state.
Indian Prime Minister Narendra Modi said he was distressed by the accident.
"In this hour of grief, my thoughts are with the bereaved families. May the injured recover soon," tweeted Modi, who said he had spoken to the railway minister and that "all possible assistance" was being offered.
Despite government efforts to improve rail safety, several hundred accidents occur every year on India's railways, the largest train network under one management in the world.
In August 1995, two trains collided near New Delhi, killing 358 people in the worst train accident in India's history.
Most train accidents are blamed on human error or outdated signaling equipment.
More than 12 million people ride 14,000 trains across India every day, traveling on 40,000 miles of track.
In:
India
Train Derailment
Thanks for reading CBS NEWS.
Create your free account or log in
for more features.