Dnipro, Ukraine — Russia hit Ukraine on Thursday with its most punishing attacks in nearly a month. A barrage of missiles and explosive drones rained down in a blistering assault that struck cities from the capital Kyiv to the vital southern port of Odesa, and all the way to the far-western city of Lviv.
At least nine people were killed, according to Ukrainian officials, and millions more were plunged into the cold and dark as the attacks hit power infrastructure — including cutting the vital electricity supply yet again to the Zaporizhzhia Nuclear Power Plant, Europe's largest atomic energy facility.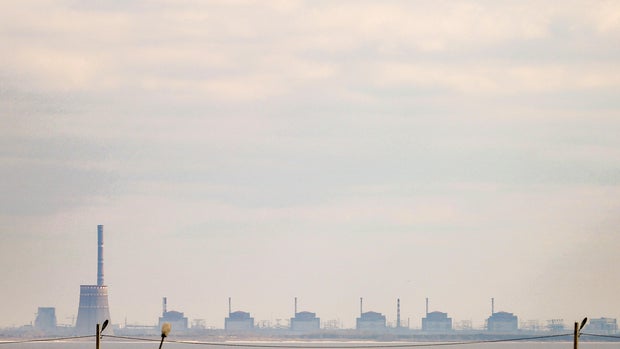 Ukraine's nuclear power operator Energoatom said the "last power line between the occupied Zaporizhzhia NPP [Nuclear Power Plant] and the Ukrainian power system was cut off as a result of rocket attacks." The company said it was the sixth time the sprawling facility had been cut off from the nation's electricity grid since Russian troops captured it last year. Russia accused Ukrainian forces of causing the outage, as it has in all previous instances.
What's at stake with Ukraine's embattled Zaporizhzhia nuclear plant?
Whenever the electricity supply is cut, the plant relies on old diesel generators to keep its vital cooling systems running, but they can only do the job for about 10 days.
"The countdown has begun. If it is impossible to renew the external power supply of the station during this time, an accident with radiation consequences for the whole world may occur," Energoatom warned Thursday.
Rafael Grossi, the head of the United Nations' nuclear watchdog agency, the IAEA, issued a fresh appeal Thursday for a demilitarized safe-zone around the Russian-held plant, saying he was "astonished" by the fact that such a sensitive facility was still being put at risk by the war.
"Each time we are rolling a dice. And if we allow this to continue time after time then one day our luck will run out," Grossi told the agency's Board of Governors in Austria, according to a statement. "This is the sixth time — let me say it again — sixth time, that ZNPP has lost all off-site power and has had to operate in this emergency mode. Let me remind you, this is the largest nuclear power station in Europe. What are we doing? How can we sit here in this room this morning and allow this to happen? This cannot go on. I am astonished by the complacency."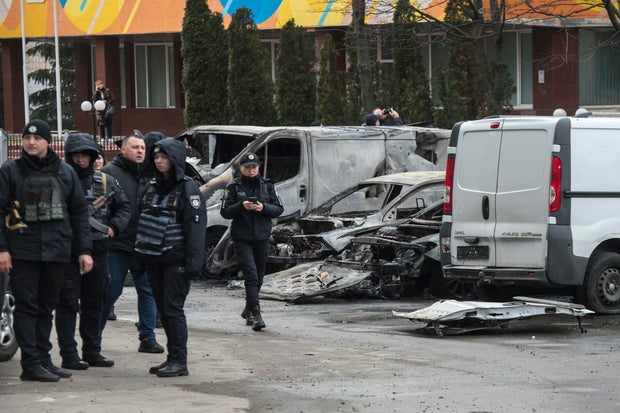 In the shell-shocked central city of Dnipro, residents' fears were more immediate after the overnight missile attacks, and some struggled to comprehend why their city was a target for Vladimir Putin's assault.
"It doesn't make sense to me how this can be in the 21st century," said 60-year-old Igor Yezhov, calling the Russian attackers "wild people — just savages."
All winter the Kremlin has ruthlessly targeted Ukraine's power and civilian infrastructure with missiles and drones, but it is the eastern mining city of Bakhmut where the ground war remains the most intense.
The head of the Kremlin-linked Russian mercenary group Wagner claims his fighters have captured key urban areas after seven grinding months of street battles in the city. 
Moscow has thrown wave after wave of fighters, many of them from the Wagner Group, at the battle for Bakhmut, desperate to claim the entire town in what would be its first major territorial gain in over half a year.
In the battered town of Chasiv Yar, just a few miles west of Bakhmut in Ukrainian-held territory, CBS News met Baida, a soldier who had just returned from the front line. At 55, he said he'd never expected to become a soldier before Russia invaded his country, and he admitted the battle was "really hard."
Heart-wrenching decisions for Ukrainian civilians as Russia's war closes in
He spoke to us in front of the armored vehicle he'd driven in the battle, which he credited with saving the lives of himself and his fellow soldiers on multiple occasions.
"This vehicle is very strong, it survives anti-tank mines, keeps the personnel safe, survives rocket-propelled grenades and anti-tank guided missiles," he said. "I can show the examples of when we came under shelling in it and it stood strong, sustaining 120[mm] mortars. It maneuvers well, performs well in mud and forests, it's stable."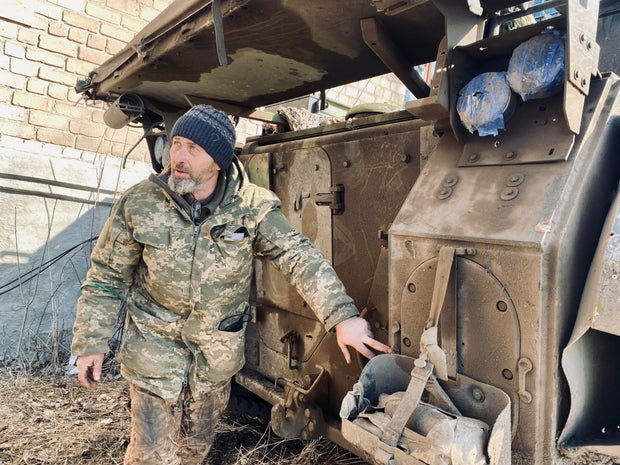 But Baida, a callsign, knows nothing can protect him or his fellow soldiers every time.
"Yesterday one of our men died, a driver of the same vehicle," he said. "That's how it is. We are hoping for everything to be okay… There are losses, but we can't win without that."
Those losses were felt acutely at the funeral of 29-year-old medic Yama Rikhlitska, who was killed as she treated injured soldiers in a field hospital just outside Bakhmut.
"Oh Yana," her mother cried in anguish as she said her final goodbye, "my baby, my little one."
As Ukrainians continue to pay the ultimate price in this war now in its second year, there's a grim acceptance that the brutal conflict is showing no signs of easing, let alone ending.
Imtiaz Tyab

Imtiaz Tyab is a CBS News correspondent based in London.
Thanks for reading CBS NEWS.
Create your free account or log in
for more features.