A search and rescue mission was underway Monday morning for a submarine that went missing in the North Atlantic on an expedition to explore the wreckage of the Titanic.  Lt. Jordan Hart of the U.S. Coast Guard in Boston told CBS News that personnel were "currently undergoing a search and rescue operation" when asked about the rescue efforts off the coast of Newfoundland. 
OceanGate Expeditions, a company that deploys manned submersibles for deep sea expeditions, confirmed in a statement that its sub was the subject of the rescue operation, adding that it was "exploring and mobilizing all options to bring the crew back safely."
The company did not say how many people were on board the missing vessel or whether any of them were paying tourists, whom it does take as passengers on its expeditions.
"Our entire focus is on the crewmembers in the submersible and their families," said OceanGate, adding that it was "deeply thankful for the extensive assistance we have received from several government agencies and deep sea companies in our efforts to reestablish contact with the submersible."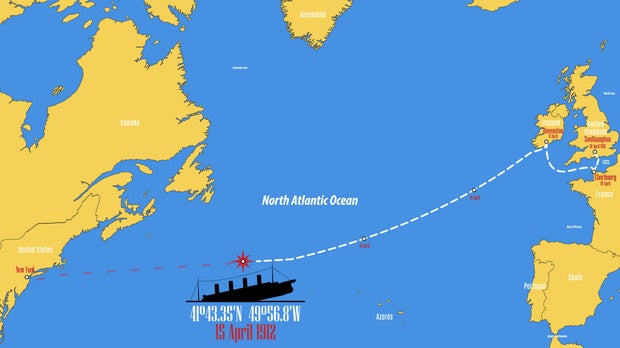 OceanGate recently said on its website and social media feeds that an expedition to the wreckage of the RMS Titanic, which lies about 400 miles southeast of the Newfoundland coast, was "underway." 
Contacted by CBS News, the Canadian Coast Guard said the rescue operation was being managed by the Boston Regional Coordination Center, and a map showing jurisdictions for the various coastal search and rescue agencies off the North American coast shows the location of the Titanic wreck within the Boston center's area of responsibility.  
Earlier this month, OceanGate said on Twitter that it was using satellite company Starlink to help maintain communications with its expedition to the Titanic.
"Despite being in the middle of the North Atlantic, we have the internet connection we need to make our Titanic dive operations a success — thank you Starlink," the tweet said. The company's website advertises seven-night voyages to see the Titanic wreckage priced at $250,000.
The company last tweeted about the Titanic expedition on June 15.
OceanGate's submersible, The Titan, is the only five-person sub in the world capable of reaching the Titanic wreck, which sits 2.4 miles below the sea surface. CBS News "Sunday Mornings" correspondent David Pogue joined the crew of the vessel, along with a small group of intrepid tourists, for a journey to see the world's most famous shipwreck last year.  
As he got situated in the vessel, which he said had about as much room inside as a minivan, Pogue said he "couldn't help noticing how many pieces of this sub seemed improvised, with off-the-shelf components," including a video game controller that was used to pilot the sub.
This is a developing story. Please check back for updates.
Thanks for reading CBS NEWS.
Create your free account or log in
for more features.