Nikopol, Ukraine — Russia fired a barrage of more than 20 cruise missiles and two explosive drones at Ukraine early Friday, killing at least 19 people, according to Ukrainian officials. The deadliest strike was a pair of missiles that tore into an apartment building in the central city of Uman, bringing death and destruction hundreds of miles from any active front line.
At least 17 people were killed in that strike alone, The Associated Press said, citing the Kyiv region's governor, including two 10-year-old children and a toddler. The missile tore off one end of the residential building as families slept.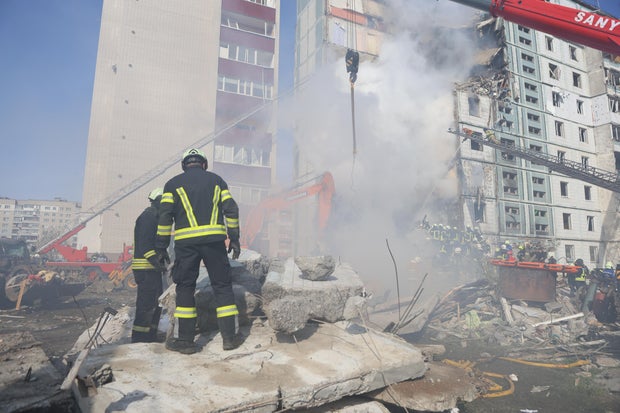 "We're covered in blood," wailed a young mother in a video she posted on social media. "The children were sleeping here… it's good that everyone's alive."
As she pointed her camera at a burning crater outside their building, she swore at the Russians responsible for the attack.
It was a terrifying glimpse at the reality of life in Ukraine: Nowhere is completely safe amid the threat of Russian missiles raining down indiscriminately on towns and cities, killing civilians in their sleep.
Zelenskyy wary, but sees "opportunity" in China's offer to mediate
Anton Gerashchenko, a Ukrainian government advisor, shared images of a strike in the city of Dnipro that he said had killed a 3-year-old girl and a woman. 
"Russia continues terrorizing civilians," he said.  
The capital, Kyiv, also came under attack, for the first time in about two months. Officials said there were no casualties there, however, with the country's air defenses downing 11 missiles and two drones. 
Each civilian victim constitutes a potential war crime, the head of the United Nations human rights mission in Ukraine told CBS News.
"If you look at the scale of the injuries, of the killings, of the destruction, it's very clear that international humanitarian law, the rules of war, have been broken," said Matilda Bogner.
Shelling is a regular occurrence in front-line cities like Nikopol, just across a river from Russian-occupied territory. There is no military objective in towns and cities like Nikopol or Uman, but that doesn't stop Russia's forces from taking potshots into residential neighborhoods, to spread terror.
Thanks for reading CBS NEWS.
Create your free account or log in
for more features.