As Russia's war on Ukraine grinds on toward the 15-month mark, both sides are expected to launch new offensives, and both sides have apparently suffered shortages of key weaponry. Recently leaked Pentagon documents appear to show Ukraine running dangerously low on the air defense rounds it has used to stop thousands of Russian rockets, missiles and exploding drones from reaching their targets.
On the other side of the front lines, the leaked papers suggest Russia's special forces have been decimated, as wave after wave of soldiers have been thrown into the fight with little gained in return.
The Ukrainians will soon get an advanced U.S. Patriot air defense system to help them fend off the invasion, and there's more weaponry on the way from Europe — everything from heavy main battle tanks to machine gun ammunition. 
Ukrainian Minister of Defense Oleksii Resnikov recently gloated in social media videos over the first big tanks sent from Europe to help his country fend off Russia's invasion, climbing aboard a British Challenger 2, part of the first batch of modern "main battle tanks" (MBTs) to be handed over to Ukraine's armed forces. They were promised along with dozens of German-made Leopard 2 tanks and, later this year, American M1 Abrams tanks.
These are the tanks Ukraine has been promised from the West
Russia, however, may be struggling to get modern war machines to the front lines, and has pulled some very, very old tanks out of deep storage, seemingly to bolster its ground forces in Ukraine. 
While Ukrainian forces train on modern Western weapons, Russian tank crews appear set to take delivery of machines driven by their fathers' — or even their grandfathers' generations.
Last month, an online post by the Conflict Intelligence Team (CIT), a Russian organization that's investigated and documented Russia's military actions in Ukraine since the first invasion in 2014, showed what it said were mothballed, Soviet-era T-54 and T-55 tanks being loaded onto trains and rolling off storage bases.
It sparked a flurry of speculation, and while Russia's military hasn't commented on the movement of the tanks, more sophisticated but still-old Soviet T-62 tanks have already been taken from the same storage location, brought to workshops to be refurbished, and then deployed in Ukraine. CIT noted in its late-March report that the train transport spotted that month was the first known instance of the older T-54s and T-55s being pulled out of storage.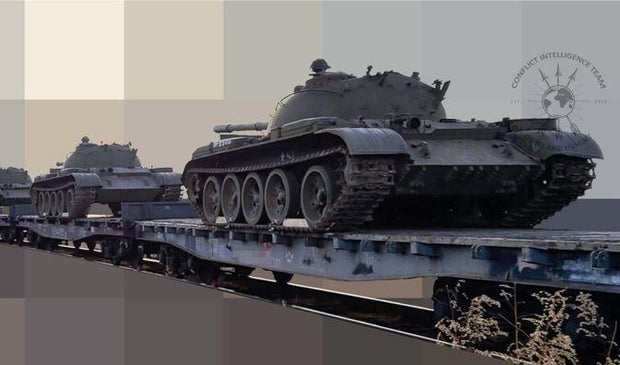 While official sources have said nothing, pro-Kremlin military analysts who feature regularly on Russia's state-run media outlets made no attempt to downplay the apparent resurrection of the Soviet military hardware.
Yuri Netkachev, a retired lieutenant general who once commanded a tank battalion, told the Nezavisimaya Gazeta newspaper that the T-54 and T-55 tanks were "in demand to continue the special operation, because they have a significant ammunition load."
With Ukraine's armed forces claiming to have destroyed more than 3,600 Russian tanks since the full-scale invasion began on February 24, 2022, Netkachev stressed the sheer quantity of old Soviet tanks in Russian storage — as many as 10,000, he claimed — as a potential battlefield advantage.
"We see these tanks on the railway platforms, and this indicates that crews of four people per vehicle have been trained for all of them. The tanks have been modernized, the sights on them have been adjusted and can be replaced, and also for each of them there is sufficient ammunition, which will be replenished in a timely manner," claimed Netkachev, suggesting they would most likely be used to hold ground, rather than attempt to gain it as part of a "main striking force."
The "Beast From the East"
Entering service just after the Second World War, in 1948, the T-54 was the original Cold War tank. Dubbed the "Beast From the East" during that East-West standoff, the tank represented a massive leap in Soviet design. It was followed by the introduction of the T-55 a few years later, and both were produced in huge quantities.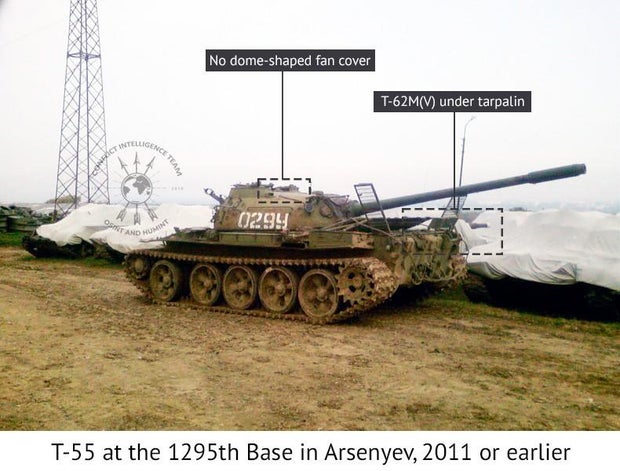 With estimates suggesting as many as 60,000 of the machines were built in the USSR, it became one of the most widely used tanks in the world, having been exported to about 50 countries. They have been and are still used by countless armies and militias in conflicts ranging from the jungles of Vietnam to the plains of Africa and the mountains of Afghanistan.
However, despite still being in production into the early 1980's it was clear by the previous decade, when they were used in the Arab-Israeli war, that the T-55 was outdated and they were eventually withdrawn from service and mothballed.
Until now, at least.
While Netkachev and other Russian pundits likely offer realistic insight, framing the old tanks as a plentiful resource to bolster Russian forces' back lines on the battlefield, Moscow's plans for the Cold War machines have not been confirmed. They wouldn't fare well if put toe-to-toe with the latest Western MBTs, or even many of the smaller armored fighting vehicles (AFVs) now being supplied to Ukraine, as the Soviet tanks lack sufficient armor, firing range, night fighting capabilities and modern fire control systems — or the capacity to fire on the move.
Those facts left CIT's analysts to write that it was "difficult to determine the possible uses of these tanks," but they concluded it likely "indicates severe issues with military vehicle supply in the Armed Forces of the Russian Federation."
As Russia's two tank factories reportedly struggle to produce new tanks and modernize older models under pressure from international sanctions that have constrained supplies, Russia might be banking on its significant stocks of older machinery to keep its war effort going, and even to help it drive a long-expected offensive this spring.
Even if used, as Netkachev and other analysts have suggested, as almost static, indirect-fire artillery pieces behind the front lines, given the number of tanks and the quantity of shells Russia has for them, the Soviet relics could still prove deadly. Assuming, of course, that after decades in storage, they even start.
Thanks for reading CBS NEWS.
Create your free account or log in
for more features.