President Biden is meeting with other world leaders at the NATO summit in Lithuania this week, where member nations are discussing Sweden's admission into their group. NATO recently grew to 31 nations, with the addition of Finland earlier this year, and could now grow to 32 with the inclusion of Sweden. Which countries are part of NATO, and how do they become members?
A full list of NATO countries as of July 2023
NATO, the North Atlantic Treaty Organization, formed in 1949 when the 12 founding nations signed the Washington Treaty. Central to the treaty is Article 5, a pact among member nations to provide mutual assistance against what was then the Soviet Union if it tried to extend its control over Europe. 
The original founding nations were Belgium, Canada, Denmark, France, Iceland, Italy, Luxembourg, Netherlands, Norway, Portugal, the United Kingdom and the United States.
Over the years, more countries have joined: Greece, Turkey, Germany, Spain, Czech Republic, Hungary, Poland, Bulgaria, Estonia, Latvia, Lithuania, Romania, Slovakia, Slovenia, Albania, Croatia, Montenegro and North Macedonia. 
Finland joined in April 2023. Sweden's membership is being discussed at the NATO summit this week. 
Map of NATO countries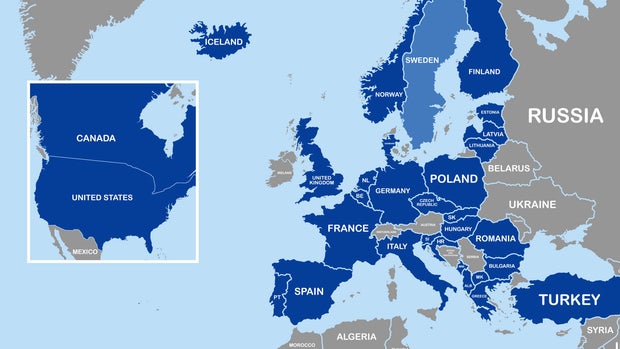 What does NATO do?
As NATO members, the nations "agree that an armed attack against one or more of them in Europe or North America shall be considered an attack against them all," according to the treaty.
The group formed in part to work against any threats the Soviet Union might pose. After the Soviet Union broke up, NATO began forming friendships with former Soviet countries that were becoming independent states. Many of those countries eventually joined NATO.
In addition to being allies in defense, the countries also make decisions on a variety of issues and work together on crisis-management operations and preventing future threats.
In 1995, NATO deployed its Implementation Force in Bosnia and Herzegovina, starting its first major crisis response operation. The force was deployed to help enforce the Dayton Peace Agreement, which ended the war in the country. NATO eventually replaced the peace agreement with the Stabilisation Force, or SFOR, which helped rebuild the country after the war. 
For the first time ever in 2001, NATO invoked Article 5 after the terror attacks in the U.S. on 9/11. They continued to work together in 2003 during the war in Afghanistan and worked to successfully prevent terrorist attacks from Afghanistan in any NATO countries. 
What are the requirements for NATO membership?
NATO has an "open door policy" and says membership is open to "any other European state in a position to further the principles of this Treaty and to contribute to the security of the North Atlantic area." 
Any country in the Euro-Atlantic area that has a "functioning democratic system, fair treatment of minority populations and a willingness to make a military contribution to NATO operations" can join, according to the parliament of the U.K., a NATO founding member.
The requirements are listed in the founding treaty's Article 10. NATO ensures that its expansion "poses no threat to any country" and is "aimed at promoting stability and cooperation, at building a Europe whole and free, united in peace, democracy and common values." 
All decisions, including decisions on new members, are reached by a consensus, meaning the members discuss issues and then make collective decision on how to handle them. They don't vote, but make decisions together that sometimes result in agreeing to disagree. 
NATO has been in talks with several countries who have expressed desire to join and determined in 2008 that both Ukraine and Georgia would join sometime in the future. 
Both Finland and Sweden asked to join NATO in 2022 after Russia invaded Ukraine. After accession talks with NATO, Finland was approved to join in April. 
Sweden was made an invitee and was able to attend NATO meetings. However, Turkish President Recep Tayyip Erdogan was opposing Sweden's membership – until this week, when he agreed to the accession.
Hungary has also been opposed to ratifying Sweden's membership, but NATO Secretary-General Jens Stoltenberg said Monday that now that Turkey has agreed, he thinks the problem will be solved, as Hungary said it would not be the last to grant ratification. 
Which EU countries aren't in NATO?
NATO and the European Union have 22 member countries in common and the two are partners, meaning the EU can access NATO's planning capabilities for its own military operations, according to NATO. 
Similarly to NATO members, EU members signed a treaty in 1951 that created "interdependence in coal and steel so that one country could no longer mobilize its armed forces without others knowing." They have signed several other treaties to better establish their working relationships. 
The EU has 27 members. The members that are not a part of NATO are: Austria, Cyprus, Ireland and Malta. Sweden is also a part of the EU and yet to be a part of NATO, but that is expected to soon change. 
NATO members that are not part of the EU include: Albania, Canada, Iceland, Montenegro, North Macedonia, Norway, Turkey, the United Kingdom and the United States. 
What is NATO doing for Ukraine?
During its annual summit, which is being held in Vilnius, Lithuania, this week, NATO members are focused on the threat Russia poses as it continues its war with Ukraine. 
NATO is not at war with Russia but has been increasing its presence of troops in Eastern countries and is supporting Ukraine's right to self defense. Its mission is to prevent the conflict from spreading into its member nations "because that would be even more devastating and more dangerous."
NATO says its official policy is not to seek confrontation with Russia or threaten it. Russian President Vladimir Putin has complained about NATO expansion into Eastern Europe, but NATO says it never vowed not to expand.
Ukrainian's President Volodymyr Zelenskyy has made it clear he wants his country to be a part of NATO, saying if it had been part of the group "before the war, there would have been no war." 
Ahead of this year's summit, Ukrainian Ambassador to the U.S. Oksana Markarova said in an interview with CBS News' "Face the Nation" the country was getting ready for NATO membership. 
NATO members, however, have decided not to include Ukraine yet. The concern is that they are obligated to defend each other and since Ukraine is currently at war, they would have to join the war with Russia. 
Caitlin O'Kane

Caitlin O'Kane is a digital content producer covering trending stories for CBS News and its good news brand, The Uplift.
Thanks for reading CBS NEWS.
Create your free account or log in
for more features.