An ailing elephant who underwent a critical medical procedure by a team of international veterinarians earlier this month has died at a Pakistani zoo, officials said Saturday.
Noor Jehan, 17 years old, was brought to Karachi with three other elephants more than a dozen years ago. She died after an accident just days after the procedure performed by a team of experts based in Austria to assess her condition, said Kanwar Ayub, a top official at the Karachi zoo.
Syed Saifur Rehman, the top local government official in Karachi, said city and zoo administrators did all they could to comfort the long-ailing elephant after the procedure this month.
"Sadly we could not save Noor Jehan despite making all efforts including bringing in a team of foreign experts for her treatment," he said.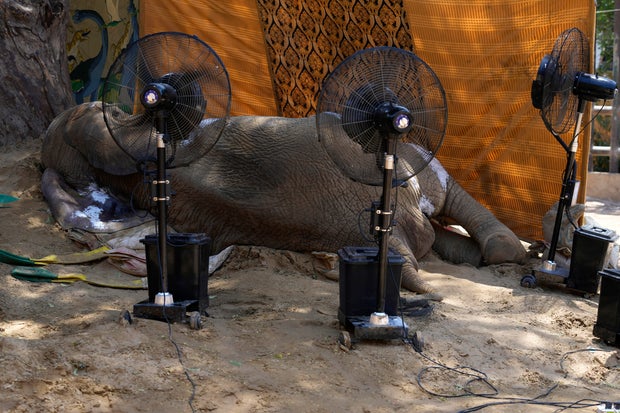 Videos of Noor Jehan leaning her head against a tree and struggling to stand caused alarm in Pakistan and around the world.
An eight-member team from the Austrian animal welfare organization Four Paws was brought in and performed a complex procedure to assess several medical issues the elephant was facing. The procedure was done with the help of a crane and a fire truck.
The team included veterinarians from Egypt and Bulgaria and an elephant husbandry expert from Germany. It was headed by Dr. Amir Khalil of Egypt.
The experts did an ultrasound and found a large hematoma in Noor's abdomen, which was affecting her organs. Noor Jehan's pelvis was broken due to trauma and there was an abscess growing in that area.
After the procedure, Khalil was hopeful for her recovery. "We nearly lost her when we gave her sedation, but luckily we had all the necessary preparations, and Noor Jehan stood up again," he said at the time.
Khalil said her death came after an accident April 13 in her enclosure that left her unable to leave the pool in her enclosure for hours. A local team was able to pull her out under the remote supervision of Four Paws veterinarians, who had already left Pakistan. But the animal was unable to stand up on her own despite multiple attempts to help her.
Khalil said that because Noor Jehan was already weakened from her condition, the elephant did not have the strength to stand up again. After fighting for nine days, she died, he said.
"It is now more urgent than ever that the remaining elephant at Karachi Zoo, Madhubala, who is mourning her long-time companion, is transferred to a more species-appropriate location as soon as possible, to prevent another potential tragedy," said Khalil.
Thanks for reading CBS NEWS.
Create your free account or log in
for more features.