The U.S. military conducted strikes against two facilities in eastern Syria used by Iranian-backed groups in retaliation for recent attacks against U.S. forces in Iraq and Syria. 
"The United States does not seek conflict and has no intention nor desire to engage in further hostilities, but these Iranian-backed attacks against U.S. forces are unacceptable and must stop," Defense Secretary Lloyd Austin said in a statement Thursday night. 
US officials on Thursday night told reporters the strikes were carried out by a pair of F-16s against a weapons storage area, and an ammunition storage area, near Abu Kamal in Syria. 
Iranian-backed groups have targeted U.S. forces in Iraq and Syria with a mix of drones and rockets at least 16 times since Oct. 17, according to the Pentagon. The most recent attack took place Thursday in Erbil, Iraq, but did not result in any injuries. 
Nineteen U.S. service members have been diagnosed with traumatic brain injuries, and two others sustained minor injuries as a result of the attacks. All of the troops have returned to duty. 
A U.S. contractor died of cardiac arrest while sheltering in place last week at Al-Asad Airbase in Iraq. In that case, the alert triggering the lockdown was a false alarm and no attack occurred.  
The uptick in attacks comes amidst international concern the war between Israel and Hamas could broaden into a wider conflict engulfing the entire Middle East. 
President Biden on Wednesday warned that the U.S. would respond if the attacks continued. 
"My warning to the Ayatollah was that if they continue to move against those troops, we will respond, and he should be prepared," Biden said. "It has nothing to do with Israel."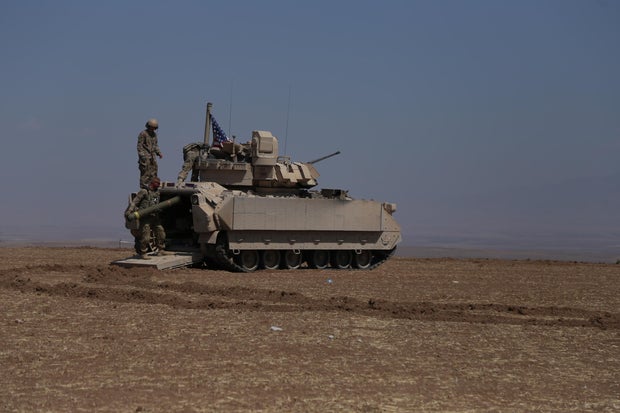 The retaliatory strikes are the latest action the Biden administration has taken to deter Iranian-backed groups and Iran. Over the weekend, the Pentagon announced it is surging support to the Middle East to enhance the protection of U.S. forces. The additional forces include the USS Eisenhower aircraft carrier strike group and more air defense systems. 
Thursday's strikes are the second retaliatory actions the Biden administration has launched this year against Iranian-backed militias. 
In March, the U.S. carried out precision air strikes in eastern Syria after an attack on a base hosting U.S. and coalition forces killed a U.S. contractor and wounded five U.S. service members and another U.S. contractor. 
There are roughly 900 U.S. troops in Syria and 2,500 in Iraq, all as a part of the mission to defeat ISIS. 
Eleanor Watson
CBS News reporter covering the Pentagon.
Thanks for reading CBS NEWS.
Create your free account or log in
for more features.