Kharkiv, Ukraine — In a scene that is all too common, young boys buried their father, Yevgeny Hutnik, in Kharkiv on Sunday, 10 days after he died fighting against Russian forces in the eastern Donetsk region.
His casket was lowered into the ground alongside other fallen soldiers from Kharkiv. The piece of land carved out for them at a cemetery continues to grow. In the short space of time CBS News was at the cemetery, two new bodies were brought to be buried, an almost daily occurrence.
Ukraine never releases figures of their losses in the war against Russia. But in the three months since their counteroffensive kicked off, there appears to have been a sharp increase in casualties.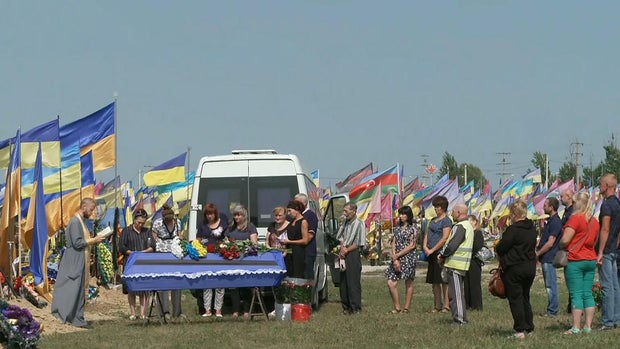 Oksana's husband, Pavlo, was killed in an air strike.
"It's hard to accept he's gone" Oksana told CBS News. "It's only when I am here that it sinks in. I feel as if he is still alive… somewhere on a mission." 
The couple were married for five years. They agreed that if Pavlo was killed in action she would take his place. Now she is fighting in Bakhmut, part of an aerial reconnaissance team.
There is a mortuary near the front lines where unknown soldiers are brought straight from the battlefield. It is Margot's job to record their details and help put names to the fallen. One day, it became personal.
"The worst day was when they brought my husband here," Margot said. "It was the hardest day of my life."
The trail of death passing through these doors seems never-ending. Every day, young children are learning that war is not some distant historical event. It is right on their doorstep, and they are living through it in the worst way possible. 
Thanks for reading CBS NEWS.
Create your free account or log in
for more features.