News crews can't show the bomb craters and shrapnel-scarred buildings that surround Ukraine's most secretive soccer field. Sharing its location risks giving away the game to Russian spotters. 
As Ukrainian forces continue a long-awaited counteroffensive against their Russian invaders, some soldiers have found a small but welcome reprieve from the constant strain of battle with this soccer game, played on a field just a few miles from the front lines. 
The area was even hit by Russian fire on the same day CBS News reporters visited. That hasn't scared away the Kupiansk Battalion of the Kharkiv Territorial Defense Brigade, hardened warriors who have fought some of the most brutal combat missions in the war, including on the battlefields of Bakhmut. 
The soccer game allows players to remember "civil life" amid the horrors of war, said a captain identified only as Dmitriy.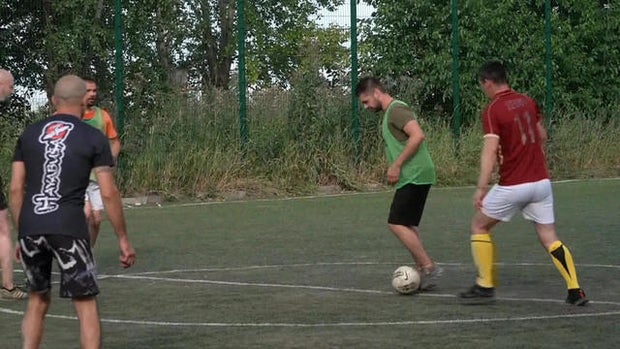 "It's some kind of a situation when you close your eyes and forget about the war," said Dmitriy, an accountant by trade. 
The soldiers are a tight-knit bunch even off the field, and these breaks make it easier to get through the grueling, intense counteroffensive. 
"The war won't last forever, all these men will go back to their normal lives," said a deputy commander named Yuri, who has been fighting Russians and Russian separatists since 2014. "Soccer is one of the ways that will help them do that, and it helps keep us in shape." 
When the game ends, the coach congratulates both sides and there's a rendition of "Glory to Ukraine," a hymn to victory, something Yuri and his soldiers have vowed everywhere.
"This field is the field to win," Yuri said.