The chief of Russia's Wagner mercenary group, Yevgeny Prigozhin, said Saturday that he'd agreed to halt his forces' "movement inside Russia, and to take further steps to de-escalate tensions," in an agreement brokered by Belarusian leader Alexander Lukashenko. The Wagner group boss earlier ordered his forces to march toward Moscow after unleashing a long series of videotaped remarks threatening to topple Russia's military leadership, which he blasted as having misled the country and Putin himself about the Ukraine war. 
The Wagner boss' actions drew an accusation of a "rebellion" from Russian President Vladimir Putin earlier in the day, though the Russian leader did not name Prigozhin individually. Prigozhin didn't say whether the Kremlin had responded to his demand to oust Defense Minister Sergei Shoigu.  
Belarus President Alexander Lukashenko, a close ally of Putin, held two meetings to negotiate a deal that includes "security guarantees for the Wagner PMC fighters," a news release published by Belarus' state-run news agency said. The Kremlin confirmed the discussions between Putin and Lukashenko had taken place, but did not discuss any terms of an agreement with Prigozhin.
Prigozhin said on his official Telegram channel that he had agreed to turn his mercenary forces back, "realizing all the responsibility for the fact that Russian blood will be shed." He said his forces had marched to within 120 miles of Moscow without shedding a "single drop of the blood of our fighters." 
A U.S. official confirmed to CBS News earlier Saturday that Wagner forces had been moving north toward Moscow. That came after the private army had seized control of a regional Russian military headquarters in Rostov-on-Don, a city near the border with Ukraine, Britain's Ministry of Defense said in an intelligence briefing.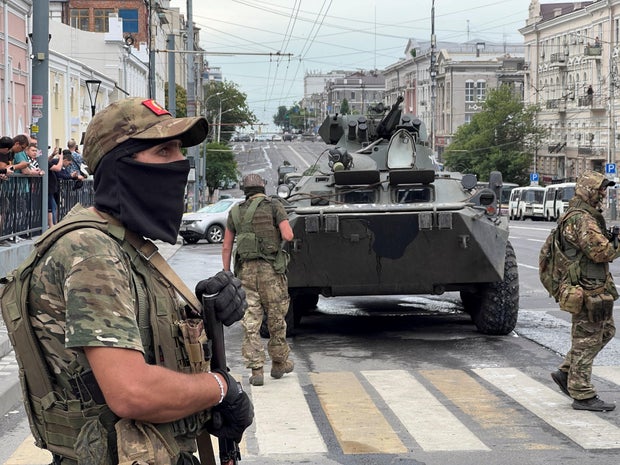 Heavy military trucks and armored vehicles rolled through streets in central Moscow and soldiers were deployed outside the main building of the Defense Ministry.
Earlier, the governor of Russia's Lipetsk province said the mercenary forces led by Prigozhin in an armed rebellion had moved troops out of Ukraine and into the key region about 225 miles south of Moscow. CBS News correspondent Ian Lee reported earlier Saturday that Wagner troops had "seized another city halfway to Moscow." 
The U.S. official confirmed to CBS News that Prigozhin had about 25,000 troops under his command. His forces played a crucial role in the war in Ukraine and succeeded in taking the eastern city of Bakhmut, where the bloodiest and longest battles have taken place. 
Prigozhin had become publicly frustrated with Russian military leaders who he accused of botching the war in Ukraine and hamstringing his forces in the field. 
Putin called the Wagner uprising "a stab in the back." The challenge to Russia's military leadership by Prigozhin, a longtime Putin ally with a ruthless reputation, posed the biggest threat Putin's leadership in his over two decades in power.
During his nightly video address, Ukrainian President Zelensky said the disruptions in Russia exposed "simply complete chaos" with its military and that Russians "control nothing."
Reporting contributed by Haley Ott, Ian Lee and David Martin.
Cara Tabachnick
Cara Tabachnick is a news editor for CBSNews.com. Contact her at [email protected]