A fire at a wedding hall in northern Iraq killed at least 100 people and injured 150 others, authorities said Wednesday.
The fire happened in Iraq's Nineveh province in its Hamdaniya area, authorities said. That's a predominantly Christian area just outside of the northern city of Mosul, about 205 miles northwest of the capital, Baghdad.
There was no immediate official word on the cause of the blaze, but initial reports by the Kurdish television news channel Rudaw suggested fireworks at the venue may have sparked the fire.
The regional rescue service office told Iraqi media that fireworks led to a fire inside the wedding hall, trapping over 700 guests and causing part of the hall's ceiling to collapse.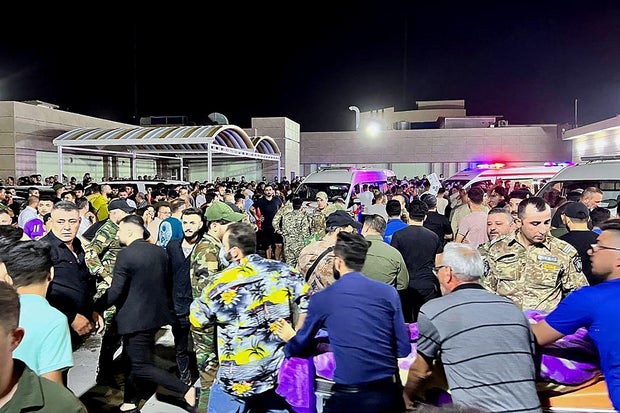 Television footage showed charred debris inside of the wedding hall as a man shouted at firefighters.
Health Ministry spokesman Saif al-Badr gave the casualty figure via the state-run Iraqi News Agency. "All efforts are being made to provide relief to those affected by the unfortunate accident," al-Badr said.
Prime Minister Mohammed Shia al-Sudani ordered an investigation into the fire and asked the country's Interior and Health officials to provide relief, his office said in a statement online.
Najim al-Jubouri, the provincial governor of Nineveh, said some of the injured had been transferred to regional hospitals. He cautioned there were no final casualty figures yet from the blaze, which suggests the death toll still may rise.
Civil defense officials quoted by the Iraqi News Agency described the wedding hall's exterior as being decorated with highly flammable cladding that was illegal in the country.
"The fire led to the collapse of parts of the hall as a result of the use of highly flammable, low-cost building materials that collapse within minutes when the fire breaks out," civil defense said.
Thanks for reading CBS NEWS.
Create your free account or log in
for more features.