The Gaza Health Ministry says at least 500 people were killed Tuesday when an airstrike hit a hospital compound in the center of Gaza City. But Israeli officials deny targeting the hospital and say they believe the blast was caused by a rocket from Hamas or Islamic Jihad that fell short and struck the site.
The blast sparked protests in many Arab capitals.
News of the deadly explosion came just hours before President Biden departed for Israel for a visit Wednesday to deliver a message of support to a key U.S. ally following Hamas' terror rampage in southern Israel. Mr. Biden had also planned to meet with the leaders of Jordan, Egypt and the Palestinian Authority on a stop in Jordan, but that meeting was canceled in the wake of the hospital tragedy.
Ahead of the president's visit, Secretary of State Antony Blinken said the U.S. and Israel had "agreed to develop a plan that will enable humanitarian aid from donor nations and multinational organizations to reach civilians in Gaza," the small, densely populated Palestinian territory that has been run by Hamas for almost two decades. 
Relentless Israeli airstrikes and a complete blockade of the Gaza Strip, imposed by Israel in the wake of Hamas' Oct. 7 attack, have driven roughly half of Gaza's 2.3 million residents from their homes and created a humanitarian crisis as food, fuel and water all run desperately short.
What are the laws of war and how do they apply?
Palestinian officials say Israel's bombardment of Gaza has killed about 3,000 people and wounded around 12,500 others, a majority of them women and children. In Israel, officials say Hamas' terror attack and ongoing rocket attacks have killed some 1,400 people and wounded 3,500 others. Hamas is said to be holding almost 200 hostages.
Thirteen U.S. nationals remain unaccounted for after the Hamas raids in Israel and 31 U.S. citizens have been confirmed killed. As many as 600 U.S. nationals are thought to be among the hundreds of thousands of people trapped in Gaza.  
Israeli military renews call for residents of northern Gaza to evacuate south
The Israel Defense Forces (IDF) on Wednesday again urged residents of the northern Gaza Strip and Gaza City to evacuate south, toward the area of Al-Mawasi, some 17 miles down the coast, where it said "humanitarian aid" would be available.
In a social media post, the military said, "The IDF calls on #GazaCity residents to evacuate south for their protection."
The IDF has been telling the residents to move south as it pounds northern and central Gaza with airstrikes ahead of its widely anticipated ground invasion.
But humanitarian conditions have dramatically worsened since Israel cut the flow of food, water, fuel and medicine into Gaza after the Oct. 7 Hamas terrorist attack.
The IDF didn't provide information on how the promised aid would get into Gaza.
By Brian Dakss
U.S. letting non-essential embassy staff leave Lebanon
The United States authorized non-essential personnel and their families to leave the U.S. Embassy near Beirut on Tuesday, citing the unpredictable security situation in Lebanon due to the Israel-Hamas war.
The State Department also raised its travel advisory for Lebanon from level three, issued in July, to the highest available level four, as it told Americans to avoid the country.
"Do not travel to Lebanon due to the unpredictable security situation related to rocket, missile, and artillery exchanges between Israel and Hezbollah or other armed militant factions," the State Department said in a statement Tuesday.
After a blast ripped through a Gaza hospital on Tuesday, killing hundreds, Hezbollah called for a "day of rage." Israel and Palestinians have traded blame for the blast, though neither's claim could be independently verified.
Following Hezbollah's call, hundreds of demonstrators scuffled Tuesday night with Lebanese security forces outside the U.S. embassy in the Beirut suburb of Awkar. Protesters hurled stones and set a building on fire, according to AFP correspondents.
Since October 7, clashes along the Israeli-Lebanese border have left at least 18 people dead on the Lebanese side — mostly fighters, but also a Reuters journalist and two civilians. At least three people have been killed on the Israeli side.
France has also urged its citizens to avoid travel to Lebanon, while several Western airlines have suspended flights. Britain, Canada, Spain, Germany and Australia have also issued travel warnings. 
By AFP
31 Americans killed in Israel-Hamas conflict, White House says
At least 31 Americans have been killed in the fighting between Israel and Hamas militants, White House press secretary Karine Jean-Pierre told reporters Tuesday night.
"The President felt strongly it was important to continue to stand in solidarity with Israel and the Israeli people in their hour of need following the appalling terrorist attacks last week that killed more than 1,300 people and at least 31 Americans," Jean-Pierre said shortly before President Biden left for his visit to Israel.
National Security Council coordinator for strategic communications John Kirby said 13 Americans remained unaccounted for. Kirby said Mr. Biden was planning on meeting with family members of people who have been taken hostage by Hamas, but could not say if those families would be Americans or Israelis.
By Jordan Freiman
Palestinian U.N. ambassador says Israeli military is lying about hospital explosion
Palestinian United Nations Ambassador Riyad Mansour, standing with envoys from the U.N.'s Arab Group, said that the group was united in outrage at the explosion that killed hundreds earlier Tuesday at a hospital in Gaza. 
"We condemn this action in the strongest possible terms and we hold Israel responsible for this massacre," Mansour said. "We as an Arab group demand immediately a ceasefire because a continuation of the war – it means killing more Palestinians every moment."
When asked about the Israeli military's claim that the explosion was due to a failed rocket launched toward Israel by the Islamic Jihad in Gaza, Mansour called Prime Minister Benjamin Netanyahu "a liar."
Mansour claimed an Israeli spokesperson tweeted that Israel had launched the strike that hit the hospital in an attempt to target a Hamas base, before deleting the tweet. "Now they change the story to try to blame the Palestinians. It is a lie," he said.
He claimed he would make a copy of the tweet available to reporters.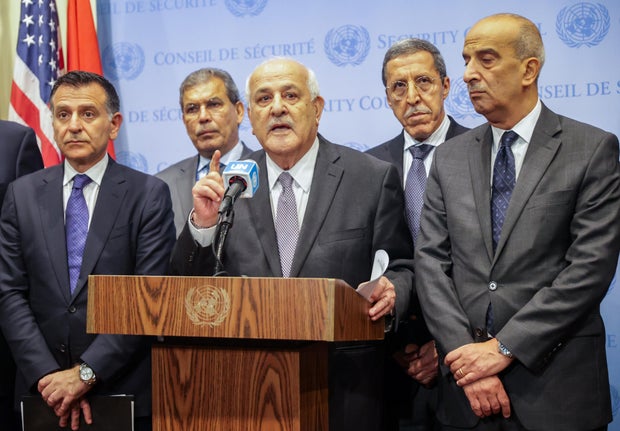 By S. Dev
State Dept. issues Do Not Travel advisory for Lebanon
The U.S. State Dept. on Tuesday raised its travel advisory for Lebanon to Do Not Travel. 
"Do Not travel to Lebanon due to the unpredictable security situation related to rocket, missile, and artillery exchanges between Israel and Hizballah or other armed militant factions," the State Dept. said. "Reconsider travel to Lebanon due to terrorism, civil unrest, armed conflict, crime, kidnapping, and Embassy Beirut's limited capacity to provide support to U.S. citizens."
The State Dept. also said it authorized the "voluntary, temporary departure" of family members of U.S. government employees who are at the U.S. embassy in Beirut along with "some non-emergency personnel."
By Jordan Freiman
U.N. Secretary-General condemns hospital strike; Security Council calls emergency meeting for Wednesday
U.N. Secretary-General Antonio Guterres said he was "horrified" and "strongly condemns" the strike on a hospital that killed hundreds in Gaza on Tuesday. 
Guterres stressed that hospitals and medical personnel are protected under international humanitarian law.
The U.N. chief's statement was issued after the U.N. Security Council called an emergency meeting for Wednesday morning to address the hospital attack and consider a measure calling for a humanitarian pause in the conflict.
U.N. High Commissioner for Human Rights Volker Türk said, "Words fail me. Tonight, hundreds of people were killed – horrifically – in a massive strike at Al Ahli Arab Hospital in Gaza City, including patients, healthcare workers and families that had been seeking refuge in and around the hospital. Once again the most vulnerable. This is totally unacceptable."
Türk called hospitals "sacrosanct" and said "they must be protected at all cost."
Türk also said that at least six people were killed in Gaza Tuesday afternoon when a U.N.-run school in Al-Maghazi refugee camp was hit by a strike. "The school had been serving as a shelter for some 4,000 seeking refuge," Türk said.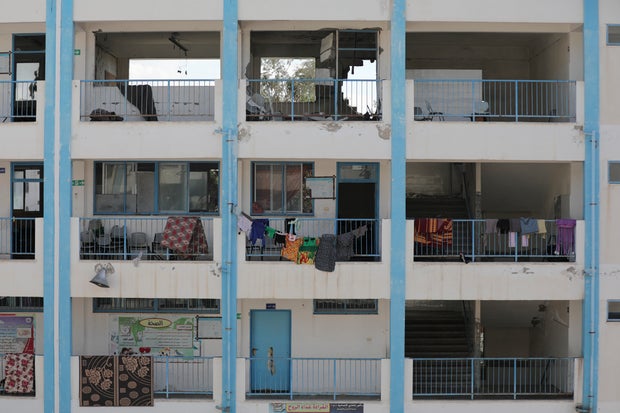 By Pamela Falk
Pentagon says U.S. Marine unit is in Red Sea to support Israel
The Pentagon announced Tuesday evening that the 26th Marine Expeditionary Unit would be in the region to support Israel if needed. 
Two ships — the USS Bataan and the USS Carter Hall — that were already in the Middle East are now positioned in the Red Sea, the Pentagon said. The ships have about 2,000 Marines onboard, and they are ready to transit the Suez Canal into the Mediterranean Sea off the coast of Israel if ordered. 
The third ship in that task force, the USS Mesa Verde, was already in the Mediterranean Sea and is headed east. 
The announcement came a little more than a week after Defense Secretary Lloyd Austin said he had ordered the USS Gerald R. Ford Carrier Strike Group into the eastern Mediterranean. That group includes the USS Gerald R. Ford aircraft carrier, which is the largest warship in the world, in addition to several guided-missile cruisers and destroyers. 
The USS Gerald R. Ford was in the western Mediterranean when it received orders to deploy. Depending on its precise location, it could have to travel more than a thousand miles.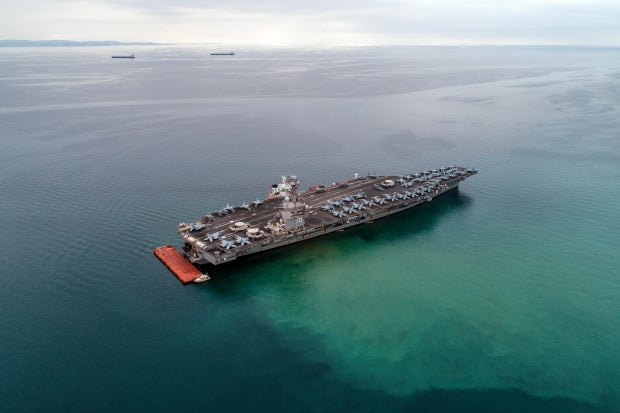 By S. Dev
Jordan confirms it called off summit with Biden
Jordan's foreign minister confirmed that a summit with President Biden, King Abdullah II of Jordan, President Sisi of Egypt and President Abbas of the Palestinian Authority has been canceled. President Biden was scheduled to travel to Jordan for the summit after his stop in Israel, where he is currently headed.
Speaking to Al-Jazeera, Jordanian Foreign Minister Ayman Safadi said that the United States will not be able to make the decision to stop the war. He called the situation in Gaza a breach of international law and the Geneva Conventions. 
The summit was called off after consultations with Egyptian and Palestinian leadership, Safadi said.
The summit will be held when it is clearer it will achieve the desired objective of stopping the war, Safadi said, adding that the U.S. was understanding of Jordan's position.
By S. Dev
Biden "outraged and deeply saddened" by hospital explosion in Gaza
President Biden released a statement about the deadly blast at a hospital in Gaza City, and said the U.S. is working to gather information about what happened. 
"I am outraged and deeply saddened by the explosion at the Al Ahli Arab hospital in Gaza, and the terrible loss of life that resulted," he said. 
"Immediately upon hearing this news, I spoke with King Abdullah II of Jordan, and Prime Minister Netanyahu of Israel and have directed my national security team to continue gathering information about what exactly happened. The United States stands unequivocally for the protection of civilian life during conflict and we mourn the patients, medical staff and other innocents killed or wounded in this tragedy."
The president is currently on his way to Israel for a visit there Wednesday.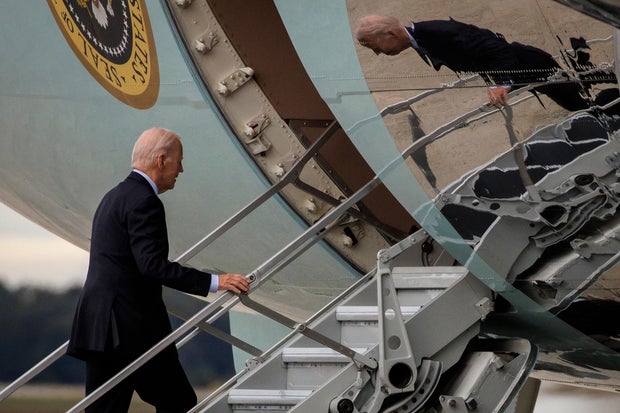 By Paula Cohen
France's Macron calls for humanitarian access in Gaza "without delay"
French President Emmanuel Macron said that humanitarian access to the Gaza Strip "must be opened back without delay." Israel has cut off the flow of supplies to the Palestinian territory, and hospitals are facing dire shortages as they try to treat patients.
"Nothing can justify striking a hospital. Nothing can justify targeting civilians," Macron posted on X, referring to the explosion Tuesday that reportedly killed hundreds of people at a hospital in Gaza. 
"France condemns the attack on the Al-Ahli Arab hospital in Gaza, which made so many Palestinian victims. Our thoughts are with them. All the light must be shed on the circumstances," Macron wrote.
By S. Dev
Israel says "it is clear" IDF did not strike Gaza hospital
The Israel Defense Forces said Tuesday that following an additional review and cross-examination of their operational and intelligence systems, "it is clear that the IDF did not strike the hospital in Gaza." 
The Gaza Health Ministry says at least 500 people were killed Tuesday by an airstrike that hit a hospital compound in the center of Gaza City. The ministry blamed the attack on Israel. 
Neither side's claims have been independently verified.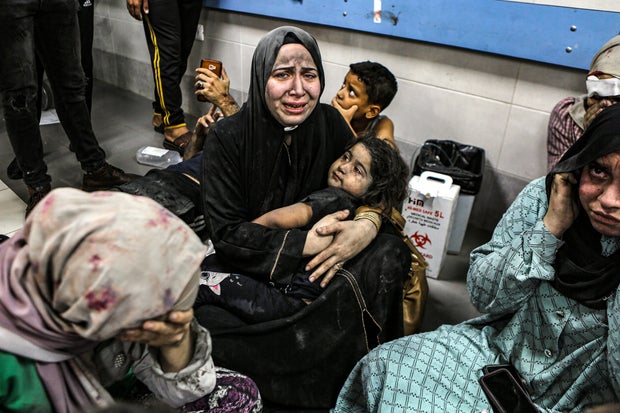 "I can confirm that an analysis of the IDF operational systems indicates that a barrage of rockets was fired by terrorists in Gaza, passing in close proximity to the al-Ahli al-Mamdani hospital in Gaza at the time it was hit," IDF spokesperson Rear Admiral Daniel Hagari said in a video statement.
Approximately 450 rockets launched from Gaza toward Israel since the beginning of the war have fallen within Gaza, the IDF claims.
"Intelligence from few sources that we have in our hands indicates that the Islamic Jihad is responsible for the failed rocket launch which hit the hospital in Gaza," Hagari said. "I repeat, this is the responsibility of Islamic Jihad that killed innocents in the hospital in Gaza."
By S. Dev
Arab leaders cancel summit; Biden departs for Israel as planned
President Biden boarded Air Force One on Tuesday evening and will travel to Israel as planned, John Kirby, National Security Council coordinator for strategic communications, told CBS News. 
The update came as Arab leaders canceled their meeting with Mr. Biden in Jordan, which had been scheduled to follow his stop in Israel, a senior administration official confirmed. The cancellation was a "mutual" decision, the official said. 
"After consulting with King Abdullah II of Jordan and in light of the days of mourning announced by President Abbas of the Palestinian Authority, President Biden will postpone his travel to Jordan and the planned meeting with these two leaders and President Sisi of Egypt," a White House official said in a statement. "The President sent his deepest condolences for the innocent lives lost in the hospital explosion in Gaza, and wished a speedy recovery to the wounded. He looks forward to consulting in person with these leaders soon, and agreed to remain regularly and directly engaged with each of them over the coming days."
By S. Dev
Israel requests $10 billion in emergency military aid from U.S.
Israel has asked the U.S. for $10 billion in emergency military aid, sources familiar with the request confirm to CBS News.
President Biden is considering a full-year supplemental request for around $100 billion, which would cover defense assistance for Israel and Ukraine, border security funding, and aid to countries in the Indo-Pacific including Taiwan.
In 2022, the Biden administration requested $3.3 billion in foreign military financing for Israel and $500 million in missile defense aid, according to a Congressional Research Service report. 
In 2016, Israel and the U.S. signed their third 10-year understanding that $38 billion in military aid would be distributed over the decade, the report noted. The U.S. has said aid to Israel is based on shared strategic goals in the Middle East, commitment to democratic values and historical ties dating to the creation of Israel in 1948. 
Debate over U.S. aid to Israel in recent years has focused on issues regarding Israel's treatment of Palestinians, but Congress continues its "ironclad" U.S. commitment to Israel's security, the report said. 
By Cara Tabachnick
Israel says militant group's rocket caused Gaza hospital blast
The Israeli military says the blast that hit a hospital compound in Gaza City, reportedly killing hundreds, was the result of a Gaza militant group's rocket aimed at Israel. 
The Israel Defense Forces tweeted that an "enemy rocket barrage was carried out towards Israel, which passed in the vicinity of the hospital, when it was hit."
"According to intelligence information, from several sources we have, the Islamic Jihad terrorist organization is responsible," the IDF said.
Mark Regev, a senior adviser to Israeli Prime Minister Benjamin Netanyahu, told BBC News, "All indications are that this was not Israeli orders, but this was rather a Hamas rocket that fell short."
"We know that at the time of this tragedy in Gaza, there was a barrage, a huge barrage against targets in central Israel," Regev said.
The Gaza Health Ministry, which is controlled by Hamas, said hundreds of people were killed and that there were thousands of displaced people in and around the al-Ahli al-Mamdani Christian hospital. It blamed the attack on an Israeli airstrike.
Neither side's claims have been independently verified.
By Cara Tabachnick
Gaza Health Ministry says hundreds killed as airstrike hits hospital compound in Gaza City
The Gaza Health Ministry says at least 500 people were killed Tuesday by an airstrike that hit a hospital compound in the center of Gaza City. Its claims have not yet been independently verified. There are thousands of displaced people in and around the al-Ahli al-Mamdani Christian hospital, said the health agency, which is controlled by Hamas. 
The Israeli military initially said it did not have details yet on the reported Gaza hospital bombing. The Associated Press reports that Israeli military spokesman Rear Adm. Daniel Hagari said, "We will get the details and update the public. I don't know to say whether it was an Israeli airstrike."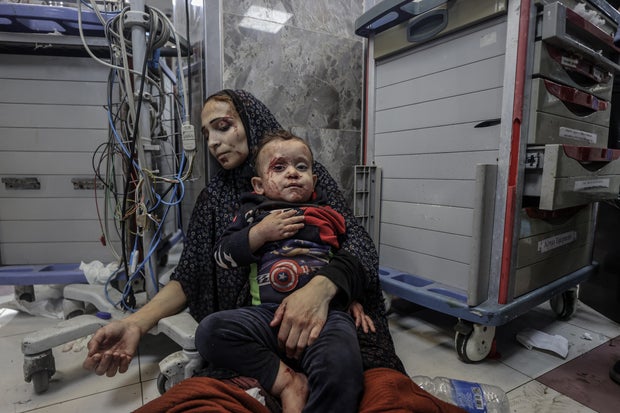 The head of the World Health Organization tweeted: "@WHO strongly condemns the attack on Al Ahli Arab Hospital in north Gaza. Early reports indicate hundreds of deaths and injuries. We call for the immediate protection of civilians and health care, and for the evacuation orders to be reversed."
About 3,000 people have been killed in Gaza and around 12,500 wounded, a majority of them women and children, since Israel began its counterattacks, Palestinian officials said earlier Tuesday.
–Marwan al-Goul contributed reporting.
By Cara Tabachnick
German chancellor says "responsibility for the Holocaust" obliges his country to support Israel
During his visit to Israel Tuesday, German Chancellor Olaf Scholz spoke out about his country's special moral obligation to support the Jewish state. 
"German history that stems from responsibility for the Holocaust obliges us to maintain the existence and security of Israel," Scholz said during his public remarks. He added that support for Israel is "a cross-party matter."
Scholz said he discussed "the possibility of improved humanitarian access to the Gaza Strip" with Israeli Prime Minister Benjamin Netanyahu, The Associated Press reported. 
"We want to protect civilians and prevent civilian victims," Scholz said.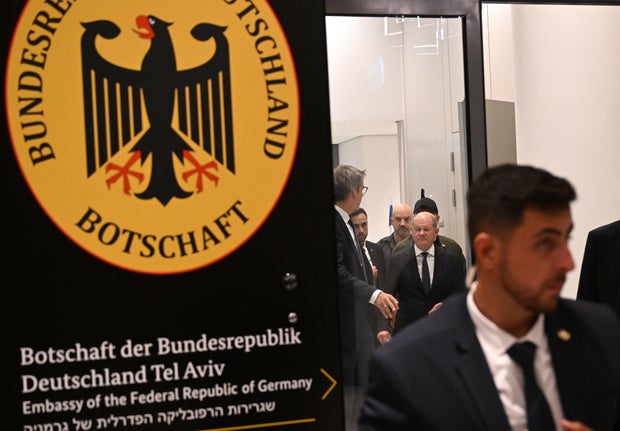 He also warned Iran and the Lebanon-based Hezbollah group it backs against escalating the fighting.
By Cara Tabachnick
New York woman shares details of surviving music festival attack
Natalie Sanandaji decided to go from a wedding to dance and celebrate at a music festival while she was in Israel, She ended up in the middle of a Hamas attack that killed more than 260 people.
The rockets came flying overhead at dawn, and security told the revelers to pack up their things and head to their cars — but then told attendees to run.
"Hearing the gunfire, you can't even tell what direction it's coming from," Sanandaji, who lives in Great Neck on Long Island, told CBS New York. "Thinking that you're running to safety, and then you see dozens of young kids running in your direction and realize that they're running from terrorists." 
She managed to evade the attackers, and was ultimately picked up by an Israeli and driven to town.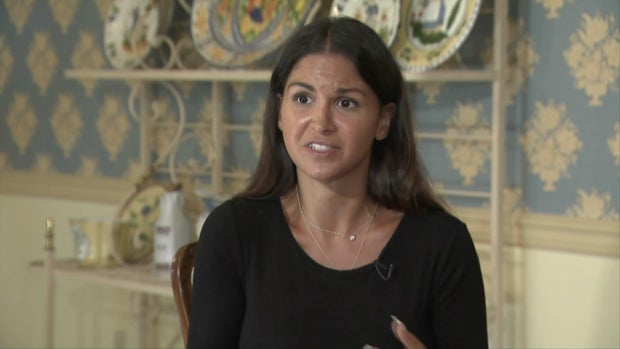 "They were kids running in every direction, trying to hide behind trees and ditches. But most of them ended up dying," she said. 
Read the full story on CBS New York.
-Carolyn Gusoff and Allison Elyse Gualtieri
Retired U.S. general on the "extraordinarily complex terrain" of Gaza fighting
Retired Gen. Joseph L. Votel, former commander of U.S. Central Command, joined CBS News to discuss what kind of warfare Israeli forces can expect if and when they launch the widely expected ground invasion of Gaza to hunt down Hamas militants.
Votel said Hamas has been preparing for the fight for nearly 10 years and would seek to "inflict as much damage as they can" on Israeli forces that enter Gaza.
"I think what's important for people to appreciate is, this is a three-dimensional fight. It's not only being fought on the surface and in buildings but it's sub-surface as well. They [Hamas] have some nearly 300 miles of tunnels that have been constructed," he said. "So it's extraordinarily complex terrain."
Watch more of his interview in the video below:
By Paula Cohen
U.N. agency says at least 6 killed as Israeli strike hits Gaza school used as a shelter
The United Nations relief and works agency for Palestinians, UNRWA, said Tuesday that an Israeli airstrike had killed six people at a school run by the agency and being used as a shelter in the Gaza Strip.
"At least six people were killed this afternoon when an UNRWA school was hit in al-Maghazi refugee camp," in the central Gaza Strip, the U.N. agency said in a statement posted on its website. 
UNRWA said "dozens were injured" in the strike, including an unspecified number of its staff, and added that "the numbers are likely to be higher."
"This is outrageous, and it again shows a flagrant disregard for the lives of civilians," UNRWA said. "No place is safe in Gaza anymore, not even UNRWA facilities."
"At least 4,000 people have taken refuge in this UNRWA school turned shelter. They had and still have nowhere else to go..
Israel has long accused Hamas militants of hiding weapons and coordination centers in or near schools, mosques and residential buildings — including facilities run by UNRWA.
By Tucker Reals
Palestinian officials say about 3,000 killed by Israeli airstrikes in Gaza
The Health Ministry in the West Bank, the Israeli-occupied Palestinian territory where the internationally recognized Palestinian Authority is based, said Tuesday that the death toll in the Hamas-controlled Gaza Strip after more than 10 days of Israeli airstrikes had risen to about 3,000 people, with more than 12,500 others wounded.
The Health Ministry in Gaza, which had been providing its own casualty counts regularly since Israel started retaliating with airstrikes almost immediately following Hamas' brutal terror attack on Oct. 7, did not provide any updates on Tuesday.
By Tucker Reals
Hezbollah says 4 of its fighters killed "performing jihad" in Lebanon, near Israeli border
The Lebanon-based Hezbollah movement said Tuesday that four of its fighters had been killed in southern Lebanon, bringing to nine the number of the Iran-backed group's members killed in intensifying border skirmishes with Israel.
In statements, Hezbollah said four of its fighters had been killed "performing jihad," just hours after Israel said it killed four militants who attempted to infiltrate the border from Lebanon, as war rages between Israel and Hezbollah ally Hamas in Gaza.
The U.S. and other nations have warned Iran and its Hezbollah partners not to get embroiled in the war between Israel and the other major Palestinian faction, the Gaza Strip-based Hamas.
Reporting from CBS News and AFP.
Hamas hostage's mom tells CBS News she can "see the pain" on daughter's face in Hamas video
The mother of a French-Israeli woman among the scores of people being held hostage by Hamas after the Palestinian group's terror attack on Israel, and who is seen in a harrowing new propaganda video released by the group, has told CBS News she wants media outlets to broadcast the video of her daughter because she's hopeful it indicates Hamas' willingness to negotiate her release. 
The disturbing video shared Monday by Hamas' on its Telegram messaging app channel shows 21-year-old French-Israeli national Mia Shem lying on a bed with her right arm appearing to be injured and treated by somebody out of the camera's view.