Israel foils infiltration attempt from Lebanon, Israeli military says
Israeli troops killed four militants attempting to infiltrate from Lebanon, the Israel Defense Forces (IDF) said Tuesday, as tensions run high along the border between the two countries.
"A short while ago, IDF observation troops spotted a terrorist squad attempting to infiltrate the security fence with Lebanon and plant an explosive device," the army said in a statement. "Four terrorists were killed."
By AFP
Dozens reported dead in Israeli airstrikes in southern Gaza
Israel was conducting heavy airstrikes early Tuesday in and near the southern towns of Khan Younis and Rafah, where Israel had ordered civilians to seek refuge, local officials reported. Gaza's interior ministry said at least 49 Palestinians were killed, according to the Reuters news service.
Thousands of people trying to get out of Gaza are in Rafah, the site of the territory's only border crossing to Egypt.
International mediators have been seeking an agreement to let aid in and refugees with foreign passports out.
By Brian Dakss
CENTCOM chief arrives in Israel for unannounced visit
U.S. Central Command Commander Gen. Michael "Erik" Kurilla has touhced down in Tel Aviv, the Pentagon says, for "high level meetings with Israel's military leadership." The Defense Department hadn't announced the visit beforehand.
Kurilla will seek "a clear understanding" of Israel's defense needs, discuss U.S. efforts to avoid expansion of the conflict and "reiterate the Department of Defense's ironclad support for Israel," the Pentagon added. 
"I'm here to ensure that Israel has what it needs to defend itself, and am particularly focused on avoiding other parties expanding the conflict," General Kurilla said.
By Brian Dakss
500,000 Israelis displaced in Israel, military says
Around 500,000 Israelis have been evacuated and displaced in the 10 days since Hamas unleashed the bloodiest attack in the country's history, the Israeli military said Tuesday.
"There are about half a million internally displaced Israelis at the time," Jonathan Conricus, spokesman for the Israel Defense Forces, said in an online briefing, adding that all communities around the Gaza Strip as well as more than 20 communities in the north had been evacuated.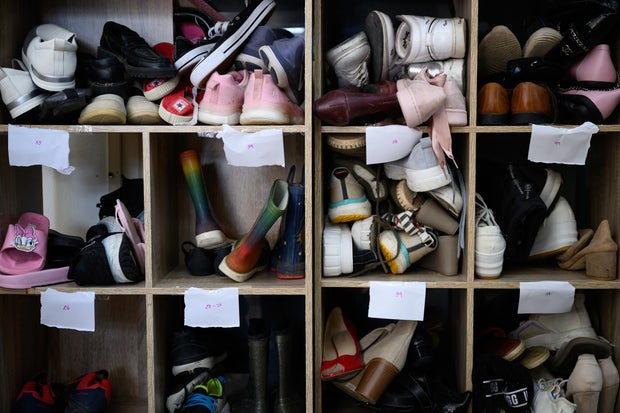 By AFP
U.N. Security Council rejects Russian resolution on Israel-Hamas war
The United Nations Security Council voted Monday evening on one of two resolutions, proposed by Russia and Brazil, about the ongoing Israel-Hamas war. 
The Russian draft was dead on arrival, while councilmembers decided to postpone the vote on the Brazil-drafted resolution until Tuesday.  
Every nation around the 15-nation Security Council, along with both the Israeli and Palestinian ambassadors, said they wanted a consensus document, but an agreement was in short order.  
Linda Thomas-Greenfield, the U.S. ambassador to the U.N., called the Russian resolution "outrageous" for failing to mention Hamas. "It is hypocritical and it is indefensible," Thomas-Greenfield said.  
Russia's Ambassador Vassily Nebenzia lashed out: "Today, the entire world waited with bated breath for the Security Council to take steps in order to put an end to the bloodletting."
Before the vote, Israel's ambassador to the U.N., Gilad Erdan, urged councilmembers to vote against both resolutions.
He said the conflict could end "should Hamas put down their arms  —tomorrow—, return our hostages and turn themselves in. This war can end without one more shot being fired." 
"Why are you not calling on Hamas to do this? Why isn't this part of the resolutions?" Erdan added.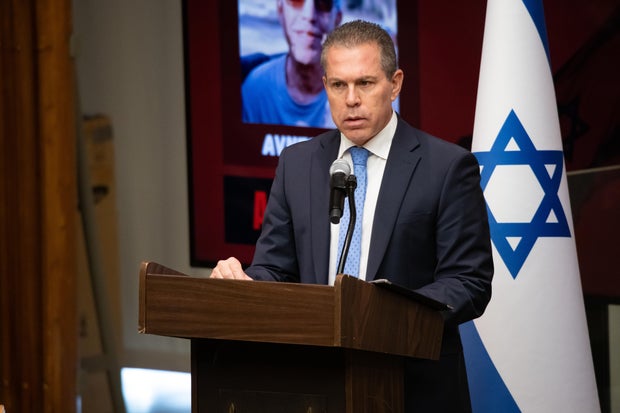 By Pamela Falk
Blinken announces Biden visit to Israel
President Biden will travel to Israel Wednesday to show support for a key U.S. ally that is still reeling from the series of surprise attacks by Hamas that left roughly 1,400 Israelis dead earlier this month, Secretary of State Antony Blinken announced early Tuesday morning in Israel, Monday evening in the U.S.
His visit comes "at a critical moment for Israel, for the region and for the world," Blinken said.
"First, the president will reaffirm the United States' solidarity with Israel and our ironclad commitment to its security," Blinken said. "Second, President Biden will underscore our crystal-clear message to any actor, state or non-state, who would try to take advantage of this crisis to attack Israel: Don't. To that end, he's deployed two aircraft carrier groups and other military assets to the region."
"Third, the president will continue to coordinate closely with our Israeli partners to secure the release of hostages taken by Hamas, including men, women, small children, Holocaust survivors, and American citizens," Blinken added.
Mr. Biden was invited to visit by Prime Minister Benjamin Netanyahu. News of the trip also comes amid a deepening humanitarian crisis in Gaza. Israel has sealed the border of the Hamas-governed Gaza Strip since the attack and is widely expected to soon launch a ground offensive.
"Today, and at our request, the United States and Israel have agreed to develop a plan that will enable humanitarian aid from donor nations and multinational organizations to reach civilians in Gaza," Blinken said.
From Israel, the president will head to Jordan to meet with Jordan's King Abdullah II, Egyptian President Abdel Fattah El-Sisi, and Palestinian Authority President Mahmoud Abbas, White House press secretary Karine Jean-Pierre said. 
Read the full story here.
By Kathryn Watson
Israel suspends military exports to Colombia over president's criticism
Israel has suspended security exports to Colombia in an escalating diplomatic spat over online messages by Colombia's president comparing Israel's siege of Gaza to the actions of Nazi Germany.
Colombian President Gustavo Petro has doubled down on his criticism of Israel and suggested that his country may need to suspend diplomatic relations, while his foreign minister has suggested Israel's ambassador should leave the country.
In a statement published Sunday, Israel's foreign ministry said that Petro's recent statements on X, previously known as Twitter, "inflame antisemitism" and "threaten the safety of the Jewish community in Colombia." The Israeli government said it called Colombia's ambassador to a meeting in which she was informed that defense cooperation between the countries would be suspended.
Colombia currently has diplomatic relations with both Israel and the Palestinian Authority, and over the past two decades it has been one of Israel's closes partners in Latin America.
The South American nation uses Israeli-built war planes and machine guns to fight drug cartels and rebel groups and both countries also signed a free trade agreement in 2020.
But the two nations have been less aligned since Petro took office last year as Colombia's first leftist president.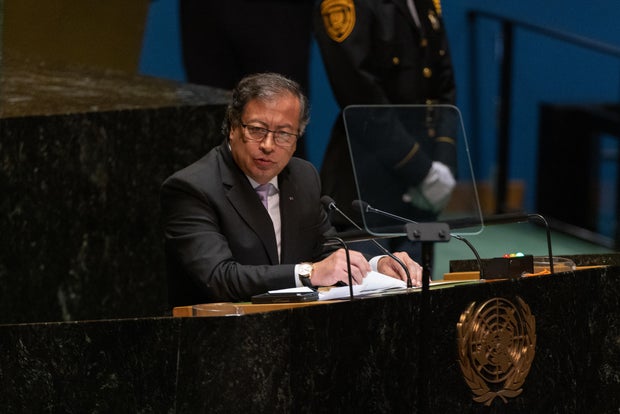 By The Associated Press
Pentagon puts 2,000 support troops on standby for potential deployment
The Pentagon is putting about 2,000 support troops on standby for a potential deployment to the region to support Israel, according to U.S. officials. These troops would be from medical, intelligence, logistics and communications units —not combat troops. 
The Wall Street Journal first reported that the Pentagon was issuing prepare-to-deploy orders. 
 —David Martin and Eleanor Watson
Rain could be delaying Israel's ground offensive in Gaza
As humanitarian and diplomatic efforts intensify ahead of Israel's possible ground invasion of the Gaza Strip, some have started to wonder what could be holding back the operation.
CBS News foreign correspondent Imitaz Tyab reports from Jerusalem that, despite the Israeli military's readiness to go in, the weather might be playing a factor.
"The weather has turned, it's been a bit rainy, and I think the Israeli military is taking no chances and wants to ensure they have the perfect conditions before they launch that air, land and sea invasion of the Gaza Strip," Tyab reported.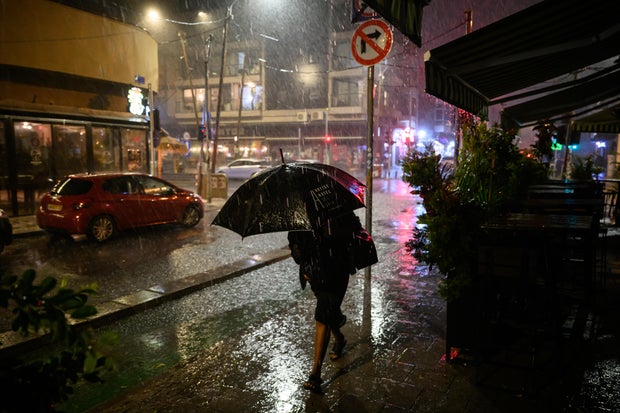 Diplomatic activity in the region seeking to reduce civilian casualties and avert a large-scale humanitarian crisis is also playing a role in the delay, Tyab reported. 
And of course, the military challenge ahead for Israel is formidable. "Israel has a huge military, it is one of the most powerful militaries in the world, but that's not to say that this is going to be easy for them," Tyab said. 
By Elias Lopez
U.S. delivers munitions shipments to Israel
The Defense Department delivered four shipments of munitions on C-17s to Israel over the weekend, a U.S. official said Monday. 
The U.S. is providing precision-guided munitions and small arms ammunition, and working on Israel's request for more interceptor missiles for its Iron Dome air defense system. Defense officials have said they expect continuous deliveries of support to fulfill Israel's requests. 
The U.S. has not set any preconditions on how Israel uses the U.S.-supplied weapons and equipment. 
"We've not placed any conditions on the provision of this equipment," Defense Secretary Lloyd Austin said last week. "This is a professional military led by professional leadership, and we would hope and expect that they would do the right things in the prosecution of their campaign."
Militant groups in Gaza have escalated their rocket attacks in the aftermath of Hamas's terror attack and Israel's counteroffensive. Most rockets have been intercepted by Israel's Iron Dome. 
Watch the video to learn more about the missile defense system.
By Eleanor Watson
Americans arrive in U.S. from Israel after days of travel challenges
Hundreds of Americans have returned to the United States from Israel in recent days.
Many U.S. citizens were traveling in Israel when the Hamas terror attack happened. Leaving became difficult for many as dozens of major airlines suspended or canceled flights out of the country.
Some U.S. citizens and their family members boarded charter flights from Tel Aviv arranged by federal and even state officials, while others booked commercial trips that brought them home.
Read more here
By Emily Mae Czachor
Royal Caribbean confirms cruise ship is helping evacuate Americans
Some Americans being evacuated from Israel may get to leave by sea — on a cruise ship, even.
"Royal Caribbean Group is actively supporting the U.S. Department of State in the assisted departure of American citizens," a company spokesman said.
The Rhapsody of the Seas will help Americans get out of Israel, Royal Caribbean Group confirmed Monday to CBS News. The ship can accommodate more than 2,400 passengers.
"As you know, the ship had been sailing in the region and then canceled its sailings when the conflict emerged last weekend," the company said in a letter to employees obtained by CBS News. "Now, with enhanced safety precautions in place, our ship is providing free passage, including accommodation and food, for Americans in the region wishing to leave and find safer ground."
The U.S. Embassy in Israel issued a security alert Sunday that said a ship would depart from Haifa for Cyprus for U.S. nationals and their immediate family members. The trip to Limassol Port is expected to take approximately 10-12 hours, according to the embassy.
-Kathryn Krupnik and Arden Farhi contributed reporting.
By Allison Elyse Gualtieri
Second U.S. carrier strike group expected to need at least 2 weeks to arrive in eastern Mediterranean
The aircraft carrier USS Dwight D. Eisenhower and its strike group are expected to need at least two weeks to make it to the eastern Mediterranean Sea, according to U.S. officials.
The Eisenhower had been scheduled for a deployment to Europe, but Defense Secretary Lloyd Austin announced Saturday that the group would head toward the Middle East instead.
There, it will join the USS Gerald R. Ford and its strike group to "deter hostile actions against Israel or any efforts toward widening this war following Hamas' attack on Israel," Austin said.
The Ford carrier strike group, which includes the carrier, a cruiser, and four destroyers, arrived in the region last week.
Defense officials said these ships can provide intelligence support, maritime support and long-range strike capabilities. The group could be requested to defend Israel against incoming ballistic missiles if any other actors join the conflict.
-Eleanor Watson and David Martin
Biden and Harris briefed by national security team on Israel-Hamas war
President Biden and Vice President Kamala Harris received a briefing Monday morning from top intelligence and national security officials on the ongoing conflict between Israel and the Gaza-based Hamas militant group, a White House official said.
The briefing was led by national security adviser Jake Sullivan, Director of National Intelligence Avril Haines and CIA Director Bill Burns, the official said. White House chief of staff Jeff Zients also joined.
The White House cited the president's participation in national security meetings in announcing earlier Monday that a planned trip to Colorado had been postponed. 
Secretary of State Anthony Blinken, meanwhile, was back in Israel Monday for the second time in a week — part of a frantic regional diplomacy blitz to show support for Israel, try to secure the release of hostages held by Hamas, and in a bid to prevent the war spreading outside of Israel and Gaza.
By Melissa Quinn
U.N. aid agency says "no looting" after initial suggestion Hamas militants may have stolen fuel, medical supplies
The United Nations' humanitarian relief and works agency that operates in the Gaza Strip and other areas with significant Palestinian refugee populations, UNRWA, said Monday in a series of tweets that it had received reports that a group of Hamas militants "purporting to be from the Ministry of Health" had "removed fuel and medical equipment from the Agency's compound in Gaza City."
UNRWA noted in its tweets that it had been unable to verify the reports as its "staff were compelled to evacuate" from their headquarters in Gaza City "on a few hours' notice" Friday, as Israel warned all civilians to flee the northern half of the Palestinian territory that Hamas has ruled since 2007. 
The U.N. agency noted in its tweets that it "had no access to the compound and no additional details about the removal of the assets," adding that fuel and other materials stored at its facilities in Gaza were "kept for strictly humanitarian purposes — any other use is strongly condemned."
That initial series of tweets was quickly deleted, and UNRWA later posted an "urgent clarification" to "confirm that no looting has taken place in any of its warehouses in the Gaza Strip."
It described images circulating on social media, to which its original tweets referred, as showing "a movement of basic medical supplies from the UNRWA warehouse to health partners."
By Tucker Reals
Officials in Hamas-run Gaza say death toll from Israeli strikes over 2,800
The Hamas-run administration in the Gaza Strip said Monday that at least 254 Palestinians were killed in the narrow strip of land over the preceding 24 hours, bringing the death toll to at least 2,808 from Israel's airstrikes since Oct. 7.  
The government said 562 more people were wounded over the previous day, bringing the total number of injured amid Israel's retaliatory strikes for Hamas' terror attack to 10,850. 
The statement from the Gaza Government Press Office said more than 60% of those killed in the Palestinian territory were women and children.
By Tucker Reals
Israeli defense chief tells Blinken "price will be high, but we are going to win" war with Hamas
Israel's Minister of Defense told visiting U.S. Secretary of State Antony Blinken on Monday that the Jewish state's military effort to destroy the Hamas militant group in the Gaza Strip, "will be a long war."
"The price will be high, but we are going to win," Israeli defense chief Yoav Gallant told Blinken in Tel Aviv. 
He said Israel would fulfill its commitment to eradicate Hamas — which both Israel and the U.S. have long designated a terrorist group — "for the Jewish people and for the values that both countries believe in."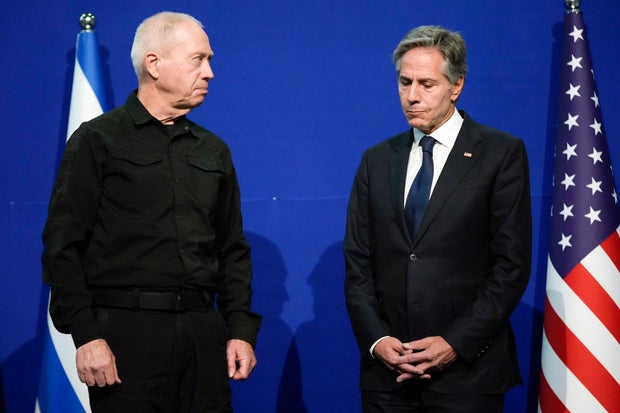 The Biden administration, along with Israel's other major Western allies, has given Israel its full-throated backing to respond to the bloody terror attack Hamas launched on Israel on Oct. 7, with President Biden himself telling 60 Minutes over the weekend that the Jewish state can and should "go after Hamas" in Gaza. 
The White House has also repeatedly stressed that Israel must adhere to international law and conventions calling for all steps possible to be taken to protect innocent civilian lives.
By Tucker Reals
Former U.S. commander and CIA chief says Israel must have "a vision" for post-war Gaza
With Israel poised for a possible ground invasion of the Hamas-controlled Gaza Strip in response to this month's brutal terror attack, retired U.S. Army Gen. David Petraeus, a former CIA director, said there needs to be a vision for the densely-populated Palestinian territory post-conflict.
Petraeus told CBS News' "Mornings" on Monday that post war planning needs to be addressed as Israel moves forward on its "very challenging mission" to destroy the Hamas militant group.
"There needs to be a vision for that. I think that Prime Minister Netanyahu would be well advised to not only say what they're going to try to do to Hamas, but realistically… also talk about the future of Gaza and a future, even a vision for the Palestinian people post-conflict," Petraeus said.
"It's just really, really hard. I mean, they don't want to reoccupy, but if you don't reoccupy, Hamas will reconstitute, and they know that. And so you're going to go to enormous loss, casualties, the Israelis, civilians, of course, Hamas fighters, terrorists, and then you're just going to leave? So, I am sure they are searching for that answer," Petraeus said.
By Analisa Novak
U.S. unable to put personnel on Egypt side of Rafah crossing from Gaza amid "acute security threats"
As U.S. citizens in Gaza wait for the Rafah border crossing with Egypt to open, a senior State Department official told reporters Monday that Egypt had warned of "acute security threats there that prevent" the U.S. from positioning personnel on the Egyptian side of the gate to help any American nationals who do make it through.
The Egyptian-run crossing on the long, narrow Gaza Strip's southern border with Egypt is the only border entry and exit point from Gaza not controlled and completely sealed by Israeli authorities. 
"The Egyptians have told us there are acute security threats there that prevent it," the official said, adding that the U.S. had a team "as close to the border as conditions permit," in Ismailia, an Egyptian city more than 100 miles from Rafah.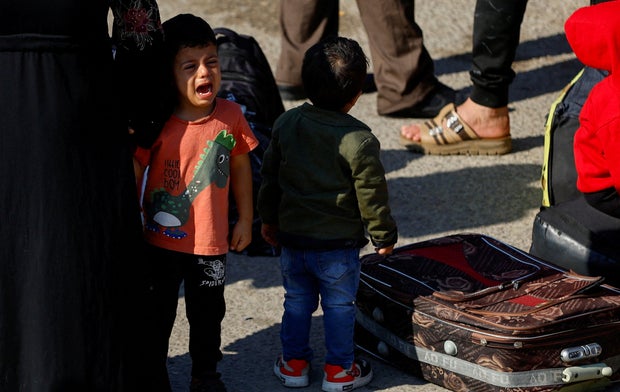 A State Department spokesperson said Saturday that the U.S. was working to "secure the safe exit" of an estimated 500-600 Americans from Gaza, and the State Department told U.S. nationals that "they may wish to move closer to the Rafah border crossing" if they considered it safe to do so, since there may be "very little notice" of the crossing opening up. 
By Melissa Quinn
U.N. ushers fuel tankers from Gaza as hospitals face dire shortages
Oil tankers bearing United Nations flags departed the Gaza Strip on Monday.
The trucks were led near the Rafah border crossing with Egypt by a U.N. escort vehicle as people stood in line on the Palestinian side in hopes of crossing.
According to the Reuters news agency, the convoy then appeared to head toward the Kerem Shalom crossing between Gaza and Israel.
Juliette Touma, a spokesperson for the U.N.'s Palestinian refugee agency, told reporters at U.N. headquarters in New York that the trucks were in Gaza before Hamas' terror attack on Oct. 7.
"We were able to pick them up today," Touma said.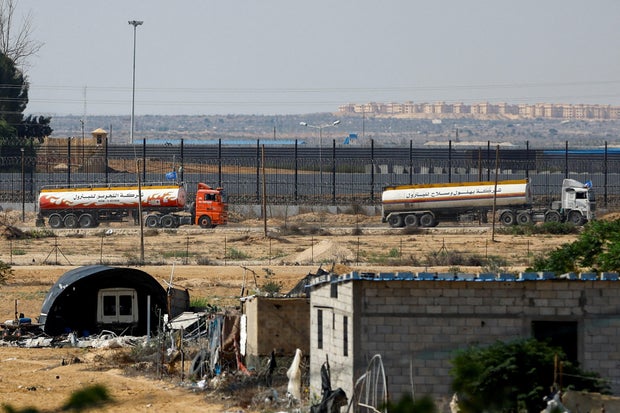 She also said no U.N. assistance has entered the Hamas-controlled territory since Oct. 7.
"No supplies have come into Gaza since the 7th of October, nothing, no fuel, no food, no water, no other types of assistance," Touma said.
Hospitals in Gaza are expected to run out of generator fuel soon, endangering the lives of thousands of patients, according to the U.N.
Gaza's sole power plant shut down for lack of fuel after Israel completely sealed off the 25-mile-long territory following the Hamas attack.
Reporting from CBS News and The Associated Press.
U.N. Security Council to meet with expected votes on Israel-Hamas cease-fire proposals
The United Nations Security Council was to meet Monday at 6 p.m. Eastern, the Brazilian President of the Security Council told CBS News, at the request of Brazil and Russia, to discuss the ongoing Israel-Hamas war.
Unlike the past two Security Council meetings, this one will be open, and it's expected to include votes on a Russian draft and a separate proposal from Brazil, both of which call for different versions of a cease-fire in the war. Neither proposal is likely to gain U.S. support because of that call. President Biden, while urging Israel to protect civilian life, has backed Israel's right to "go after Hamas" in the Gaza Strip.
The U.N. will also hear a briefing Monday from a spokesperson for global body's relief agency in Gaza, UNRWA. The head of that agency warned over the weekend of an "unprecedented human catastrophe" in the Palestinian territory.
"Gaza is being strangled and it seems the war right now has lost its humanity," Philippe Lazzarini, commissioner general of UNRWA, told journalists.  
Israeli Ambassador to the U.N. Gilad Erdan told CBS News on Monday that Israel would not be "fooled" by the U.N. "this time," and would carry on with its plans to launch a land, sea and air assault to destroy Hamas in Gaza.
By Pamela Falk
Putin aide says Russian leader calling Mideast leaders to push for Israel-Hamas cease-fire
Russian President Vladimir Putin was closely monitoring the escalation of the Israel-Hamas war, his assistant for international affairs Yuri Ushakov said Monday, noting that Putin had spoken recently with the leaders of Iraq, Turkey, Syria and Iran.
He was expected to hold calls Monday with the leaders of Egypt, the Palestinian authority and the Israeli Prime Minister Benjamin Netanyahu, Ushakov added.
Putin's aide stressed that Russia had already made clear its position on the latest war to erupt in the Middle East, calling for a cease-fire and talks to determine a lasting peace.
With reporting from CBS News' Svetlana Berdnikova in Moscow.
By Tucker Reals
Biden cancels trip to Colorado to stay in D.C. for national security meetings
A White House official said President Biden's scheduled trip to Pueblo, Colorado, on Monday had been postponed and would be rescheduled so Mr. Biden could remain in Washington to participate in national security meetings. 
No additional information was shared by the White House regarding the delay.
Mr. Biden had been set to visit the Colorado district represented by Republican Rep. Lauren Boebert to tour CS Wind, the largest maker of wind turbine towers in the world, and tout his economic agenda. The visit was part of Mr. Biden's multi-week, nationwide tour highlighting his administration's investment in various sectors.
By Melissa Quinn
Palestinians waiting at still-closed Rafah crossing giving up and heading back into Gaza
Palestinian civilians, some of whom have waited for days around the Rafah border crossing in hope of escaping into Egypt to flee Israel's airstrikes and looming ground offensive, have given up and started heading back north into the Palestinian territory, CBS News' Marwan al-Ghoul reported Monday.
Israel started issuing urgent calls last week for roughly half of Gaza's 2.3 million people to evacuate the northern half of the narrow coastal enclave into the south, warning that anyone who failed to heed the warning would face possible death.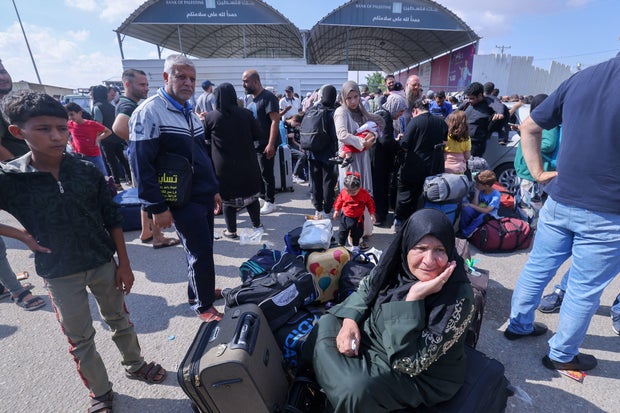 The United Nations and many regional governments have condemned the concept of such a mass-exodus through an active warzone as an impossibility and called on Israel to adhere to international law requiring military forces to avoid civilian casualties.
Israel has continued bombing areas near Rafah in the Gaza Strip as it prepares for its ground invasion, and Hamas rockets are launched daily at Israel.
By Tucker Reals
Young Israel soldiers say they're ready to fight Hamas in Gaza, and they "want to finish it."
Israel's military is poised and ready for what it's warned will be an air, sea and ground invasion of the densely-populated Gaza Strip. The objective, as Prime Minister Benjamin Netanyahu has made clear, is to destroy the Hamas group that has ruled the Palestinian territory since 2007.
Israel soldiers among the thousands who've massed with heavy weapons all along the Jewish state's fortified border with Gaza told CBS News on Monday that they were not only prepared, but eager to begin the dangerous job of battling Hamas inside the Palestinian enclave. 
"We are ready, and we want to finish it," said one soldier, "because they cut our friends' heads, and they killed too many people here in Israel."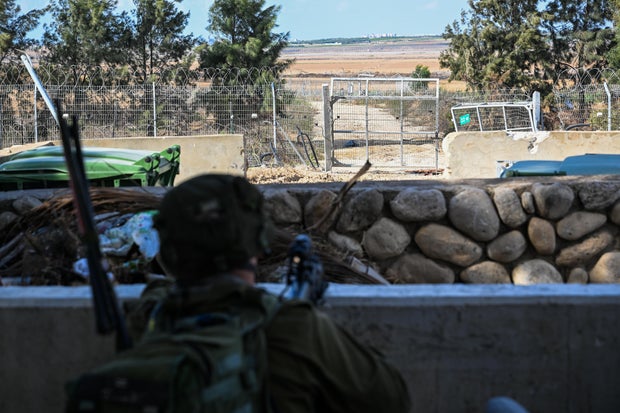 Not one of the troops who spoke to CBS News was over the age of 20.
A Hamas propaganda video shows how the militants intend to greet the Israeli army — using a huge tunnel network the group's constructed over decades to smuggle in weapons, but also to launch attacks.
Already, this has been the deadliest war for Israel since 1973, when it was attacked by its neighbors Egypt and Syria, and a land invasion of Gaza will inevitably take a heavy death toll on both sides.
By Tucker Reals
German leader expected to visit Israel amid efforts to "ensure that these innocent" hostages freed
Chancellor Olaf Scholz is reportedly planning to visit Israel this week to emphasize Germany's solidarity with the Jewish state in the wake of Hamas' terror attack. 
German Foreign Minister Annalena Baerbock was in the Middle East, meanwhile, and has met with her Egyptian counterpart and Arab League Secretary General Ahmed Aboul Gheit in Egypt.
On a German talk show Sunday night, Baerbock appealed to Hamas again to release all of the hostages the group is holding. Eight German nationals are currently believed to be among the nearly 200 hostages held in Gaza.
The German government is doing "everything to ensure that these innocent people are released."
Germany, like the U.S. and other nations, has been evacuating citizens from Israel. Lufthansa flew 800 Germans out of the country on Saturday and Sunday. Germany's military has also flown around 160 people from Israel back to Germany. 
By Anna Noryskiewicz
U.N. aid chief condemns Hamas kidnapping, calls on Israel to respect "humanitarian rules of war"
United Nations humanitarian aid chief Martin Griffiths was to travel to the Middle East, the U.N. said Monday, to assist in negotiations aimed at getting desperately needed relief materials into the blockaded Gaza Strip.
In a statement issued ahead of his Tuesday arrival, Griffiths condemned Hamas' "unacceptable, illegal act" of seizing hostages in Israel and said they "have to be let out straight away."
But he added that Israel's "response to that egregious act" must adhere to the "humanitarian rules of war," and he said Israel "cannot ask people to move out of harm's way without assisting them to do it, to go to places of their choice where they want to be safe and with the humanitarian aid that they need to make that journey safely."
"Right now," Griffiths said, "the movement that has happened has not had those provisions and it must have it; hospitals are running out of fuel, are running out of supplies up in the north. People can't move without help."
Griffiths also said his office was "in deep discussions" with Israeli, Egyptian and others officials, "hugely helped by" U.S. Secretary of State Anthony Blinken's diplomacy blitz around the region, and that he was "hoping to hear some good news this morning about getting aid through Rafah."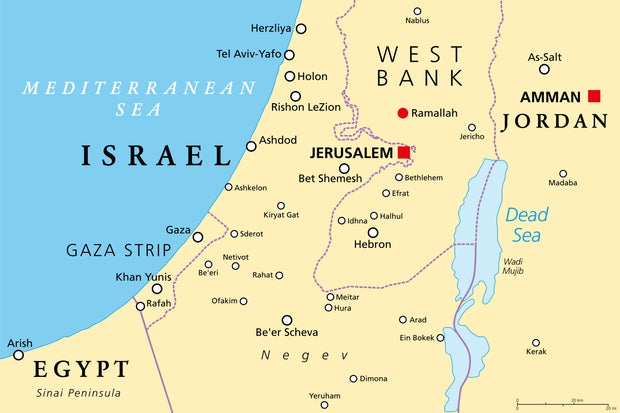 Blinken has been negotiating to get the Rafah crossing from southern Gaza into Egypt opened for at least several hours to enable foreign nationals, including Americans, to flee the Palestinian territory and aid to get in. The State Department has urged U.S. citizens trapped in Gaza to move to the Rafah crossing if they can do so safely, in hope that an opening will be agreed between Israel and Egypt, which, like Hamas, has accused Israel of bombing the area.
Israel and the U.S. accuse Hamas of preventing people from reaching the border crossing and preventing it being opened safely.  
By Tucker Reals
Blinken returns to Israel to meet Netanyahu with Gaza invasion expected
U.S. Secretary of State Anthony Blinken returned to Israel Monday to hold meetings with Prime Ministery Benjamin Netanyahu and other top officials after a week of rampant shuttle diplomacy across the Middle East. 
Blinken has met a number of leaders in Israel's neighboring nations amid concern that the widely-expected Israeli ground invasion of Gaza, and its ongoing bombardment of of the Palestinian territory in response to the Hamas group's terror attack on Israel, could see the war spill over Israel's borders or draw other regional powers into the fight.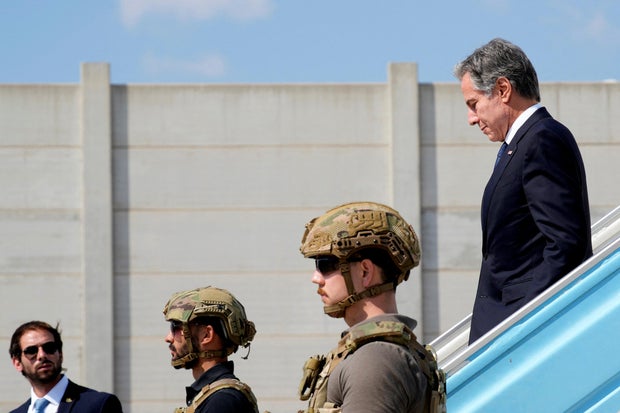 The Biden administration has warned Hamas' backers in Iran, and Iran's other closely-allied group Hezbollah, based in Lebanon just across Israel's northern border, not to enter the war.
The White House has also been negotiating urgently to secure an escape route for as many as 600 U.S. nationals among the roughly 2 million people trapped in Gaza, and to locate and ensure the safety of 13 Americans who went missing amid Hamas' brutal attack. Israel says Hamas and allied militant groups are holding 199 hostages in Gaza.
By Tucker Reals
China says Israel's retaliation in Gaza "beyond the scope of self-defense"
China's special Middle East envoy will travel to the region this week in the hope of pushing through a cease-fire, Chinese state television said Monday.
Envoy Zhai Jun called the prospect of a widening Israel-Hamas conflict "deeply worrying," as Israel prepared for a widely expected ground invasion of the Gaza Strip. The Palestinian militant faction, which has been designated a terror group by the U.S. for decades, has controlled Gaza since 2007.
Over the weekend, China's foreign minister accused Israel of going "beyond the scope of self-defense" with its retaliatory airstrikes and blockade of Gaza.
Foreign Minister Wang Yi told his Iranian counterpart that China supports the "just cause of the Palestinian people in safeguarding their national rights."
By Shuai Zhang
Israel says 199 hostages held by Hamas, other militants
Israel's military on Monday raised the number of hostages it said were being held in the Gaza Strip to 199, but didn't say whether that included foreigners. The U.S. State Department has said 13 Americans remain unaccounted for after Hamas' brutal attack on Israel, and American families have told CBS News they believe their loved ones are being held by the Palestinian militants. 
"We have updated the families of 199 hostages," Israel Defense Forces spokesman Daniel Hagari told journalists Monday. Previously the IDF had said 155 people were being held hostage by Hamas.
By Brian Dakss
Israel, Hamas deny reports of temporary cease-fire
Israeli Prime Minister Benjamin Netanyahu's office and Hamas both denied reports Monday of a temporary cease-fire in Gaza to enable humanitarian aid to come in and foreigners to leave at the Rafah border crossing between Gaza and Egypt.
"There is currently no cease-fire and humanitarian aid in Gaza in return for removing foreigners," a statement from Netanyahu's office said.
Reuters cited Hamas official Izzat El Reshiq as saying there was no truth to reports about the opening of the Rafah border crossing or temporary cease-fire.
By Brian Dakss
Israel orders evacuation of area near Lebanon border
The Israeli military has ordered people living in 28 communities near the Lebanese border to evacuate.
The order Monday comes amid increasing cross-border fire between Israel and the Lebanese Shiite militia Hezbollah.
The military order affects communities within 1.2 miles of the border.
Hezbollah has said the increased strikes were a warning and did not mean Hezbollah has decided to enter the war. 
The Israeli army said Monday it was evacuating residents living along its northern frontier with Lebanon amid rising tensions there 10 days into its war with Hamas in the Gaza Strip.
According to Agence France-Presse, the army said in a statement that evacuees would be put up in "state-funded guesthouses."
By The Associated Press
Biden agrees Hamas should be eliminated, says Israeli occupation of Gaza would be "big mistake"
In an interview with "60 Minutes," President Biden said he agrees that Hamas needs to be eliminated.
"Yes, I do," Mr. Biden told "60 Minutes" correspondent Scott Pelley. "But there needs to be a Palestinian authority. There needs to be a path to a Palestinian state." 
Given last weekend's terrorist attacks, the president acknowledged a two-state solution for Israelis and Palestinians is not possible at the moment.
"Not now. Not now. Not now, but— but I think Israel understands that a significant portion of Palestinian people do not share the views of Hamas and Hezbollah," he said.
Asked if he would support an Israeli occupation of Gaza, Mr. Biden said, "I think it'd be a big mistake. Look, what happened in Gaza, in my view, is Hamas and the extreme elements of Hamas don't represent all the Palestinian people."
Gaza humanitarian crisis deepens
More than a million people have fled their homes in the besieged Gaza Strip in the past week, ahead of expected Israel invasion that seeks to eliminate Hamas' leadership after its deadly Oct. 7 attack on Israel. The enclave's food and water supplies are dwindling, and its hospitals are warning that they are on the verge of collapse.
Israeli officials have given no timetable for a ground incursion that aid groups warn could hasten a humanitarian crisis in the coastal Gaza enclave.
About 500,000 people, nearly one quarter of Gaza's population, were taking refuge in United Nations schools and other facilities across the territory, where water supplies were dwindling, said Juliette Touma, spokesperson for the U.N.'s Palestinian refugee agency. "Gaza is running dry," she said. The agency says an estimated 1 million people have been displaced in Gaza in a single week.
With the situation in Gaza growing increasingly desperate, the U.S. named David Satterfield, the former U.S. ambassador to Turkey experienced in Mideast diplomacy, to be special envoy for Middle East humanitarian issues. U.S. national security adviser Jake Sullivan said Sunday that Satterfield will focus on getting humanitarian assistance to Palestinians in Gaza.
Hospitals in Gaza are expected to run out of generator fuel within two days, endangering the lives of thousands of patients, according to the U.N. Gaza's sole power plant shut down for lack of fuel after Israel completely sealed off the 25-mile long territory following the Hamas attack.
The World Health Organization expressed concern to The Associated Press about limited water and sanitation in the territory, particularly at hospitals where patients' lives can be lost due to infection and disease outbreaks. The WHO said four hospitals in northern Gaza are no longer functioning as a result of damage and 21 hospitals are under an Israeli evacuation order.
By The Associated Press