London — With President Biden's recent backing of plans to train Ukrainian pilots on F-16 fighter jets, U.S. support for Ukraine as it tries to fend off Russia's invasion appears to be at an all-time high. But as the war rages into its 16th month, many Ukrainians are keeping a close eye on the political battle taking shape 5,000 miles away, as they know it will directly impact the continuation of America's vital backing.
Ukrainians tell CBS News they're increasingly worried by the rhetoric used by prominent Republican political figures — particularly GOP front-runners Donald Trump and Ron DeSantis, who was expected to announce his candidacy Wednesday.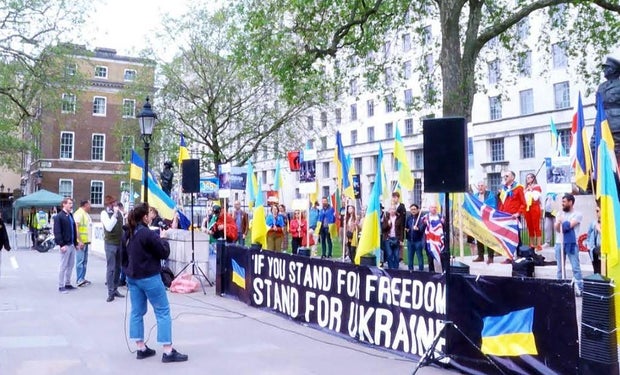 Trump has drawn criticism on multiple occasions for voicing admiration for Russian President Vladimir Putin, and he has a complicated history with Ukrainian President Volodymyr Zelenskyy dating back to Trump's first impeachment in 2019.
"He [Trump] had the chance to assist and help when he was president, and he didn't really do anything useful. He didn't resolve the conflict when he had the chance, and I don't see any way where he can do anything different this time. He'll just give up and make some poor deal with Russia," Ukrainian activist Nazarii Shymansky told CBS News at a Sunday protest in London against Russia's war.
Pressed during a recent CNN town hall on whether he wants Ukraine to win the conflict, Trump said he didn't think about the war "in terms of winning and losing," but rather "in terms of getting it settled" to stop the loss of life on both sides.
"I think everybody is concerned about Trump's rhetoric, about his support for Russia and his views and sort of understanding of what Putin's reasons are," said Yuri Kolupov, another attendee of the pro-Ukraine rally.
Daniel Vajdich, president of Yorktown Solutions, which lobbies on behalf of Ukraine in Washington, told CBS News that Trump's unpredictable nature is also a cause of concern for decisionmakers in Kyiv.
"We don't know what a Trump administration will look like," he said. "If it's the more conventional national security hands that we saw in his first administration, then things will remain pretty stable. If not, that's where the concern is."
DeSantis, currently the governor of Florida, recently described the Ukraine war as a "territorial dispute" and said it was not a "vital" national security interest for the U.S.  
Several Ukrainian civilians told CBS News his remarks were deeply frustrating.
"How long does it need to take and how many Ukrainians need to die to understand that this is a real unprovoked war against the Ukrainian nation?" asked Natalia Ravlyuk, who organized the rally in London. "What territorial dispute? It's a bloody war."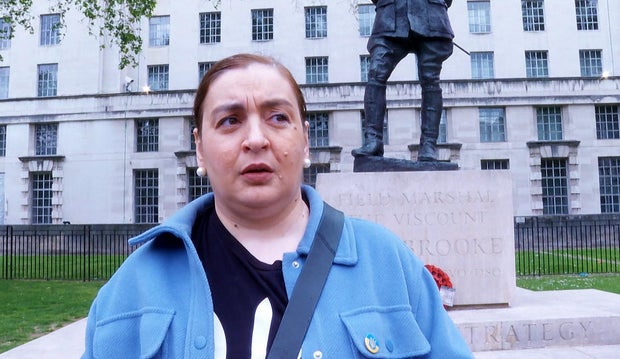 Other top Republicans, including presidential candidate Nikki Haley and former Vice President Mike Pence, pushed back against DeSantis' comments, and the Florida governor subsequently walked back the remarks, calling Putin a "war criminal."
Vajdich, the lobbyist, said Ukrainian government officials were less concerned about the prospects of a DeSantis presidency since the governor's voting record from his time as a congressman in Washington reflected a hawkish approach to Russia.
Vajdich said his country believed the more isolationist lawmakers in the U.S. House of Representatives, such as Marjorie Taylor Greene — who last month told "60 Minutes" the U.S. should "be pushing for peace in Ukraine, not funding a proxy war with Russia" — remained firmly in the minority among congressional Republicans.
Publicly, Ukrainian officials continue to project optimism that bipartisan U.S. support for their war effort, should the conflict continue past Election Day, will remain steadfast.
"It's in the national interest of the United States of America to support Ukraine. … It's not like some far-away proxy war which has no bearing on the future of America," Yuriy Sak, an advisor to Ukraine's defense minister, told CBS News by phone. "It's a very straightforward war that is straightforwardly connected to the national security of the United States."
"We understand that Donald Trump is a specific type of politician with his own views and some of these views… they are a little worrying," Sak said. "But actions speak louder than words, and what we are seeing now is a very solid bipartisan support of Ukraine.