Kyiv — Ukraine's President Volodymyr Zelenskyy described his Wednesday telephone conversation with China's leader Xi Jinping as "long and mostly reasonable." Their chat, and Xi's promise to send an envoy to Kyiv to discuss a "political solution," has raised the prospect of China acting as a potential peacemaker in Russia's war on Ukraine.
Alluding to China's unique leverage over Vladimir Putin's isolated regime, as the Russians' most valuable trading partner and the only global military superpower yet to condemn the Ukraine invasion, Zelenskyy said there was "an opportunity to use China's political power to reinforce the principles and rules that peace should be built upon."
Ukraine and China are "equally interested in the strength of the sovereignty of nations and territorial integrity, and in observing key security rules, particularly in terms of the inadmissibility of threats of the use of nuclear weapons," Zelenskyy said.
A readout on the same phone call, quoted by China's state-run media, said Xi had also noted the two countries' "mutual respect for sovereignty and territorial integrity," calling it "the political foundation of China-Ukraine relations."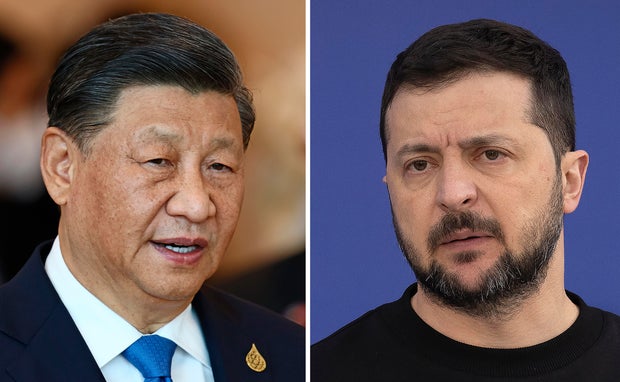 The statement stressed China's long-held stance that it is a neutral party to war in Ukraine, adding that it would "neither watch the fire from afar, nor pour fuel on the fire, nor do we take advantage of the opportunity to make profits."
The last remark appeared to be a direct jab at the U.S. and other nations that have provided hundreds of millions of dollars of weaponry to Ukraine. 
"What China has done is above board," the statement said, adding that "dialogue and negotiation are the only viable way out. There are no winners in a nuclear war."
The Ukrainian leader spoke with Xi as his commanders remain locked in a brutal battle to hold onto the eastern city of Bakhmut, which Russian forces have fought to capture for months.
Battle for "territorial integrity" in Bakhmut 
New video from the front lines shows Ukrainian soldiers taking cover under constant bombardment and gunfire amid the rubble and ruins of the city. There's not much of it left to fight over.
The most prolonged battle of the war has been costly for both sides — a bloody artillery shootout with tens of thousands of casualties. 
"A large amount of [Russia's] most combat-ready units have been deployed around Bakhmut," said the deputy commander of the 2nd Rifle Battalion of Ukraine's 93rd Brigade, who goes by the callsign Philosopher. "We are holding them here, and they cannot move to other directions."
"The situation is tense now," acknowledged the commander, but he said Russia's forces had "failed to succeed in encircling the city." Instead, he said they were hammering Bakhmut with artillery, day and night.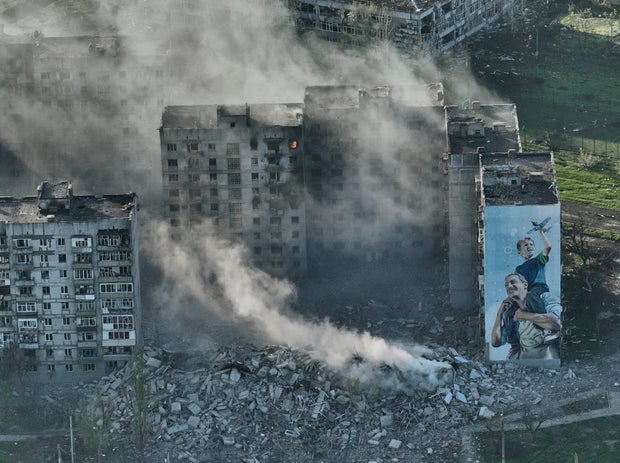 Russian and Ukrainian forces appear intent on inflicting as much damage as possible on the other side ahead of a long-anticipated Ukrainian counteroffensive. Ukraine's military has been showing off some of its U.S.-supplied weapons ahead of that offensive, including newly-arrived Patriot missile air defense systems and Bradley fighting vehicles.
Russia, meanwhile, has launched its largest recruitment drive since the war began, with ad campaigns urging people to enlist with slogans like "Defend the motherland," and "You are a man. Be it."
In a conflict that has already come at an horrific human cost, including thousands of civilian lives, both sides appear to be bracing for what's to come. Despite China's offer to help, few expect that to be an easing of the bloodshed.
If there are new offensives or counteroffensives, Matilda Bogner, head of the United Nations human rights monitoring mission in Ukraine told CBS News, "it will mean more civilian casualties… it will also be more displacement."
Bogner said there were concerns not only for civilian lives, but also for captured forces amid unconfirmed reports that troops on both sides may have been issued orders to kill prisoners of war if they come under overwhelming pressure on the battlefield.
Pointing to the grim discoveries made in liberated Ukrainian cities like Kherson, the U.N. envoy said if Russian forces are forced to pull back from more territory they currently hold, it could reveal new atrocities.
"Unfortunately, it will probably mean that we will again be documenting more serious violations of international human rights, or summary executions, conflict related sexual violence, enforced disappearances and so on," she told CBS News.
Thanks for reading CBS NEWS.
Create your free account or log in
for more features.